Ready in minutes! Easy Pan Seared Salmon Recipe with Lemon Butter Sauce!
Easy fish recipes, that come together fast are perfect for dinner, especially on a weeknight. This simple fish recipe has few ingredients, but tastes absolutely delicious! Pan searing salmon in a cast iron skillet gives the fish a slightly charred exterior and also helps make the skin extra crispy.  The salmon fillets are dusted with flour, without eggs and cooked in a pan, on the stove in a small amount of oil.  It's not nearly as messy as breaded fish fillets or deep-fried fish.  Cooking the salmon fillets with the skin on allows the fish to cook through, while keeping the meat moist.  You don't have to eat the skin, but it will be nice and crispy. So, get in the kitchen and make this delicious salmon recipe tonight or for your next dinner party and impress your guests, with very little effort.
P.S. I also have a recipe for an easy Parmesan Herb Crusted Tilapia with a cream sauce that's really tasty! It's another simple fish recipe: baked tilapia fillets with rice and my easy lemon garlic aioli sauce on the side.  The coating is made with Parmesan cheese and with panko breadcrumbs, along with some Italian bread crumbs, for extra flavor and crunch. Just imagine, tilapia breaded without using eggs, and baked in the oven instead of cooking in a frying in a pan! Another delicious and healthy choice!
Enjoy!  Di
What's your favorite Salmon recipe? Fish Recipe? Leave me a comment! Go to this Recipe on YouTube or visit my Facebook Page! Let me know if there's something you'd like to see.
What you're craving could be my next recipe!
Watch The Video!
Learn How To Make Pan Seared Salmon With Lemon Butter Sauce!
Recipe by: Diane Kometa

Subscribe to Dishin' With Di's YouTube Channel for the latest recipes!
It's FREE!
Don't Miss An Episode!
Pan Seared Salmon With Lemon Butter Sauce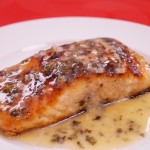 Prep time:
Cook time:
Total time:
Yield:

2

Difficulty:

easy

Recipe type:

Entree, Main Dish
Ingredients:
2 – 8 ounce salmon filets with skin – wild-caught, if possible – rinsed under cold water and patted dry

½ cup all-purpose flour

Salt and fresh ground black pepper

1-2 Tbs. Vegetable oil or grapeseed oil

Lemon Butter Sauce

1/3 cup dry white wine

2 Tbs. fresh lemon juice

3 Tbs. cold unsalted butter, cut up

1 tsp. minced garlic

1 Tbs. minced shallots

1 tsp. dried parsley or 2 tsp. finely chopped fresh parsley

Salt and freshly ground black pepper to taste
Directions:
For the salmon: Preheat a heavy skillet or cast iron skillet over medium high heat. Season both sides of fish with salt and pepper. Place the flour in a shallow bowl or plate and dredge the salmon lightly in the flour to coat. Set aside.
To the preheated pan, add about 1 tablespoon of oil. Add the salmon flesh side down and cook for about 3 minutes, until lightly browned. When using a cast iron skillet, it is normal for some charring to occur, just as when fish is cooked on a grill.
Using a fish turner or spatula, flip the fish over and cook the skin side for about another 3-4 minutes, until skin is nice and crispy or until the internal temperature reaches 140 degrees F, when tested with an instant-read thermometer. Remove fish from the pan and place on a plate to rest, while you make the sauce. Cover fish loosely with foil to keep warm, if desired. Note: Cooking times will vary, according to the thickness of the fish. If longer cooking time is needed, after turning the fish, reduce heat to medium to prevent over cooking or burning.
For the sauce: Wipe the pan with a paper towel to remove any excess oil, if desired. To the same pan, add the garlic, shallots, wine and lemon juice and dried parsley (fresh parsley should be added at the end). Cook, stirring occasionally, until mixture has reduced by about half, about a minute or two.
Reduce the heat to medium low. One piece at a time, add the cold butter, mixing well after each addition, until mixture is melted and smooth. Season to taste with salt and pepper. Strain, if desired. (If using the fresh parsley instead of dried, stir it in now.) Spoon the sauce over the salmon to coat. Enjoy! Recipe by: Diane Kometa
Published on by Dishin' With Di
Tagged: best, butter, cast iron skillet, demonstration, Diane Kometa, Dishin With Di, Easter, easy, filet, fillet, fish, fish recipes, flour, fresh, from scratch, Garlic, Grilled, healthy, homemade, how to cook salmon, How To Make, how to make pan seared fish, in a pan, Lemon, lemon butter sauce, Lent, Mother's Day, New Year's Eve, on the stove, onion, pan, pan fried, pan grilled, pan seared, parsley, quick, Recipe, salmon fillets, salmon recipes, sauce, shallots, Simple, steak, tilapia, tutorial, unsalted butter, Valentine's Day, video, wild caught, with sauce, YouTube