A perfect comfort food, rice pudding is simple to make and uses the most basic ingredients (cream, milk, rice, and sugar). (White  Basmati Rice) Rice pudding with rum raisins topped with whipped cream and sprinkled with cinnamon is a perfect dessert.  This creamy pudding can be prepared days ahead, making it an ideal dessert for busy holidays.  I hope you enjoy this easy creamy Rice Pudding Recipe!
What's your favorite Pudding recipe? Dessert Recipe? Leave me a comment! Go to this Recipe on YouTube or visit my Facebook Page! Let me know if there's something you'd like to see.
What you're craving could be my next recipe!
Watch The Video! Learn How To Make Rice Pudding From Scratch!
Subscribe to Dishin' With Di's YouTube Channel for the latest recipes! It's FREE!
Don't Miss An Episode!
Rice Pudding Recipe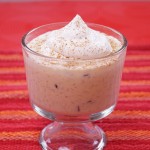 Prep time:
Cook time:
Total time:
Yield:

6-8

Difficulty:

easy

Recipe type:

Dessert, Breakfast
Ingredients:
2/3 cup raisins soaked in warm water or 2 tablespoons dark rum (optional)

3/4 cup white basmati rice

1/2 teaspoon salt

4 cups milk – room temperature

¾ cup heavy cream – room temperature

1/2 cup sugar

1 large egg – lightly whisked – room temperature

2 teaspoons pure vanilla extract

Ground cinnamon for topping

Whipped cream for topping
Directions:
In a small bowl, combine the raisins and rum. Set aside.
To a medium pot, add the rice, salt and 1 1/2 cups water. Stir to combine. Bring to a boil and then stir again. Reduce heat to low, cover and simmer for 8 minutes or until most of the water has absorbed.
Stir in the milk and sugar and bring to a boil. Simmer uncovered on medium-low heat for about 25 to 45 minutes stirring frequently, until thickened and the rice is very soft. Be sure your heat is not too high and to stir frequently, especially towards the end, when the milk is almost absorbed into the rice.
When the milk has absorbed, taste the rice to be sure it's soft. If it's not tender and you've used all of the milk, add some of the cream to the pot and continue to cook and stir. Add more cream until tender, if necessary.
Gradually pour in the beaten egg stirring constantly, so that the egg does not scramble. Cook and stir for another minute. Remove from heat.
Pour in the heavy cream, vanilla, and the raisins. Stir well to combine. Pour pudding into a bowl, and place a piece of plastic wrap directly on top of the pudding to prevent a skin from forming. Allow the pudding to sit at room temperature until cool and then refrigerate, until ready to serve. Top with a few sprinkles of ground cinnamon and some homemade whipped cream, if desired. Enjoy!
Recipe Notes: 1) If the heat is too high and/or the rice is not stirred frequently, the rice and milk mixture can stick to the bottom of the pot and begin to brown. When you finally go to stir and scrape it, it will leave dry brownish pieces in the pudding sort of like when scrambled egg sticks to a pan and dry. It's not a good thing! Trust me. You don't want to be picking out pieces of dry brown milk with a fork, so keep an eye on it and STIR! It's not hard to make at all, but just requires attention while cooking. 2) The rice will absorb more liquid as it cools, but if the pudding looks very watery after adding the cream at the end, (more than in the video), return the pot to the heat for several minutes, stirring frequently, until a more desirable consistency.
Published on by Dishin' With Di
Tagged: basmati, best, breakfast, Christmas, cinnamon, cream, creamy, custard, demonstration, Dessert, Desserts, Diane Kometa, Dishin With Di, Easter, easy, egg, eggs, Father's Day, from scratch, grain, heavy cream, homemade, How To Make, milk, Mother's Day, New Year's Eve, Old Fashioned, pudding, raisins, Recipe, Rice, rum raisin, snack, sugar, Thanksgiving, tutorial, vanilla, video, whipped cream, white rice, YouTube