Make Oreo Ice Cream Without a Machine!  This is an easy homemade Oreo Ice Cream Recipe, also know as Cookies and Cream Ice Cream, that can be made without an ice cream maker. It's quick, simple and one the best frozen desserts for summer or anytime! There's a few simple ingredients: heavy cream, sweetened condensed milk, pure vanilla extract or vanilla bean paste, salt and Oreo cookies (chocolate sandwich cookies).  And in case you didn't notice, it's eggless!   That's right!  No EGGS! The ice cream is made without eggs or cooking and without churning in an ice cream machine! It's amazing indeed and in flavor!  I know you can make ice cream in a blender, a food processor or with an immersion blender and I've even heard you can make ice cream in a bag, but I think this method provides great results with little effort.  The heavy cream and sweetened condensed milk are key, as they have very little water, which means there won't be any crystallization, so the ice cream won't be icy.  The ice cream will be super rich and creamy and you will think you're eating the pricy stuff and so will anyone else who tastes it!  Watch out Haagen-Dazs!
My son could not believe it was not expensive ice cream and said it was the best ice cream he ever tasted and I have to agree.  This Oreo ice cream ( cookies and cream ice cream) is my best easy ice cream recipe, so far, with Mint Chocolate Chip running a close second.  I'm very picky, so you have to just trust me that this one is addictive!  I know, I've said it before and I've meant it, but this one is just unreal! I just love the chunks of fresh Oreo cookies in the rich, creamy ice cream and I just love to eat it topped on a mini ice cream cone – or two – for portion control.  Yes, I've gone in bravely with a spoon in hand for "just a taste", at least that's the lie I told myself.  But when you're standing there all alone with that container and no one around judging you, things can go terribly wrong.  You say you just want a couple of spoonfuls and the next thing you know you're putting the half empty container away and then you're trying to find your hardest workout video to cancel out your dirty deed! True story!  Lol  The only way you are going to know for sure what I'm talking about is to Make This Ice Cream!  When you do, please go to my YouTube page and leave me comment and tell what you think.  I'd love to know!  I'll leave the link just below.  Be sure to check out all of my other easy ice cream recipes on my site!  It's fun to make multiple batches at one time!  If this catches on, I may have open a gym!  Enjoy responsibly!  Di
What other ice cream recipes or frozen dessert recipes would you like to see?  Go to this Oreo Ice Cream Recipe – No Machine on YouTube or my Facebook Page and leave me a comment!  
What you're craving could be my next recipe!
Watch The Video Recipe Demonstration!
Learn How To Make Oreo Ice Cream – No Ice Cream Machine!
Recipe by: Diane Kometa

Subscribe for FREE to Dishin' With Di's YouTube Channel for the latest recipes!
Don't Miss An Episode!
Oreo Ice Cream Recipe – No Machine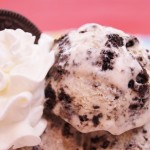 Prep time:
Cook time:
Total time:
Yield:

4-6

Difficulty:

easy

Recipe type:

dessert, frozen dessert
Ingredients:
2 cups cold heavy cream – also known as thickened cream or double cream (35% fat or greater)

14 oz can sweetened condensed milk

1 teaspoon pure vanilla extract or vanilla bean paste

20 Oreo cookies – chocolate sandwich cookies (use as much or as little as you want)

1/8 tsp. fine salt
Directions:
Place the bowl and whisk attachment of a mixer in the freezer for about 15 minutes to chill.
Pour sweetened condensed milk in a separate bowl. Whisk in the vanilla extract and salt, until thoroughly combined. Set aside.
Place cookies into a plastic bag. Press down to remove air and seal bag. Roll and smack with a rolling pin, until cookies are broken into desired size pieces. Set aside.
Remove whisk and bowl from freezer. Pour heavy cream into chilled bowl and beat until stiff peaks form. Scrape down the sides, as necessary.
Using a wire whisk, gently fold about 1/3 of the whipped cream into the sweetened condensed milk mixture and mix thoroughly. Add the remaining whipped cream and using a rubber spatula fold until well combined. Do not stir. Folding keeps the whipped cream light and fluffy. Dump in the cookies pieces and fold gently until evenly distributed.
Pour the cookies and cream ice cream mixture into one or two freezer safe containers and spread evenly with a spatula. Place a piece of plastic wrap that is larger than the top of the container directly on top of the ice cream. Cover the container with a lid and freeze for at least 6 hours or overnight, until mixture is firm.
Serve as you would regular ice cream. Enjoy! Recipe by: Diane Kometa
Published on by Dishin' With Di
Tagged: best, by hand, Cake, chocolate, Cookie, cookies, cookies and cream, cream, crumbles, demonstration, Desserts, Diane Kometa, Dishin With Di, diy, dough, easy, eggless, fast, from scratch, frozen, frozen desserts, heavy cream, homemade, How To Make, ice cream, milk, mint chip, mixer, no bake, no eggs, Old Fashioned, oreo, oreos, quick, Recipe, rocky road, Simple, snack, strawberry, Summer, summer desserts, sweetened condensed milk, tutorial, Valentine's Day, vanilla, vanilla bean, vanilla extract, video, whipping cream, whisk, without eggs, without ice cream maker, YouTube