Learn How To Make an Easy, Healthy Orange Chicken Recipe!  Sweet, Savory, Delicious and incredibly Simple to Cook! No deep frying! This healthy version of Chinese Orange Chicken is ready in minutes, so it's perfect for a quick, easy week night dinner, but so delicious, you'll want to serve to company! You'll impress yourself with this one! It's so good and comes together in minutes! Get in the kitchen and give it try!
Watch The Video!  Learn How To Make This Orange Chicken Recipe!
Recipe by: Diane Kometa
Visit me on my YouTube Channel and Subscribeto get my latest recipes!
It's FREE!!
Leave me a comment!  Go to my YouTube Channel or my Facebook Page and let me know if there's something you'd like to see.
What you're craving, could be my next video!
Thanks so much for visiting!
Easy Light Orange Chicken Recipe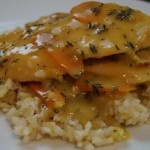 Prep time:
Cook time:
Total time:
Yield:

2-4

Difficulty:

easy

Recipe type:

Entree, Main Course
Ingredients:
Extra Virgin Olive oil

2- Boneless-skinless chicken breast sliced in half lengthwise

Flour

2 ½ tsp. Dijon mustard

2 cloves garlic – minced

3 tsp. corn starch

2 Tbs. fresh thyme – chopped

2 Tbs. fresh sage – chopped

1 Tbs. light brown sugar

1 carrot- thinly sliced on the diagonal

1 Tbs. water

2 cups orange juice

1 cup instant brown rice

Salt & pepper to taste (I used 1/2 tsp salt & a little fresh ground pepper)
Directions:
Season chicken with salt and pepper and then dredge lightly in flour. Shake off any excess. Set aside.
Cook rice according to package directions
Place carrots and water in a medium bowl and cook in the microwave on high for a minute or two. They should still be crisp.
Heat a non-stick pan over medium-high heat and then add about 1 tbs. of olive oil and the chicken. Brown the chicken on each side, but do not cook completely through. Set aside.
In a bowl, combine orange juice, sage, thyme, Dijon mustard, brown sugar, minced garlic, and add salt and pepper to taste.
Pour orange juice mixture into the same pan. Heat to boil over medium-high heat and then reduce heat to medium until sauce thickens. Stir occasionally.
Add carrots and chicken to sauce. Spoon some sauce over chicken. Cover and reduce the heat to low and cook for about 10 minutes, until chicken done. (165 degrees F)
Serve over rice. Enjoy! Recipe by: Diane Kometa
Published on by Dishin' With Di
Tagged: best, brown rice, brown sugar, carrots, chicken, chicken breasts, corn starch, demonstration, Diane Kometa, Dijon mustard, Dishin With Di, easy, flour, from scratch, Garlic, healthy, homemade, How To Make, instant rice, mustard, New Year's, New Year's Eve, orange, orange juice, quick, Recipe, Rice, sage, thyme, tutorial, vegetables, video, YouTube