How to Make: Quick Lemon Garlic Aioli Recipe: Mayonnaise Sauce: No Raw Eggs: EASY Sauce Recipe: Perfect on grilled shrimp, fish, meat and fried foods, like my Chicken Broccoli Parmesan Fritters! This recipe provides an easy way to get the taste of a true aioli, without raw eggs, mustard, a food processor or a blender. Without the raw eggs, there are no worries, so you can enjoy the taste without any risks.   A must try with Crab Cakes, shrimp, salmon and perfect for dipping veggies like asparagus and artichokes!  Roasted Chicken and just about anything can be topped with a bit of this aioli sauce!  Get in the kitchen and give this Lemon Garlic Aioli Sauce Recipe a try!
Watch the Video Demonstration and see how to Make It!
Visit me on my YouTube Channel and Subscribe  to get my latest recipes!
Leave me a comment!  Go to my YouTube Channel or my Facebook Page and let me know if there's something you'd like to see.
Lemon Garlic Aioli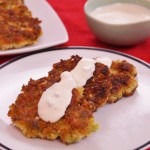 Prep time:
Cook time:
Total time:
Yield:

2/3 Cup

Difficulty:

easy
Ingredients:
½ cup Mayonnaise – I use Hellmann's – you should use a good quality mayo and I think Hellmann's is the best tasting store bought mayo

½ to 1 tsp. Garlic very finely minced – depends how garlicky you want it

1 ½ tsp Green onion (also called a scallion) very finely minced

2 Tbs. Lemon juice – freshly squeezed

½ tsp. Lemon zest

Hot sauce- optional – I used a few drops of Tabasco sauce in the video and it was good, but then I made it again and used 1/8 tsp. of Sriracha Hot Chili Sauce and it was great! You can add more if you want it hot, but just start with a little, because it's powerful stuff!
Directions:
Dump everything into a bowl and mix well with a fork.  Refrigerate in an airtight container overnight to let the flavors mingle for best results.  I've also used it right away and it still tastes great!  Enjoy!
Published on by Dishin' With Di
Tagged: demonstration, Diane Kometa, Dishin With Di, easy, Garlic, How To Make, Lemon, tutorial, video, YouTube