Lemon Blueberry Bread!  This is a sweet breakfast bread with loads of lemon flavor, a lemony glaze and fresh blueberries.  More like a pound cake, this bread is very moist and tender. Perfect with a hot cup of tea or coffee and can easily be served as a dessert cake.  You absolutely must Make It!
What's your favorite Lemon Recipe? Blueberry Recipe? Cake or Bread Recipe?  Leave me a comment! Go to this Recipe on YouTube or visit my Facebook Page! What you're craving could be my next recipe!
Watch The Video!
Learn How To Make Lemon Blueberry Bread From Scratch!                           Recipe by: Diane Kometa
Get updated when I release New Recipes!  It's Free! Do It! 
Don't Miss An Episode!
Lemon Blueberry Bread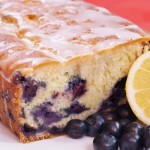 Prep time:
Cook time:
Total time:
Yield:

1 Loaf

Difficulty:

easy

Recipe type:

Bread, Cake, Dessert
Ingredients:
2 ¼ cups flour, poured and leveled into measuring cups – Do Not Scoop!

¼ tsp. salt

1 ¼ tsp baking powder

½ baking soda

1 cup sugar

1 Tbs. lemon zest – was lemons with soap and water before grating

½ cup unsalted butter – room temperature

2 eggs – room temperature

¾ cup buttermilk – room temperature

1 ½ tsp. pure vanilla extract

1 ½-2 cups fresh blueberries

Lemon Syrup

3 Tbs. fresh lemon juice

3 Tbs. sugar

Lemon Glaze – for extra lemon flavor – optional

1/2 cup confectioners' sugar (also known as powdered sugar and icing sugar)

3-4 tsp. fresh lemon juice
Directions:
Preheat oven to 350 degrees F and place oven rack in the center position.
Lightly butter and flour a 9×5 loaf pan or grease with baking spray and place on a baking sheet. Set aside.
In a separate bowl, toss the blueberries with 1 tablespoon of the measured flour, until coated. Set aside.
In a separate bowl, whisk together the flour, baking soda, baking powder and salt, until thoroughly combined. Set aside.
Place the sugar into a separate bowl with the lemon zest. With your finger tips and the palms of your hands, rub the sugar and zest together for a few minutes, until the sugar becomes moist and fragrant. Set aside.
Add the butter to the bowl of a stand mixer bowl or use an electric hand mixer and beat for several seconds, just until smooth. Add the sugar to the butter gradually and beat on medium-high speed for about 3 minutes, until pale in color and fluffy. Scrape the sides and bottom of the bowl.
With the mixer on low, add the eggs one at a time, beating for about a minute after each addition. Scrape the bowl, as needed. The mixture should be light and fluffy.
Add the vanilla extract to the buttermilk and mix well. Set aside.
Add the vanilla extract to the measured buttermilk and mix well.
With the mixer on low add 1/3 of the flour mixture to the mixing bowl. Mix on low, just until combined. With the mixer on low add ½ of the buttermilk/vanilla mixture, just until combined. Repeat adding another 1/3 of the flour, mixing through on low and then adding the rest of the buttermilk mixture, just until combined. Add the last of the flour and mix lightly, until the flour starts to disappear. Do not stir or over mix. Pour in the blueberries and using a rubber spatula, fold the blueberries into the batter evenly.
Pour the batter evenly into the prepared pan and smooth the top with a rubber spatula. Place the loaf pan onto a baking sheet and bake for about 45-55 minutes or until a tester inserted near the center comes out clean.
Remove from the oven and allow the bread to cool in the pan for about 5-10 minutes and make the syrup.
While the bread is cooling, combine the lemon juice and sugar in a bowl and heat in the microwave for several seconds, until the mixture is hot and the sugar has dissolved. Stir to combine. This can also be done in a small pot on the stove over medium heat.
While the hot bread is still in the pan, use the skewer or toothpick to poke holes evenly all over the top of the bread. Using a pastry or basting brush, brush the top of the bread with the lemon sugar mixture or carefully pour or spoon it over the top. Allow the bread to rest in the pan for about 5-10 minutes longer. Remove the bread from the pan carefully, as it will still be hot and fragile and place it on a rack to cool completely.
Once the bread has cooled, Make the glaze by combining the lemon juice and confectioner's sugar in a small bowl. Scoop up some of the glaze on a spoon and drizzle it all over the bread. The glaze will fry a bit as it sits. Slice and enjoy! Wrap leftover bread in plastic wrap and store at room temperature for up to 3 days or in the refrigerator for about a week.
Note: If you would prefer not to use the glaze: After the syrup has been brushed on and the bread has been removed from the pan and cooled completely, simply wrap the bread tightly in plastic wrap and store as described. Great toasted too! Recipe by: Diane Kometa
Published on by Dishin' With Di
Tagged: at home, bake, baked, baking, Berries, berry, best, blueberries, blueberry, bread, breakfast, butter, buttermilk, Cake, cakes, citrus, coffee cake, confectioner's sugar, cook, cooked, cooking, demonstration, Dessert, Desserts, Diane Kometa, Dishin With Di, drizzle, Easter, easy, eggs, flour, fresh, fresh fruit, from scratch, Frosting, fruit, glaze, homemade, How To Make, Icing, Lemon, lemon glaze, lemon juice, lemon zest, lemons, lemony, loaf, loaf cake, making, milk, moist, Old Fashioned, pound cake, powdered sugar, quick, quick bread, Recipe, snack, Spring, sugar, Summer, Sweet, syrup, Tart, tea, tea cake, tutorial, vanilla, video, YouTube