Make Homemade Meatloaf From Scratch! Basic and Easy Recipe!  The best meatloaf recipes are moist and delicious with simple ingredients. This recipe is easy to follow and takes minutes to put together.  Just like the classic meatloaf grandma used to make; traditional, basic meatloaf!  Throw it together, pop it in the oven, and you're done! I love old fashioned meatloaf with gravy and mashed potatoes and leftovers are always good on a sandwich with ketchup! I hope you enjoy this easy meatloaf recipe.
What's your favorite Meatloaf Recipe? Ground Beef Recipe?  Leave me a comment! Go to this Recipe on YouTube or visit my Facebook Page! Let me know if there's something you'd like to see.
What you're craving could be my next recipe!
Watch The Video! Learn How To Make Meatloaf From Scratch!  
Recipe by: Diane Kometa
Subscribe to Dishin' With Di's YouTube Channel for the latest recipes!
It's FREE!  Do it!
Don't Miss An Episode!
Easy Meatloaf Recipe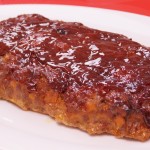 Prep time:
Cook time:
Total time:
Yield:

6

Difficulty:

easy

Recipe type:

main course, entree
Ingredients:
1 1/2 pounds ground beef – I used 80% lean

1/2 cup sweet onion – fine chopped

1 Tbs. Worcestershire

2 tsp. prepared mustard

1 tsp. salt

1/4 tsp. ground pepper

1/4 tsp. garlic powder

3 thin slices of bread – cut into small cubes – crust removed, if desired

1/4 cup ketchup

3/4 cup milk

1 egg – lightly whisked

Topping

1/3 cup ketchup

1/3 cup barbecue sauce

Plus more for serving, if desired
Directions:
Preheat oven to 350 degrees F and line a baking sheet with parchment paper or foil.
In a small bowl, pour of the milk over the bread cubes. Set aside.
In a separate small bowl, combine the ketchup, onion, Worcestershire sauce, mustard, salt, pepper and garlic powder.
To a large bowl, add the ground beef, ketchup/onion mixture, egg and milk-soaked bread cubes. Using your hands or a fork, mix well until thoroughly combined. Do not squeeze or mash the meat or the meatloaf will be dense. Mixture should be very moist.
Place meat on baking sheet or baking dish and form into a 9×5 loaf. If using a loaf pan, place 2 pieces of bread on the bottom, before adding the meat.
In a separate small bowl, combine the ketchup and barbecue sauce. Pour over the top of the meat loaf and spread evenly.
Bake at 350 degrees F for about 1 hour to 1 hour 15 minutes or until internal temperature reaches 160 degrees F. Remove baking sheet from oven and let meat loaf rest on the pan for about 10 minutes before cutting.
Slice and serve with additional ketchup-barbecue sauce or topped with my Mushroom Gravy. Perfect with mashed potatoes! Recipe by: Diane Kometa
Published on by Dishin' With Di
Tagged: barbecue sauce, Basic, Beef, best, bread, breadcrumbs, Classic, demonstration, Diane Kometa, Dishin With Di, easy, eggs, from scratch, Garlic, ground beef, Hamburger, homemade, How To Make, ketchup, loaf pan, meat, meat loaf, meatloaf, milk, mustard, Old Fashioned, onion, quick, Recipe, sauce, Simple, Traditional, tutorial, video, Worcestershire sauce, YouTube