Crepes Recipe!  Learn how to make Crepes! With Nutella! Crepes are thin French pancakes and making crepe batter at home is easy in a blender!  You don't even need a crepe pan or crepe maker to make homemade crepes.  I prefer to use a non-stick pan for making crepes and I get perfect crepes every time!  Crepe batter can be made in advance and refrigerated for a few days.  Or, the crepes can be wrapped and stored in the refrigerator for a few days and then reheated in a non stick pan, so crepes are the perfect make ahead recipe.
Sweet crepes are best for dessert or for breakfast.  Basic sweet crepes are made with eggs, milk, water, flour, sugar, butter, salt and vanilla for flavor.  They can be filled with Nutella and strawberries,  jam (strawberry, raspberry), preserves (apricot, strawberry and raspberry), bananas or other sliced fruits, custards and fruit spreads or whatever you like. For simple sweet crepe fillings, try strawberry banana Nutella crepes or crepes with Nutella and raspberry jam, topped with whipped cream and chocolate syrup, chocolate sauce or with more Nutella! Mmm. Ya gotta love crepes!! Topping crepes with ice cream, chocolate sauce, fruit sauces (blueberry, strawberry and raspberry) or whipped cream makes a perfect dessert.  Whatever crepe filling or topping you choose, when you make these delicate crepes at home, you will feel like you are eating street food from a little café style restaurant in Paris!  Roll them, fold them, fill them or top them.  Crepes are simple and delicious, delicate and thin French pancakes that everyone will enjoy!
I first learned how to make crepes from watching Julia Child years ago. Crepes are made all over the world, not just in France. In Japan, Indonesia, Italy, England, Russia, and in the Philippines, sweet and savory versions of crepes are made.
Note: Crepes can be made by hand, in a bowl, with a whisk, but I have always found lumps and had to strain the batter. This is why I prefer to use a blender. Making crepe batter in a blender creates a silky, smooth crepe batter, without lumps. The perfectly cooked crepes are soft and tender, proving that you don't have to be a chef to make great crepes! By far, the easiest way to make crepes; a foolproof recipe.
So, cook along with me and make homemade crepes from scratch with my easy to follow recipe and video demonstration.
Want to see more Breakfast Recipes or Dessert Recipes!  Go to the comments section for this Recipe on YouTube  and Request a recipe or leave me a comment!  What you're craving could be my next recipe! You may also like my French Macarons Recipe, Homemade Pancakes Recipe (American Pancakes) and Blueberry Pancakes Recipe.
Watch The Video!
Learn How To Make Crepes! Recipe by: Diane Kometa
Get updated when I release New Recipes!  It's Free! Do It! 
Don't Miss An Episode!
Crepes Recipe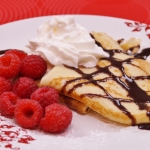 Prep time:
Cook time:
Total time:
Yield:

About 12

Difficulty:

medium

Recipe type:

Breakfast, Dessert
Ingredients:
1 cup milk – room temperature

½ cup water

3 eggs – room temperature

2 Tbs. sugar

1 tsp. pure vanilla extract

Pinch of salt

1 cup flour – spooned and leveled – about 116 grams

3 Tbs. melted unsalted butter, cooled

Canola oil or vegetable for greasing the pan

10 inch non-stick skillet with curved sides
Directions:
Make the batter: Add the milk, water, eggs, sugar, salt and vanilla extract to a blender. Mix for about 15 seconds to combine.
Turn the mixer off, remove the lid, dump in the flour, put the lid back on and blend for about 15-30 seconds until smooth. Use a rubber spatula and scrape any little clumps of flour from the inside of the blender.
Add the melted butter and mix until combined.
Pour the batter into a separate bowl and cover with plastic wrap. Allow the batter to rest at room temperature for about 1 hour or the batter may be refrigerated for up to 2 days. Before using the batter, gently stir. If batter was refrigerated, it may thicken slightly, so a little water may need to be added to thin it out. Start with a couple of teaspoons and go from there, but stir gently. Refrigerated batter should be set out at room temperature for at least 30 minutes before cooking.
Heat a 10 inch non-stick skillet with sloped sides over medium heat, until a few drops of water sizzles a bit, before evaporating. The pan heat may need to be adjusted as you see how the crepes are cooking. Consider the first 1 or 2 crepes a test, because they usually look the worst.
Add about 1 teaspoon of oil to the pan to grease it and then use a paper towel and wipe out the pan a bit, so it's not too greasy. Lift the pan from the heat and using a measuring cup or ladle, pour about ¼ cup of batter into the center of the pan and swirl the pan gently, so that the batter coats the bottom of the pan. Continues to swirl the pan until the batter stops moving and then return the pan to the heat. Cook for about 1 ½ – 2 minutes or until the batter looks set and begins to dry, edges of the crepe begin to brown slightly and may curl inward and the bottom of the crepe has browned very slightly and appears lacy. Use a thin spatula and slide it under the crepe and flip it over carefully. Cook the crepe for about another 15-30 seconds until set and the bottom begins to brown slightly. Carefully remove the crepe from the pan with the spatula and stack the crepes on a platter or lay on a rack to cool, if making in them advance. Note: The amount of batter may need to be adjusted for larger or smaller pans. If the heat is too low or if too much batter is poured into the pan, the crepes will take too long to cook, which will result in a thick crepe that is tough and rubbery or has a chewy texture. If the heat is too high the batter will start to cook as it is swirled in the pan and the crepes will over cook and become too brown.
Fill crepes with: Nutella (hazelnut spread), raspberry jam, bananas, strawberries, raspberries, apricot jam, grape jelly, lemon curd, chocolate sauce, Dulce de Leche, a squeeze of fresh lemon juice and a sprinkle of sugar or whatever you'd like. Roll crepes or fold them into quarters. See the video on how to fold crepes. Top crepes with powdered sugar and/or your favorite sauce. Serve crepes without filling by simply folding crepes and sprinkling them with powdered sugar and topping them with your favorite sauce or with ice cream. The possibilities are only limited by your imagination, so have fun with them!
Storing Crepes: Store crepes in the refrigerator. Place a piece of wax paper or parchment paper between each crepe and then wrap in aluminum foil.
Reheating cooked crepes: Place each crepe into a heated non stick pan for a several seconds, until heated through. Serve. Enjoy! Recipe by: Diane Kometa
Published on by Dishin' With Di
Tagged: batter, blini, blintz, breakfast, butter, Christmas, crepes, demonstration, Dessert, Diane Kometa, Dishin With Di, Easter, eggs, Father's Day, flour, French, from scratch, milk, mille, Mother's Day, New Year's, New Year's Eve, Old Fashioned, pan, pancake, pancakes, quick, Recipe, salt, Simple, snacks, sugar, Sweet, Thanksgiving, tutorial, Valentine's Day, vanilla, video, YouTube