Chocolate Meringue Cookies are crispy, sweet, light cookies full of chocolate flavor.  These Chocolate Meringues are made with egg whites, so they're fat free! Meringue Cookies make a nice light dessert served alone or they can be served with an ice cream, fresh fruit or topped with whipped cream.  Also know as Meringue Kisses, these easy to make chocolate cookies are perfect for Valentine's Day, Easter, Christmas or any holiday or party! Get in the kitchen and give them a try!
When making this recipe, it's easier to separate eggs, while they are still cold.  Using a stand mixer or hand mixer is recommended to make meringues, as making meringues by hand with a wire whisk can be quite time consuming and exhausting! Be sure all of your utensils are very clean.  Grease or fat on utensils can prevent egg whites from forming stiff peaks. It is also best to use a metal or glass bowl, when making meringues and not a plastic bowl, which can retain residues, even if washed in a dishwasher.  Meringues do not like moisture or humidity, so be sure all utensils are completely dry and do not make meringues on a humid or rainy day.  I also make meringue cookies without cream of tartar for this recipe.  Many meringue recipes use cream of tartar to stabilize the egg whites, but I use salt instead and sometimes a bit of fresh lemon juice and I've never had a problem.  Since these are chocolate meringue cookies, unsweetened cocoa powder is one of the ingredients.  Some brands of unsweetened cocoa powder are gluten free, which is best to use for these meringue cookies, if you need to be on a gluten free diet.  Check with the manufacturer for ingredients containing gluten.
Baking meringues in cold weather: Based on my experience with making meringue cookies at different times of year.  I've noticed that using an oven that sits against an outside wall can influence the way meringue cookies bake in the colder weather.  In the winter months the oven temperature seems to drop faster, once the oven is turned off.  This makes sense, since the outside wall is much colder than an inside wall.  Although the oven itself is insulated, if temperatures outside are freezing or below, that wall can get pretty darn cold!  I know my pantry, which is also on an outside wall, can fell like a fridge when you open it on those zero degree days!  Oven experts may disagree, but I can feel the difference and my meringues tell a different story!  I've noticed, when baking the meringue cookies in very cold weather, that they get a crisp crust on the outside, as they should, but the inside is very compact, which could be from the temp dropping so fast, once the oven's turned off.  Adjusting my cooking time when it's below freezing outside and adding an extra 7-10 minutes, before turning the oven off, has helped the meringues to cook properly. So, if you have an oven on an outside wall and it's freezing cold out, while the oven is off and hasn't been used all day, go open the oven door and see how it feels inside and then you decide.  Mine is a chilly 60 degrees F, which is 10 degrees below room temperature of 70 degrees F!  It may just be my oven, so use your best judgment on this  one.  Leave me a comment about this cold oven issue!  I'm really curious if it's just my oven or something I just never noticed after all these years!!
Go to this Recipe on YouTube or visit my Facebook Page and let me know your favorite way to serve Meringue Cookies and if there's a meringue recipe or dessert recipe you'd like to see!  What you're craving could be my next recipe!
Watch The Video! Learn How To Make Chocolate Meringue Cookies!     Recipe by: Diane Kometa
Subscribe to Dishin' With Di's YouTube Channel for the latest recipes! It's FREE!
Don't Miss An Episode!
Chocolate Meringue Cookies Recipe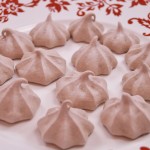 Prep time:
Cook time:
Total time:
Yield:

Makes about 45

Difficulty:

easy

Recipe type:

Dessert
Ingredients:
3 egg whites – room temperature

1/8 tsp. salt

1 tsp. pure vanilla extract

¾ cup superfine sugar or caster sugar

3 Tbs. unsweetened cocoa powder
Directions:
Preheat oven to 225 degrees F. Place cooking rack in center of oven.
Line a large (14×17) baking sheet or 2 smaller sheets with parchment paper and set aside.
Place egg whites into clean mixing bowl or clean bowl of stand mixer. Note: A plastic bowl is not recommended, as plastic retains residues, which may prevent the eggs from developing into firm peaks. It's also important that the bowl, whisk and spatula are also very clean and free of any oils or residues.
Using a stand mixer or hand mixer, beat the egg whites on medium speed, until they get foamy. You can do this by hand, but it will just take a bit longer, so be ready for an arm workout.
Once foamy, add the salt. Continue to beat until soft peaks form. The mixture will look very light and foamy and when the whisk is lifted the meringue should briefly form a peak and then fall over. See video.
With the mixer on medium-low, gradually add the sugar about 1 tablespoon at a time, being careful not to get it all over the sides of the bowl. Once half of the sugar has been added, scrape down the bowl and then rinse and dry the spatula to remove any sugar. Continue to add the rest of the sugar. Once all sugar has been added, scrape again and rinse and dry spatula. Beat until firm peaks form and meringue is smooth when you run it between your fingers.
With the mixer off, add the vanilla extract and then beat well to combine. With the mixer off, sift the cocoa powder evenly over the meringue. Cocoa powder usually has lumps and must be sifted. Turn the mixer on low and beat, until the cocoa powder just disappears. Using a rubber spatula, gently fold in any remaining cocoa powder by hand.
Secure the parchment to the baking sheet with a few dabs of the meringue on each corner.
If desired, spoon mixture into a piping bag with a wide star tip or into a plastic bag with the corner cut off. Gently shake down the meringue to the bottom of the bag and twist the bag. If not using a bag, use two spoons. See video.
Pipe or spoon the meringue onto the lined baking sheet, about 1 ½ – 2 inches apart, as they puff up slightly while baking. Place baking sheet on the center rack of preheated oven. After 45 minutes turn the oven off, but DO NOT open the door! Leave the meringues in the oven undisturbed for at least 4-6 hours or overnight, to allow them to completely dry out. Once the meringues have dried, remove from baking sheet and EAT! They can be stored at room temperature in airtight containers or plastic bags. Enjoy!! Recipe by: Diane Kometa
Published on by Dishin' With Di
Tagged: baked, baking, best, caster sugar, chewy, chocolate, chocolate cookies, chocolate meringue cookies, Christmas, cocoa powder, Cookie, cookies, cooking, crisp, crispy, crunchy, Crust, delicious, demonstration, Dessert, dessert recipe, Desserts, Diane Kometa, Dishin With Di, Easter, easy, egg whites, eggs, fat free, flourless, from scratch, gluten free, Halloween, homemade, how to bake, How To Make, kisses, light, low fat, making, meringue, meringue cookies, meringue kisses, meringues, mini, New Year's, New Year's Eve, powder, quick, Recipe, salt, Simple, small, sugar, superfine sugar, Sweet, sweets, Thanksgiving, treats, unsweetened cocoa powder, Valentine's Day, vanilla, vanilla extract, video, without cream of tartar, without flour, YouTube