The Perfect Cookie! These are my Go-To cookies. Perfect for the Holidays, but I bake them all year round. This is a deliciously fresh, sweet and crisp cookie, that delivers different textures and flavors in every bite! You get a burst of orange and then the slight tartness of the cranberries, along with their chewy texture and then you hit a piece of smooth white chocolate and end it with the crisp crunch of the cookie. There's a lot of things going on in just one bite! I just love when that happens, don't you? I just love that orange flavor too!  These cookies are part of my Christmas cookie baking, but there's something about citrus in cookies that makes me think of Spring and Summer, so these are good cookies to serve for Easter and other occasions.  I usually bake several dozen at a time and then store them in an airtight container in a single layer, with parchment paper in between. I've never frozen them, but that's because they usually don't last very long. Give my White Chocolate Cranberry Orange Cookies a try! Di  😉
Bake More Cookies >> Old Fashioned Chocolate Chip Cookies Recipe, Sugar Cookies Recipe, Shortbread Cookies Recipe, Key Lime White Chocolate Chip Cookies Recipe, Mint Chocolate Chip Meringue Cookies Recipe and more!
Want to see more Cookie Recipes?  Easy Dessert Recipes?  Dessert Recipes with Orange Juice or Orange Zest?  Go to this Recipe on YouTube  or my Facebook Page and Request a Recipe OR Leave a Comment! What you're craving could be my next recipe!
Watch The Video Recipe Tutorial!
Learn How To Make Cranberry Orange White Chocolate Chip Cookies      Recipe by Diane Kometa
Subscribe for My Latest Recipes!  It's FREE!  Do It!
Don't Miss An Episode!
White Chocolate Cranberry Orange Cookies Recipe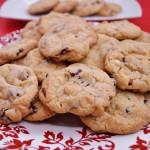 Prep time:
Cook time:
Total time:
Yield:

About 2 1/2 Dozen

Difficulty:

easy

Recipe type:

Dessert, Cookie Recipe
Ingredients:
1 ¼ cups flour

½ tsp. baking soda

½ tsp. salt

½ cup unsalted butter – softened

1 egg – lightly whisked – room temperature

¾ cup granulated sugar

1/4 cup light brown sugar – packed

1/2 tsp. vanilla extract

1 tablespoon orange zest

Juice of one large orange – about ¼ – ½ cup

¾ cup dried cranberries

1 cup white chocolate chips
Directions:
Preheat oven to 350 degrees F
Line two baking sheets with parchment paper. Set aside.
In a bowl, whisk together flour, baking soda and salt until thoroughly combined. Set aside.
Wash the orange and pat dry. Zest the orange and set zest aside.
Place cranberries in a small microwave safe bowl. Cut the orange in half and squeeze the juice into the bowl of cranberries. Stir. Microwave on high for 30 seconds or until juice is hot. Remove and set aside for at least 10 minutes. Drain and place the cranberries on paper towels. Set aside.
Place sugars in a small bowl and mix together with a fork or small whisk until thoroughly combined.
Using a stand mixer with the paddle attachment or hand mixer beat the butter until smooth. Scrape down the sides as needed. This should take about a minute.
With the mixer on low, gradually add the sugars. Once sugars are coated in butter, increase the speed to medium-high and beat until well combined and creamy. Scrape down the sides as necessary.
Add the vanilla extract and the orange zest to the whisked egg and give it stir. With the mixer on low, gradually pour in the egg mixture. Increase the speed to medium and mix until well combined. Scrape down the sides as needed.
With the mixer on low, gradually add the flour mixture. Mix until combined. Scrape sides.
Stir in the chips and the cranberries until evenly distributed.
Using a small ice cream scoop or a tablespoon, drop about 1 ½ tablespoons of dough on the baking sheet about 2 inches apart. Bake on center rack for about 12 minutes or until tops are very light brown.
Remove and let sit for 3-5 minutes on sheet, before moving to rack to cool completely. Recipe by: Diane Kometa
Note: I have stored the cookies for a few weeks in an airtight container in single layers with parchment paper between each layer.
Published on by Dishin' With Di
Tagged: baked, best, brown sugar, butter, chocolate, chocolate chips, Christmas, cookies, craisins, cranberries, Cranberry, demonstration, Desserts, Diane Kometa, Dishin With Di, dried cranberries, easy, eggs, flour, from scratch, Halloween, homemade, How To Make, New Year's, New Year's Eve, orange, orange juice, quick, Recipe, sugar, Thanksgiving, tutorial, vanilla, video, white chocolate, YouTube, zest