Using simple ingredients: white balsamic vinegar, olive oil, honey, dijon mustard, parmesan cheese and herbs, this is a simple, delicious and healthy salad dressing. Balsamic vinegar is different than white balsamic vinegar, as the white is sweet.  Dressings can be used for many thing and I like this one on salads with my homemade croutons (look under recipe index))  I usually use it with a spring mix salad or arugula salad and occasionally with spinach salad, although I do prefer honey mustard dressing with spinach.  This dressing is great served with chicken, drizzled on sandwiches (especially grilled chicken sandwiches!) and it can also be used as a marinade.  It's great whether you're on a diet and looking for low fat recipes and healthy recipe ideas or if you just want something delicious, that's quick and easy to make. I started making this dressing, because my girlfriend and I were hooked on a store brand, Marzetti's/Girard's, which is really delish.  A few times our grocery stores ran out, so we'd stock up for each other when we could get it.  We love it that much!  So anyway, we both decided to start making our own and tried to crack the code for Marzetti's! lol I think I came pretty close here, so I hope you like it.  It a sweet, light dressing, that's low in saturated fat, due to the extra virgin olive oil and it's quite flavorful.  The sweetness comes from the white balsamic vinegar and also because I make the dressing with honey, which is a healthier choice than sugar.  Without the sugar, it's still sweet, but it's guilt free!  This dressing is best when it's made ahead, which gives the dressing ingredients a chance to mingle, but I've also served it immediately after making it and it was still quite good.  It's an easy salad dressing to make and I hope you try it!  Other vinaigrette favorites of mine, which I'll be sharing, are apple vinaigrette or fuji apple vinaigrette (like the panera bread dressing- yum!), raspberry vinaigrette and I've tossed around a strawberry vinaigrette dressing as well.  I've already shared my Caesar Salad Dressing recipe (look under recipe index), which you must try!  It's a creamy dressing with loads of flavor and really is a delicious and simple salad dressing recipe to make!  I get plenty of compliments on it and my husband claims it's  the best salad dressing recipe!  He's a tough one too, so that's saying something!  haha  He loves this one though too!  Enjoy!
Leave me a comment!  Go to my YouTube Channel or my Facebook Page and let me know if there's something you'd like to see.  What you're craving could be my next video!
Watch the Video!  
Learn How To Make White Balsamic Vinaigrette!  Recipe by: Diane Kometa
Get updated when I release New Recipes!  It's Free! Do It! 
Don't Miss An Episode!
White Balsamic Vinaigrette Recipe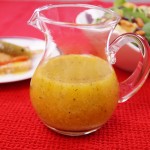 Prep time:
Cook time:
Total time:
Yield:

Makes about 3/4 Cup

Difficulty:

easy

Recipe type:

side dish, appetizer, sauce, dressing
Ingredients:
¼ cup white Balsamic Vinegar

¼ tsp. dry marjoram leaves

¼ tsp. dry thyme leaves

1/8 fresh ground black pepper

1/8 Salt

½ tsp. garlic – minced

2 Tbs. Honey

1 ½ tsp. Dijon mustard

6 Tbs. extra virgin olive oil – I've also used a combination of canola and grape-seed oil

2 Tbs. freshly grated Parmesan cheese
Directions:
In a large bowl, add the white balsamic vinegar, salt, pepper, garlic, honey and Dijon mustard.
Take the dry marjoram and thyme and rub them between your fingers. This helps break up the leaves and helps to release more flavor. Add to the vinegar.
Whisk briskly to combine the ingredients thoroughly and to be sure the honey is dissolved.
While whisking briskly, gradually drizzle in the olive oil. Whisk briskly to combine. Dressing will thicken slightly.
Add the Parmesan cheese and whisk well to combine.
Serve immediately or place in an airtight container and refrigerate until ready to use. I like to make my dressing a few hours before serving or the night before, to give the flavors a chance to mingle. This is perfect served over salad with my homemade croutons or I really love it drizzled over a grilled chicken sandwich. Be sure to try my Caesar Salad Dressing Recipe too! Enjoy!! Recipe by: Diane Kometa
Published on by Dishin' With Di
Tagged: balsamic, balsamic vinaigrette, best, cheese, Christmas, demonstration, Diane Kometa, Dijon, Dishin With Di, dressing, dressings, easy, from scratch, Garlic, healthy, homemade, honey, How To Make, marinade, marjoram, musard, oil, Parmesan, quick, Recipe, salad, salad dressing, salads, sauce, Sides, Sweet, tangy, Thanksgiving, thyme, tutorial, video, vinaigrette, vinegar, white, white balsamic vinaigrette, YouTube