How to Make Whipped Cream! Whipped Cream Recipe for cakes, frosting, coffee, pavlova, hot chocolate, desserts or anything you'd like!  I make it for my pudding and ice cream too! Don't forget about breakfast!  You must try this whipped cream on my pancakes and French toast!  Yes!  Trust me!  It's very good on pancakes and French toast!  It makes a really impressive presentation and it tastes delish!  Keep that mind for someone who deserves something a little special.  Imagine the look on their face when they see a beautiful swirl of whipped cream topping their pancakes, waffles or French toast!  Personally, I could just put it in a bowl, eat it with a spoon and call it a day!  I haven't really done that, but I really wanted to!
Want to Request a Recipe?  See more Dessert Recipes with Whipped Cream?  Leave me a comment! Go to this Recipe on YouTube or visit my Dishin With Di Facebook Page! Let me know if there's something you'd like to see. What you're craving could be my next recipe!
Watch the Video!  Learn How to Make Whipped Cream!                            Recipe by: Diane Kometa
Get updated when I release New Recipes!  It's Free! Do it! 
Don't Miss An Episode!
Whipped Cream / Whipped Cream Frosting Recipe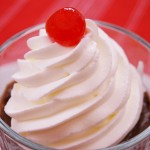 Prep time:
Cook time:
Total time:
Yield:

2 cups

Difficulty:

easy

Recipe type:

Dessert
Ingredients:
1 cup heavy cream – 35% fat or more

1-2 Tbs. granulated sugar

Tools – Whisk (if doing by-hand), hand mixer or stand mixer with whisk attachment, mixing bowl (metal bowl preferred) and a measuring cup
Directions:
Into the freezer, place your whisk or whisk attachment, mixing bowl and measuring cup for 15 minutes. Also be sure that you cream is chilling in the fridge. Do not bring anything out until you are ready to begin. The colder things are the faster the whipping! 
Add the heavy cream to the mixer. With mixer on low gradually add the granulated sugar. Slowly turn the mixer up to medium high speed and beat until soft peaks form. At this point you can add in a flavoring/extract if you'd like. Beat until firm peak are formed. Watch carefully and check if you're uncertain. You do not want to overbeat, as the cream will turn to butter. This can happen quickly, so watch over it. If it does happen, don't worry. You can add a little more cold cream and beat it back to life, but be careful this time!  This whole process can happen very quickly with a stand mixer; literally within a few minutes. If using a hand mixer a little more time may be necessary and if you're doing it by hand it could be a several minutes, so be ready for an arm workout! The key is to make sure everything is super cold, so the mixing time is as short as possible.
Once firm peaks are formed, it's best to use the whipped cream right away. Although it can be stored in the fridge for a few days and whipped back up with a whisk, I think it's always better when it's freshly made. Keep in mind if you're using this on a pie, cake cupcakes or any dessert, that it must be stored in the fridge. Leaving it sit at room temperature too long, especially if it's warm will make the cream sink and since it is a dairy product, it should be refrigerated to maintain its freshness. Enjoy! Recipe by: Diane Kometa
Published on by Dishin' With Di
Tagged: best, Cake, Christmas, cre, cream, cream puffs, cupcakes, demonstration, Dessert, Desserts, Diane Kometa, Dishin With Di, Easter, easy, from scratch, Frosting, Halloween, heavy cream, homemade, How To Make, Icing, New Year's, New Year's Eve, Pies, quick, Recipe, sugar, summer desserts, Thanksgiving, topping, tutorial, video, whipped cream, YouTube