Crispy, Homemade Waffles made with a simple batter. Mom's Best, Waffle Recipe From Scratch!  Make Waffles for Breakfast or have Waffles and Ice Cream for Dessert.  Pop leftovers in the freezer!  They are Amazing toasted!  Who knew a basic waffle recipe could be soo good!  Try them with my Homemade Whipped Cream or Pumpkin Spice Syrup!
What's your favorite Waffle Recipe?  Breakfast recipe?  Holiday Breakfast?  Leave me a comment! Go to this Recipe on YouTube or visit my Facebook Page! Let me know if there's something you'd like to see.
What you're craving could be my next recipe!
Watch The Video!
Learn How To Make Homemade Waffles!  Recipe by: Diane Kometa
Subscribe to Dishin With Di for the latest recipes! It's FREE! Do It!
Don't miss an episode!
Waffles Recipe From Scratch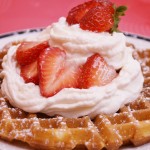 Prep time:
Cook time:
Total time:
Yield:

8 – 6 1/2 inch round waffles

Difficulty:

easy

Recipe type:

Breakfast, Dessert
Ingredients:
1 3/4 cups flour – pour into measuring cup and level – do not scoop

1/4 cup corn starch

1 tsp. salt

1 Tbs. baking powder

2 eggs – room temperature

2 Tbs. sugar

1 1/2 tsp. pure vanilla extract

1 3/4 cups milk – room temperature

1/2 cup vegetable oil

Note: To make half recipe: For easy and accurate measurements of milk and flour for a half recipe, measure one cup of flour, then remove 2 tablespoons. Do the same with the milk. Reduce all other ingredients by half and follow recipe directions.
Directions:
In a large mixing bowl, whisk together the flour, cornstarch, baking powder and salt. Set aside.
In a separate bowl or large measuring cup, whisk together the milk, eggs, sugar, vegetable oil and vanilla, until thoroughly combined.
Pour the wet mixture into the dry and whisk together until smooth and thoroughly combined. There should not be any lumps. Cover bowl with a piece of plastic wrap and let sit at room temperature for 30 minutes. This allows the gluten to relax and the flour to absorb as much liquid as possible, which will create light, crisp waffles.
Preheat a waffle iron. Do not use non-stick spray on the waffle iron; the oil in the batter will allow the waffle to release easily. Give the batter a light stir to be sure nothing is sitting at the bottom of the bowl. Follow the manufacturer's directions for your waffle iron and cook the waffles. I like them on the darker side, because they get a bit more crispy. Serve immediately with butter and syrup or with your favorite ice cream! My pumpkin spice syrup is a fall and holiday favorite. **Do yourself a favor. Toast the waffles and try them with some ice cream or frozen yogurt. Amazing!! Enjoy!
Notes: 1) For large batches, heat oven to 225 degrees F. Place a wire rack on a baking sheet. Place cooked waffles on the rack and then into the oven to keep warm. I also use a toaster on a low setting, if I don't feel like heating the oven, but I still place the freshly cooked waffles on a rack as they come out of the iron, so they don't get soggy. The toaster heats them right up and makes them even more crispy. 2) Wrap leftover waffles in plastic wrap and put in a freezer safe bag. Freeze and then pop in the toaster when ready to eat. I keep them in the fridge, if I'm going to use them within a day or two. Recipe by: Diane Kometa
Published on by Dishin' With Di
Tagged: Basic, batter, best, breakfast, Christmas, crispy, demonstration, Desserts, Diane Kometa, Dishin With Di, Easter, easy, eggs, flour, from scratch, homemade, How To Make, ice cream, milk, Old Fashioned, quick, Recipe, restaurant style, sugar, Thanksgiving, tutorial, Valentine's Day, vanilla, video, waffle, waffle batter, waffle house, waffle iron, waffle maker, waffles, YouTube