Making easy side dish recipes can be a challenge, but this easy vegetable recipe should be on your go-to list!  Using prepared pesto sauce, makes this simple side dish easy and delicious!  I have a fresh basil pesto recipe, but I don't always have enough fresh basil on hand to make it, so I buy prepared pesto sauce, which is quite tasty, as long as you can find a good brand.  That's where the bulk of your flavor is coming from, so try to find one that you really like or Italian specialty stores sometimes have fresh basil pesto sauce. For vegetables, I chose to use asparagus, Portobello mushrooms, sweet onions and red and yellow bell peppers for my vegetable sauté. Vegetables that are in season or whatever you'd prefer to use will be just fine, but I really like this combination, as it looks and tastes great. The vegetables cook quickly in the pan and are still crisp, but tender and very colorful.  I serve this healthy side dish with chicken, with pasta and with fish or with shrimp.  I just made it for dinner with my Parmesan Herb Crusted Tilapia.  Yum! Learn How To Make Sautéed Vegetables With Basil Pesto Sauce: Get in the kitchen and give this easy side dish recipe a try!    Enjoy!
Watch The Video!  Learn How To Make Vegetables With Basil Pesto Sauce

Join thousands of others who have subscribed to my  YouTube Partner Channel – Dishin With Di! Subscribing to YouTube is FREE and allows you to get updates when I release new recipes!
Subscribe  and get my latest recipes!
Leave me a comment!  Go to my YouTube Channel or my Facebook Page and let me know if there's something you'd like to see.
What you're craving could be my next video!
Vegetables with Basil Pesto Sauce Recipe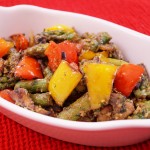 Prep time:
Cook time:
Total time:
Yield:

2-4

Difficulty:

easy

Recipe type:

Side dish
Ingredients:
3/4 cup bell peppers – chopped – I used red and yellow

3/4 cup asparagus – chopped

3/4 cup Portobello mushrooms – chopped

1/4 cup Sweet onion – sliced

1/2 tsp. garlic – minced

1 Tbs. fresh thyme – chopped

1 Tbs. fresh parsley – chopped

3-4 Tbs. basil pesto

Salt Fresh pepper

2 Tbs. olive oil
Directions:
Preheat a skillet over medium-high heat. Add olive oil and the vegetables. Toss to coat thoroughly. Cook and toss for about 2 minutes or until vegetables are tender, but still crisp.
Add the thyme, parsley and garlic. Toss to combine for about 30 seconds, until garlic becomes fragrant.
Add basil pesto sauce. Remove from heat and toss to combine. Season to taste with salt and pepper.
Serve with your favorite dish! Enjoy!
Published on by Dishin' With Di
Tagged: asparagus, basil, bell peppers, best, demonstration, Diane Kometa, Dishin With Di, easy, from scratch, Garlic, healthy, homemade, How To Make, Italian, mushrooms, onion, onions, pesto, sauce, Sides, tutorial, vegetable, vegetables, video, YouTube