Learn How to Make Vanilla Cupcakes From Scratch! Easy Recipe Tutorial!
Vanilla Cupcakes are the best with buttercream frosting and are always popular for children's birthday parties, but cupcakes are also perfect for adult parties too!  Cupcakes, especially vanilla cupcakes, are seen at weddings, where a traditional wedding cake is replaced by a tower of cupcakes with beautiful decorations. Cupcakes can be very simple with frosting and decorative sugar or sprinkles, but are also seen with swirled rainbow colored frosting, royal icing and even decorated with fondant.  These homemade cupcakes are also perfect for Christmas,  Valentine's Day, Mother's Day or anytime you just want a moist and delicious cupcake! They're simple to make at home, so their perfect for beginners and will give any bakery style cupcake a run for the money!  Top these cupcakes with some creamy frosting and enjoy! So, get in the kitchen and start baking cupcakes!  I hope you like this easy vanilla cupcake recipe!
Here are some of my frosting recipes for cupcakes, cakes and desserts.  Try one or a combination!
Chocolate Buttercream Frosting Recipe
Vanilla Buttercream Frosting Recipe
Raspberry Buttercream Frosting Recipe
Mint Buttercream Frosting Recipe
What's your favorite cupcake recipe? What kind of frosting do you like best on Vanilla Cupcakes? Leave me a comment! Go to this Recipe on YouTube or visit my Facebook Page! Let me know if there's something you'd like to see.
What you're craving could be my next recipe!
Watch The Video! Learn How To Make Vanilla Cupcakes From Scratch!  Recipe by: Diane Kometa
Subscribe to Dishin' With Di's YouTube Channel for the latest recipes! It's FREE!  Do It!
Don't Miss An Episode!
Vanilla Cupcakes Recipe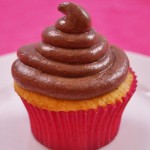 Prep time:
Cook time:
Total time:
Yield:

12

Difficulty:

easy

Recipe type:

Dessert, Cupcake
Ingredients:
1 ½ cups flour – pour flour into measuring cup with a spoon, until it comes up above the measuring cup and then level off with the back of a knife – do not scoop the measuring cup into the flour or you will end up with too much flour and cupcakes will be dry.

1 ½ teaspoons baking powder

¼ teaspoon fine salt – I use sea salt

½ cup unsalted butter – room temperature

3/4 cup sugar

2 large eggs – lightly whisked – room temperature

1/3 cup (whole) milk – room temperature

1 teaspoons pure vanilla extract or vanilla bean paste
Directions:
Preheat oven to 350 degrees. If you using a dark or dull colored muffin tin, heat oven to 325 degrees F, to prevent over baking. Place 12 liners in a cupcake tin.
In a small bowl, whisk together the flour, baking powder and salt. Set aside.
Combine the milk and vanilla in a measuring cup with a spout. Set aside.
With the paddle attachment of stand mixer or using a hand mixer, beat the butter and sugar on medium high speed until light and fluffy, about 2-3 minutes. With the mixer on, pour half of the whisked eggs into the mixing bowl and beat until combined. Add the rest of the egg and mix until combined. Scrape the bowl.
With the mixer on low, add the flour in 3 additions – alternating with the milk mixture in 2 additions. Begin and end with the flour. Do not over mix. Scrape the bowl and mix any remaining flour by hand, just until the flour disappears into the batter. Do not stir.
Distribute batter evenly among cupcake liners, about ½ full. Smooth with the back of a spoon and gently tap tin on the counter a few times to release any air bubbles.
Place tin on center rack of oven. Bake for about 16-20 minutes or until a toothpick or cake tester inserted into the center of a cupcake comes out clean. Test cupcakes about 15 minutes into baking time and if you see a few moist crumbs, they only have about another 1-2 minutes baking time left. Over baked cupcakes will be dry and crumbly. Move tin to wire rack to cool for about 5-10 minutes, before removing cupcakes to the rack to cool completely before frosting. Recipe by: Diane Kometa
Published on by Dishin' With Di
Tagged: baking, baking powder, Basic, bean, best, birthday, birthdays, butter, buttercream frosting, Cake, children's, chocolate, chocolate buttercream frosting, Christmas, cream cheese frosting, cupcake, cupcakes from scratch, demonstration, Desserts, Diane Kometa, Dishin With Di, Easter, easy, eggs, flour, from scratch, homemade, how to bake, How To Make, in oven, milk, mint buttercream frosting, moist, Mother's Day, New Year's, Old Fashioned, paste, pink, quick, raspberry, Recipe, recipe from scratch, recipes, royal icing, salt, Spring, sugar, Summer, Thanksgiving, tutorial, Valentine's Day, vanilla, vanilla cupcakes recipe, vanilla extract, video, weddings, whipped cream frosting, yellow, YouTube