Twice Baked Potatoes with Bacon and Cheese!  Yes Please!
Learn how to make Twice Baked Potatoes!  It's EASY! Double baked potatoes stuffed with bacon and cheese! Creamy, cheesy potatoes, loaded with flavor! The Ultimate Twice Baked Potatoes Recipe!   Twice cooked and TWICE as delicious as regular baked potatoes or mashed potatoes! 😉
Russet or Idaho potatoes are baked in the oven and then mashed and mixed with milk and butter AND with sour cream! Then, the delicious creamy mashed potatoes are loaded with cheese AND bacon AND onions! Look out!  These loaded mashed potatoes are then stuffed back into the potato skins, topped with MORE cheese and bacon and cooked in the oven AGAIN, until they the cheese is melted and bubbly!  I top them with a few more green onions, so they look xtra delicious, but they don't need any help! Creamy, cheesy potatoes with crispy bacon and onions Twice Cooked to perfection! The ideal side dish recipe for dinner or a special occasion!  Perfect for Thanksgiving, Christmas, New Year's, Father's Day or anytime you need one of those delicious side dishes that is just over-the-top!   OR make twice baked potatoes for lunch on a cold day with a hot bowl of soup.  Mmmm.  Deeelicious! Reheated leftovers are great for snacks (if there are any)!  
Enjoy! Di  😉 
P.S.  You may also like my Loaded Baked Potato Casserole – Salad! It's also Twice-Baked and can be served hot or cold! Click Here for the recipe -> Loaded Baked Potato Casserole – Salad
Look at that!  Are you drooling?  I know I am! 
The Ultimate Twice Baked Potatoes
Make my Recipes and Share a pic with me on my Facebook Page!
Show off your FAB cooking skills!
Want to see more Easy Side Dishes or Potato Recipes!  Go to the comments section for this Recipe on YouTube  and Request a recipe or leave me a comment!  What you're craving could be my next recipe!
**All recipes are tested  – sometimes over and over again 😉
Watch The Video Recipe!
Learn How To Make Twice Baked Potatoes!  Recipe by: Diane Kometa
Get updated when I release New Recipes!  It's Free, so do it! 
Don't Miss An Episode!
Twice Baked Potatoes With Bacon And Cheese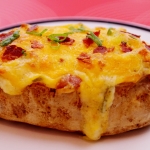 Prep time:
Cook time:
Total time:
Yield:

4

Difficulty:

easy

Recipe type:

Side dish, Side,
Ingredients:
4 baking potatoes – about 8 ounces each – washed and patted dry

3 Tbs. unsalted butter-soft

4 Tbs. milk – room temperature

½ cup sour cream – room temperature

1 cup (4oz.) shredded sharp cheddar cheese – divided

10 slices of bacon – cooked until crispy – follow my easy oven cooking method below, if desired

5 Tbs. Green onions (Scallions) – sliced thin – just the green part

Kosher salt or fine sea salt

Ground black pepper
Directions:
Preheat oven to 400 degrees F and place the oven rack in the center position. Put the potatoes directly on the oven rack and bake for about 1 hour or until tender, when pierced in center with a fork. Remove potatoes from oven using an oven mitt or pot holder. Set aside to cool, while you cook the bacon. Keep the oven on.
Cook bacon in the oven: Line a baking sheet with foil and then place a wire rack over top of the baking sheet. Lay the strips of bacon on the rack, about 1 inch apart. Bake on the center rack of the preheated 400 degree F oven for about 20 minutes, until crispy. Remove from rack to paper towels to drain. Do not turn the oven off. Replace the greasy foil with a new piece and set the baking sheet aside. Note: The bacon can be cooked before the potatoes or while the potatoes are in the oven.
Using a sharp paring knife, cut a thin lengthwise slice in the shape of a canoe, into the top of each potato and then remove the thin piece of potato skin. Using a spoon, scoop out most of the potato flesh into a large mixing bowl, leaving about ¼ inch of flesh remaining inside the skin, so the potatoes hold their shape. Place the potato shells onto the foil lined baking sheet.
Mash the potatoes by hand with a potato masher, until no lumps remain. Add the milk and mash until creamy. Add the softened butter and sour cream to the mashed potatoes and season with salt and ground pepper to taste. Using a hand mixer on medium low speed, combine the mixture just until creamy.
Add about half of the shredded cheese to the potatoes, reserving the rest for topping. Crumble 8 slices of bacon into the potatoes and set the other 2 slices aside and crumble for topping. Add 4 tablespoons of the green onions, reserving 1 tablespoon for garnish. Use a rubber spatula or wooden spoon and fold the ingredients into the potatoes to combine.
Spoon the potatoes into the potato shells, allowing the mixture to mound above the potato skins. Top potatoes with remaining shredded cheese and remaining crumbled bacon.
Bake on the center rack of the preheated oven for about 20 minutes or until the potatoes are heated through and the cheese is lightly browned and bubbly. Top with some reserved sliced green onions, if desired. Enjoy! Recipe by: Diane Kometa
Published on by Dishin' With Di
Tagged: appetizers, bacon, baked, best, butter, Cheddar, cheese, cheesy, Christmas, creamy, demonstration, Diane Kometa, dinner, Dishin With Di, double, Easter, easy, from scratch, green, homemade, How To Make, Idaho, loaded, lunch, mashed, meat, milk, New Year's, Old Fashioned, onion, pepper, pork, potatoe, Potatoes, quick, Recipe, roasted, russet, salt, scallions, side dish, Sides, Simple, skins, snacks, sour cream, stuffed, Thanksgiving, tutorial, twice, twice baked potatoes, ultimate, Valentine's Day, vegetable, video, YouTube