Turkey Taco Wrap Recipe! Learn How to Make Tacos Wraps with Ground Turkey! Easy Healthy Recipe! These turkey taco wraps are lighter than ground beef tacos, easy to make and ready in minutes!  Ground turkey is cooked with spices, wrapped in whole wheat tortillas and topped with non-fat sour cream, fat free cheese and lettuce.  Diet friendly and with just as much flavor as beef tacos! Make them at home for an easy dinner and take leftovers to work for lunch!  Serve these delicious Mexican style wraps with  my homemade salsa, guacamole and some nachos for a Mexican dinner night or for Cinco de Mayo!  You could even cut them in half and serve as appetizers for a party!  I hope you enjoy this turkey wrap recipe with a Mexican taco flair! Get in the kitchen and give it a go!
Want more Wrap Recipes?  Healthy recipes?  Mexican style recipes?  Request a Recipe or Leave me a Comment!  Go to This Recipe On YouTube or my Facebook Page and let me know if there's something you'd like to see.  What you're craving, could be my next video!
Watch The Video!  Learn How To Make Turkey Taco Wraps!                     Recipe by: Diane Kometa
Get updated when I release New Recipes!  It's FREE! Do It! 
Don't Miss An Episode!
Turkey Taco Wrap Recipe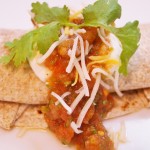 Prep time:
Cook time:
Total time:
Yield:

4-6

Difficulty:

easy

Recipe type:

Main Course, Entree, Appetizer
Ingredients:
1 pound ground turkey – extra lean has the least fat

1 ½ cups diced tomatoes

1/2 cup green chilies-4 oz. can – mild or hot – it's up to you

3/4 cup chopped onion – 1 medium onion

½ tsp. garlic powder

½ tsp dried oregano

1 ½ tsp. ground cumin

1 ½ tsp. chili powder

Salt & pepper to taste – I use about 1/2 to 3/4 tsp. of salt

1 ½ Tbs. olive oil

4-6 Tortillas (depends how much you fill them)

Toppings – shredded lettuce, shredded low fat Mexican cheeses, fat-free sour cream, and my Homemade Salsa Recipe
Directions:
Preheat large skillet over medium high heat and then add olive oil.
Add Turkey and onions and cook for about 5-7 minutes until turkey is no longer pink and just starting to brown slightly. Stir and chop with spatula while cooking, until turkey is broken into small bits.
Add seasonings, tomatoes, chilies, salt and pepper to taste.
Cook and stir for another 5-7 minutes, until tomatoes are heated through and start to soften and everything is well combined.
Place mixture on heated tortilla (I heat mine in the microwave) and top with cheese, salsa, sour cream and lettuce. Fold. Serve topped with additional salsa, sour cream and a sprinkle of cheese if desired. Perfect with my Homemade Salsa!

Recipe by: Diane Kometa
Published on by Dishin' With Di
Tagged: appetizer, appetizers, best, cheese, chili powder, Cinco de Mayo, cumin, demonstration, Diane Kometa, Dishin With Di, easy, from scratch, Garlic, green chilies, ground turkey, healthy, homemade, How To Make, letttuce, low fat, Mexican, onion, onions, oregano, quick, Recipe, salsa, snack, sour cream, taco, tomatoes, tortillas, turkey, turkey wrap, tutorial, vegetables, video, wrap, wrap recipe, YouTube