Simple Marinara Sauce ready in 30 minutes! Learn how to make a recipe for tomato sauce, when you're in a hurry, with canned tomato sauce, tomato paste and a few simple ingredients. This is not a traditional Italian marinara sauce or tomato sauce, as some call it, but a speedy recipe that's perfect when you're in a hurry and want to make a dish with marinara sauce. This is made without fresh tomatoes or canned tomatoes, but with tomato sauce and tomato paste along with some dried oregano, dried basil, garlic, onion, red wine and a few other ingredients and cooks in just 30 minutes. It's good for things like chicken parmesan, with stuffed shells ( like my spinach stuffed shells! ) with lasagna or whenever you'd use a traditional marinara.  I do prefer homemade, from scratch, marinara sauce with pasta, especailly spaghetti or penne, as I do like fresh tomatoes and for canned tomatoes the San Marzano tomatoes simply make the best marinara sauce. I do plan on using the San Marzanos in an upcoming episode.  They are so delicious!  I also love fresh basil,  but I don't always have both of those on hand. This sauce has lots of flavor and comes together fast, so you don't have to worry when you don't have fresh tomatoes or canned whole or crushed tomatoes on hand.  I've learned a lot about Italian cooking from years of being part of an Italian family (my husband's family).  Usually tomato puree, tomato sauce or passata is used for meat sauce or bolognese sauce, but I have seen the sauce/puree and passata used to make marinara as well and that's where I learned how to make this simple sauce.  It's very good, quick and easy!  I hope it helps you out!  So, get in the kitchen and give it a try!
Watch the Video!
Learn How To Make Quick Tomato Sauce – Marinara Sauce!
Visit me on my YouTube Channel and Subscribe  to get my latest recipes!
Leave me a comment!  Go to my YouTube Channel or my Facebook Page and let me know if there's something you'd like to see.
Tomato Sauce Recipe – Quick Marinara Sauce Recipe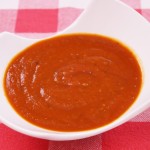 Prep time:
Cook time:
Total time:
Yield:

Make 3 1/2 Cups

Difficulty:

easy
Ingredients:
1/3 cup onion – minced

1 Tbs. tomato paste

1 ½ tsp. minced garlic – about 1 large clove

1/4 tsp. dried oregano

1/2 tsp. dried basil

Small pinch crushed red pepper flakes (optional)

2 tsp light brown sugar – firmly packed

2-3 Tbs. Marsala wine – or wine of your choice

1 (28 ounce) can tomato sauce

Water – just to rinse the can – about 1 cup

Salt and pepper to taste – Some tomato sauces are saltier than others. I use Hunts, so I used very little salt in this recipe

Olive oil
Directions:
To a sauce pan over medium heat, add some olive oil to coat the pan.  Add the onions.  Cook for about 2 minutes or until the onion softens and becomes translucent.   Do not brown.
Add the garlic and cook for about 30 seconds, just until fragrant.  Do not brown.
Add the paste.  Cook and stir the paste for about 1 minute.
Add the sauce.  Rinse the can with some water to get any sauce at the bottom of the can.   Add to the pot.  Stir to combine.
Add the oregano, basil, pepper flakes, light brown sugar and the wine.  Season with salt and pepper.  Stir to combine.
Bring to a simmer.  Reduce heat to medium-low and cook, partially covered with a lid for 30 minutes, stirring occasionally.  Enjoy!
Published on by Dishin' With Di
Tagged: best, demonstration, Diane Kometa, Dishin With Di, easy, homemade, How To Make, Italian, quick, Recipe, sauce, tomato, tutorial, vegetable, video, YouTube