I'll show you how to cook a juicy and delicious burger loaded with flavor! This is one of the best burger recipes in the world!  Well, at least it's one of the best burger recipes in America, because my recipe is adapted from an Award Winning Burger Recipe!  Burger patties are made with 80% lean ground beef / mince ( more of a steak burger), green onions, Thai chili sauce for some heat and honey for some sweetness. To go along with these hamburgers, (it's an American term – I think) I make a really delicious lime cilantro mayonnaise recipe and then a Thai broccoli slaw topping.  The Thai broccoli slaw recipe has fresh lime juice and cilantro echoing flavors of the mayo, but also has basil, garlic, ginger and the Thai chili sauce and honey, which are also in the meat.  The flavors from the basil, cilantro, chili sauce and honey, with that crunchy slaw are ohhhh soo good!  The best way to cook these burgers is on the grill.  For this video, I used an infrared grill, but I've also cooked them on a gas grill.  Either way they turn out great! The burgers get a little caramelized on the outside from that chili sauce and honey, which also makes them nice and moist and juicy! I don't use regular hamburger rolls for these babies, but get nice big Vienna rolls from the bakery and toast them on the grill.  The toasted rolls get slathered with the cilantro lime mayonnaise, then the burgers go on and get topped with that flavorful, crunchy Thai broccoli slaw.  Mmmmm Can you taste it?? This isn't a chicken or turkey burger! Although, I did try it with turkey and it just wasn't nearly as good.  You MUST try these!  Every time I make these people say this is one of the best burger recipes they've ever tasted.  So, don't cook your burgers in a pan or in the oven and don't go out for that same old basic bacon cheeseburger!  You've got a restaurant style burger recipe right here!  A Thai style gourmet burger!  So, get that grill heated up, watch my video recipe and learn how to make the best burgers at home!  Cook these sweet and hot Thai burgers for your next summer party, father's day, 4th of July, barbecue or anytime you want a delicious burger!  Start cooking! Enjoy!  Di  😉
Want to see more Burger Recipes?  Recipes with ground beef?  Leave me a comment! Go to This Burger Recipe Video or my Facebook Page and let me know if there's something you'd like to see.  What you're craving could be my next video!
Watch The Video! Learn How To Make Sweet and Spicy Burgers! 
Recipe by: Diane Kometa
Get updated when I release New Recipes!  It's FREE! Do it! 
Don't Miss An Episode!
Sweet and Spicy Burgers Recipe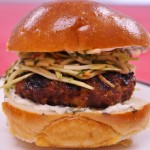 Prep time:
Cook time:
Total time:
Yield:

4

Difficulty:

easy

Recipe type:

Main Course – Entree
Ingredients:
Cilantro mayonnaise

• ¾ cup mayonnaise

• 2 tablespoon lime juice

• 1/4 cup chopped cilantro

• Pinch salt

Thai Broccoli Slaw Topping

• Juice of 1 lime – about 2 Tbs.

• 1 cloves garlic – minced

• 2 teaspoons extra virgin olive oil

• ½ teaspoon salt

• 1 teaspoons Thai chili sauce – store bought

• 2 Tablespoons honey

• 2 teaspoons fresh ginger – grated

• 1/4 cup fresh cilantro – chopped

• 2 Tablespoons fresh basil – chopped

• 6 ounces broccoli slaw

Burgers

• 1 pound ground beef – Set to rest out of the refrigerator for 1 hour

• 1 teaspoons kosher salt

• 1/3 cup Thai chili sauce – store bought

• 2 Tbs. honey

• 2 green onions- sliced

• ½ Panko Bread crumbs – Japanese style bread crumbs

• 1/8 teaspoon garlic powder

• 1/8 teaspoon onion powder

• Vegetable oil to grease the grill

• Fresh baked Vienna Rolls or any nice big hamburger type rolls
Directions:
Preheat grill to medium-high.
In a small bowl, whisk together the mayonnaise, lime juice, and cilantro. Cover with plastic wrap and place in the fridge.
Place the broccoli slaw in a large bowl. In a small bowl, combine the lime juice, garlic, olive oil, salt, chili sauce, honey, ginger, cilantro, and basil. Pour the mixture over the broccoli slaw and toss to thoroughly coat. Cover with plastic wrap and set aside.
Place the ground beef in a large bowl. Sprinkle with panko bread crumbs, green onions, salt, onion powder and garlic powder. Drizzle in the chili sauce and honey. Mix to combine and make burgers. Don't compress the burgers to firmly. Press your finger into the center of each burger to leave and indentation. This will prevent the burgers from puffing up too much while cooking. Place formed burgers on a plate and proceed to the preheated grill.
Lightly grease grill with oil. Place burgers on the grill and close the lid. Cook for about 5 to 7 minutes. Flip the burgers and cook about another 5 minutes or until desired doneness. Just before the burgers are done, lightly toast the insides of the buns on the grill. Remove and set on a plate. Remove cooked burger to plate, but do don place on rolls. Allow the burgers rest for about 5 minutes before serving.
Serve with Lime Cilantro Mayonnaise spread on each bun. Place each burger on a bun and top with the Thai Broccoli Slaw. Enjoy! Recipe by: Diane Kometa
Published on by Dishin' With Di
Tagged: award winning, basil, BBQ, Beef, beef patties, best, bread, broccoli, broccoli slaw, buns, Burger, burger meat, burger recipe, cabbage, carrots, chili peppers, chili sauce, cilantro, cilantro lime, cole slaw, demonstration, Diane Kometa, Dishin With Di, easy, from scratch, Garlic, ginger, green onions, grill, Grilled, ground beef, Hamburger, homemade, honey, hot, How To Make, infrared grill, juice, juicy burger, lime, mayo, mayonnaise, meat, mince, mince meat, on the grill, onion, patty, Recipe, roll, sauce, scallions, spicy, steak, steak burger, Super Bowl, Sweet, sweet - hot, Thai, Thai burgers, tutorial, vegetables, video, YouTube