Learn How To Make Sweet and Sour Chicken! Easy Recipe and NO DEEP FRYING! Try a healthier version of traditional style Sweet & Sour Chicken that you normally find in a Chinese Restaurant. This is tender chicken and crisp vegetables in a sweet sauce served over rice. Why go to out to eat, when you can make it at home! Perfect for dinner, but also nice when served on a holiday or for a party. Works well buffet style. Get in the kitchen and give it try! It's easy!
Want to see more easy chicken recipes or dinner recipes?  Leave me a comment!  Go to This Recipe on YouTube or my Facebook Page and let me know if there's something you'd like to see.
What you're craving, could be my next video!
Watch The Video!
Learn How to Make Sweet and Sour Chicken without Deep Frying!
Recipe by: Diane Kometa
Get updated when I release New Recipes!  It's Free! Do It! 
Don't Miss An Episode!
Sweet and Sour Chicken Recipe – No Deep Frying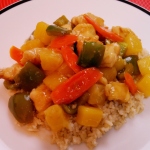 Prep time:
Cook time:
Total time:
Yield:

4

Difficulty:

easy

Recipe type:

Main Course – Entree
Ingredients:
1 pound boneless skinless chicken breast cut into cubes

1 – 20 oz. can of pineapple chunks in heavy syrup or juice, for an even lighter version

½ cup light brown sugar – packed

½ cup white vinegar

½ tsp. garlic minced – about 1 clove

1 tsp. salt – plus a little more to season the chicken

2 tsp. soy sauce

1 medium green bell pepper – cut into pieces

2 carrots sliced thin on a diagonal

2 tablespoons cold water

2 tablespoons cornstarch

All purpose flour for dredging (about ½ cup)

Olive oil or vegetable oil

Paper towels

A piece of foil
Directions:
Drain the pineapple chunks over a bowl or measuring cup. Set pineapples aside. Add water to the syrup to equal one cup, if necessary. Set aside.
Place about ½ cup of flour in a pie plate or on a dish. Season the chicken with some salt. Add the chicken to the flour. Toss the chicken in the flour until all pieces are lightly coated.
Line a plate with some paper towels.
Heat a non-stick pan over medium heat and then add about 2 tablespoons of oil.
Add some of the chicken pieces and cook until lightly browned. Turn over and brown the other side. Do not overcook. Be sure to leave space between each piece, so they can brown properly.
Move cooked chicken to the plate lined with the paper towels and cover lightly with the foil to keep warm while you cook the rest of the chicken. When all chicken is cooked, make the sauce.
In a 3-4 quart pot over medium heat, add the pineapple juice, vinegar, salt, garlic, brown sugar and the carrots. Bring to a boil. Reduce heat to medium low, cover and cook 5 minutes.
While the carrots cook, combine the cold water with the cornstarch. Mix with a fork until well combined. When carrots are done, add to the sauce and stir to combine. The sauce should thicken. Note: If you used pineapples in juice instead of heavy syrup, you may need to add a little bit more cornstarch. If it looks to watery, mix another tablespoon of water with a tablespoon of cornstarch and add that to the sauce. Look at my video to see the consistency, to be sure. Also, don't put the cornstarch directly into the hot liquid, without mixing it with the cold water first, as it will just clump together.
To the sauce, add the pineapple and green peppers. Stir.
Add the chicken and stir to evenly coat the chicken with the sauce. Bring to a boil, stirring. Cook and stir uncovered for about one minute.
Serve over cooked rice, if desired! Enjoy! Recipe by: Diane Kometa
Published on by Dishin' With Di
Tagged: Asian, bell peppers, carrots, chicken, Chinese, demonstration, Diane Kometa, Dishin With Di, easy, flour, from scratch, Garlic, healthy, homemade, How To Make, meat, New Year's, New Year's Eve, peppers, pineapple, quick, Recipe, Rice, sour, soy sauce, sugar, Sweet, tutorial, vegetable, vegetables, video, vinegar, YouTube