Superfine Sugar, Caster Sugar, also known as Baker's Sugar is a finely granulated sugar that dissolves easily and is perfect to make desserts, frostings, meringues, top desserts such as crème brulee, cookies, cakes and doughnuts,  among other things.   The problem is that most people, don't usually have it in their cupboard and so the need for this substitute recipe.  Superfine sugar is quite simple to make, so no need to worry!  Just follow the directions and watch the video for a quick tutorial and you'll have your superfine sugar in a few minutes!  I hope this was helpful.
Watch the Video!  Learn How to Make It!
Visit me on my YouTube Channel and Subscribe  to get my latest recipes!
Leave me a comment!  Go to my YouTube Channel or my Facebook Page and let me know if there's something you'd like to see.
Superfine Sugar – Caster Sugar Substitute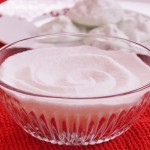 Prep time:
Cook time:
Total time:
Difficulty:

easy
Ingredients:
White granulated sugar

Tools

Food Processor or Blender
Directions:
Place sugar into a food processor or blender.  Process on high for 1-2 minutes, depending on how much sugar you have.  I will be difficult to grind only a few tablespoons.  I would suggest grinding at least ½ cup and store whatever you don't use.  For one cup, I usually process for about one minute.  Do not open the lid immediately after done processing, as the sugar dusts up a bit and may come up into your eyes, nose and mouth.  Depending on your blender or processor and the amount of sugar added, you may need to cover it with a towel to prevent sugar dust from seeping out, so have one ready just in case. When the dust has settled, remove the sugar and measure for your recipe.

Note:  If you measure the sugar before processing, you will need a bit more, as the sugar crystals will be ground down into smaller bits and take up less space in the measuring cup.  If I need one cup of superfine sugar, I measure 1 ¼ cups to be sure I have enough.  See video.   You can grind larger amounts and keep stored in an airtight container for future use, as you would regular granulated sugar.
Published on by Dishin' With Di
Tagged: baker's, demonstration, Desserts, Diane Kometa, Dishin With Di, easy, from scratch, homemade, How To Make, quick, Recipe, Substitutes and Quick Tips, sugar, tutorial, video, YouTube