Stuffed Mushrooms Recipe!  Learn How To Make a Delicious, Quick and Easy Stuffed Mushrooms Recipe, that can be Made Ahead!  Stuffed mushrooms make the perfect appetizers or simple side dish and anything made with garlic and cheese is good in my book!   Mmmm.  I hope you enjoy this Easy Stuffed Mushrooms Recipe!
Make my Recipes and Share a pic with me on my Facebook Page! Show off your FAB cooking and baking skills!
Want to see more Appetizer Recipes or Snack Recipes!  Go to the comments section for this Recipe on YouTube  and Request a recipe or leave me a comment!  What you're craving could be my next recipe!
Watch The Video Recipe!
Learn How To Make Stuffed Mushrooms!  Recipe by: Diane Kometa
Get updated when I release New Recipes!  It's Free, so do it! 
Don't Miss An Episode!
Stuffed Mushrooms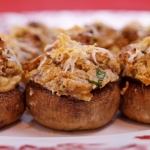 Prep time:
Cook time:
Total time:
Yield:

32

Difficulty:

easy

Recipe type:

Appetizer,
Ingredients:
(2) 10 ounces packages whole white button mushrooms with stems

½ cup Italian seasoned bread crumbs

2 Tbs. chopped fresh parsley

4 large cloves garlic, finely minced

8 ounces cream cheese, softened

½ cup fresh grated Parmesan cheese, plus more for topping

Salt and fresh ground pepper

Extra virgin olive oil

Note: If using very finely grated Parmesan cheese, which is sold in containers, reduce the amount of Parmesan cheese in the recipe by about half. Since I used fresh grated, I can't advise exactly how much to use, so taste the stuffing before filling the mushrooms and add more if needed.
Directions:
Preheat oven to 400 degrees F and place the rack in the center position. Line a baking sheet with some foil or parchment paper and drizzle with olive oil. Set aside.
Wipe mushrooms with a damp paper towel. Remove stems and chop them finely. Set aside.
In a bowl, add the bread crumbs, Parmesan cheese and chopped parsley and toss with your hands to combine. Set aside.
Place a 10 inch skillet over medium heat and add a couple swirls of olive oil. Add the chopped mushroom stems, season with salt and fresh pepper and toss to coat. Cook for several minutes, until stems begin to brown. Stir in the finely minced garlic and cook for another 30 seconds, until fragrant. Do not allow the garlic to brown. Remove from heat and add the softened cream cheese and stir until melted. Return to heat, if necessary, to melt the cream cheese.
Place the mushroom and cream cheese mixture into the bowl with the bread crumbs, parmesan cheese and parsley mixture and mix until thoroughly combined.
Spoon the filling into each mushroom cap in a mound and set each mushroom on the prepared baking sheet. Once all of the mushrooms are filled, top them with more fresh grated parmesan cheese.
Make Ahead: At this point you can cover the baking sheets with plastic wrap and refrigerate for up to 2 days. Allow cold baking sheets to sit at room temperature for 30-60 minutes before baking, for best results.
To bake: Place the baking sheets on the center rack of preheated 400 degree F oven and bake for about 20 minutes or until filling is hot and cheese is slightly browned on top. Serve and enjoy! Recipe by: Diane Kometa
Published on by Dishin' With Di
Tagged: appetizer, appetizers, Basic, bread, bread crumbs, button, cheese, Christmas, cream cheese, demonstration, Diane Kometa, Dishin With Di, Easter, easy, fresh, from scratch, Garlic, homemade, How To Make, Italian, mushrooms, New Year's, New Year's Eve, oil, Old Fashioned, olive oil, oregano, Parmesan, parsley, quick, Recipe, Simple, spices, stuffed mushrooms, Thanksgiving, tutorial, Valentine's Day, vegetable, vegetables, video, YouTube