Strawberries and rhubarb are Spring and Summer fruits, that make wonderful desserts. Making the pie dough by hand helps give this fruit pie a light and crisp homemade crust.  The sweetness of the fresh strawberries compliments the tartness of the rhubarb and makes for a perfect combination.  The pie filling is simple to make and, unlike a strawberry rhubarb custard pie, is similar in taste and texture to a strawberry rhubarb crumble or a strawberry rhubarb tart recipe.  Strawberry ice cream can be used to top the pie, but I prefer vanilla ice cream or a dollop of my homemade whipped cream, as I like to keep the pie crust crisp and the ice cream combined with the rhubarb and strawberry filling, can make the crust a bit soggy.   I make strawberry rhubarb pie in the Summer most, because it's my father-in-law's favorite pie, with strawberry shortcake coming in second.  There's nothing like the taste of sweet fresh strawberries, when they're in season,  which I prefer to using frozen strawberries.   Sometimes I take a shortcut and make this a super easy recipe, by making the pie with store-bought pie crust.  With the flavor from the fresh rhubarb and strawberry filling, the pie is still over the top.  Nothing beats a homemade pie crust, from scratch and made by hand, but sometimes I just don't have the time and although making dough in the food processor is fast, which is another option, if I'm in a real hurry, the last thing I want to do is clean a food processor!   The store-bought pie pastry dough doesn't give you exactly the same old fashioned crispy and flaky pie crust, that's made with butter and shortening and most importantly a light touch, but when in a hurry the premade pie dough is a good substitute.  I don't usually make a fuss about perfect pie crust crimping and I think this rhubarb and strawberry pie and an apple pie recipe in particular, can pull off the rustic look. It  kind of adds to the whole old-fashioned Grandma's pie thing.  It's all about taste anyway and according to my father-in-law, besides his wife's pie recipe, this is the best strawberry rhubarb pie around!  I just made it for his birthday and next up is my strawberry shortcake recipe, which  will be on the menu for father's day!  It was my dad's favorite dessert, but he also loved my mom's coconut custard pie recipe.  Strawberry shortcake is such a simple cake, with nothing but whipped cream along with fresh strawberries, although I have seen it made with a custard filling too.  So get in the kitchen and learn how to make Strawberry Rhubarb Pie!  Also, learn How To Hull A Strawberry With A Straw and watch my demonstration video!
Want to see more Pie Recipes?  Request a Recipe or Leave me a comment! Go to this Recipe on YouTube or visit my Facebook Page! Let me know if there's something you'd like to see. What you're craving could be my next recipe!
Watch The Video!
Learn How To Make Strawberry Rhubarb Pie From Scratch!  It's EASY!  Recipe by: Diane Kometa
Get updated when I release New Recipes!  It's Free! Do it! 
Don't Miss An Episode!
Strawberry Rhubarb Pie Recipe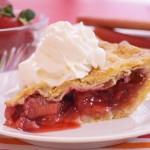 Prep time:
Cook time:
Total time:
Yield:

One – 9 Inch Pie

Difficulty:

easy

Recipe type:

Dessert
Ingredients:
Prepared pie crust for 9 inch two-crust pie – Watch my Pie Crust Video – Link Above

2 1/4 cups fresh rhubarb – cut into pieces – about 1/2 inch thick

2 1/4 cups fresh strawberries – cut into chunks

1 cup granulated white sugar

3 Tablespoons corn starch

1 teaspoon lemon zest

1 teaspoon lemon juice

1/4 teaspoon ground cinnamon

1/4 teaspoon pure vanilla extract

pinch salt

2 Tablespoons unsalted butter – cut into small pieces

1-2 Tablespoons milk

White granulated sugar
Directions:
Make pie crust according to recipe and place bottom crust in the pie pan. My Homemade Pie Crust Recipe! Cover with plastic wrap and place in refrigerator until just before filling. Do not roll top crust yet, but keep dough covered in plastic wrap in the refrigerator until about 15 minutes before filling the pie.
In a large bowl, combine 1 cup of white granulated sugar, cornstarch, lemon zest, ground cinnamon and salt. Whisk together, until thoroughly combined.
Add the strawberries and rhubarb. Toss gently to coat and then add the vanilla extract and lemon juice. Toss gently to combine and coat the strawberries and rhubarb thoroughly. Cover with plastic wrap and refrigerate for 15 minutes. While the filling chills, turn the oven on to 400 degrees F to preheat and remove the dough for the top crust from the fridge and let it sit at room temperature for about 5 minutes, before rolling into about a 12 inch circle.
Remove bottom pie crust and strawberry rhubarb filling from refrigerator. Pour the filling into the pie crust. Scatter the unsalted butter pieces evenly over the top of the filling.
Place the top crust over the filled pie. Tuck the edges of the top crust under the edges of the bottom crust. Seal the edges of the crust, by either crimping or pressing down with tines of a fork.
Using a pastry brush, lightly brush the crust with milk. Sprinkle lightly with granulated white sugar.
Using a knife, make some slits, in the center of the crust to help the steam escape. See video.
Place the pie on a baking sheet and bake in preheated oven for about 45 minutes or until golden brown. If the edges begin to get too brown, cover them with a baking shield or foil ring.
Place baked pie on a rack to cool completely for a few hours before cutting, to give the juices a chance to set. Perfect served alone or topped with my Homemade Whipped Cream! Store lightly covered at room temperature or in the refrigerator for about 3 days, if it lasts that long! Recipe by: Diane Kometa
Published on by Dishin' With Di
Tagged: baked, best, bittersweet, butter, Christmas, cinnamon, cobbler, corn starch, cream, crisps, crumble, Crust, demonstration, Dessert, Desserts, Diane Kometa, dish, Dishin With Di, dough, Easter, easy, Father's Day, filling, flour, fresh, from scratch, fruit, homemade, How To Make, juice, Lemon, lemon rind, lemon zest, milk, Mother's Day, Old Fashioned, Pie, pie filling, Pies, quick, Recipe, Rhubarb, shortening, Spring, strawberries, strawberry, sugar, Summer, Sweet, Tart, Tarts, Thanksgiving, tutorial, vanilla, video, white granulated sugar, YouTube