These stuffed shells are simple to make and I use my quick marinara sauce /tomato sauce, which makes it even easier, but you can use your homemade or prepared jar sauce.  Get jumbo shells for this.  You could make pasta shells from scratch, but then it wouldn't be quite so simple now would it?  So, start with the dry jumbo pasta shells and cook them al dente.  To make the stuffing for the shells, you need some pancetta, which is Italian bacon, for extra flavor.  This is optional, so if you'd prefer, leave it out and it will be more of a vegetarian recipe.  It does add a nice smoky, salty flavor though, so add it if you can.  The other ingredients you need: frozen chopped spinach, grated parmesan cheese, mozzarella cheese, ricotta cheese (part skim on the mozzarella and ricotta cheeses, if you want to make it low fat and more healthy), onion, garlic, pepper and my special ingredient, fresh grated nutmeg. It's a mystery flavor that people with enjoy, but just won't be able to put their finger on.  It's wonderful with spinach dishes and I especially like it in a cream sauce, like in my Chicken Florentine recipe and it's great in this spinach and cheese filling for the shells too. You make the stuffing without eggs, compared to simple stuffed shells with cheese, as the spinach acts as a binder, so no eggs are required. check below to get the measurements and full directions for cooking the shells and the stuffing.  You should really try these!  I've gotten a lot of complements, especially from my Italian husband, who's quite picky.  He also loves when I make stuffed shells with meat (ground beef), with chicken or even with sausage, but the traditional stuffed shells with ricotta cheese is what his mother made most.  I'll share that in another episode and also the lasagna, cannelloni and manicotti recipes, as well. Until then, get in the kitchen and give this stuffed shell recipe a try!
What's you favorite Pasta Recipe?  Stuffed Shell Recipe?  Leave me a comment! Go to this Recipe on YouTube or visit my Facebook Page and leave me a photo!
Let me know if there's something you'd like to see.  What you're craving could be my next recipe!
Watch The Video!  Learn How To Make 
Spinach Stuffed Shells!
Pasta Shells Stuffed with Spinach and Ricotta Cheese! 
Recipe by: Diane Kometa
Subscribe to Dishin' With Di for the latest recipes! It's FREE!  Do It!
Don't Miss An Episode!
Stuffed Shells Recipe with Spinach and Cheese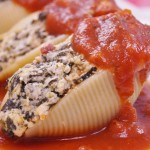 Prep time:
Cook time:
Total time:
Yield:

15 Jumbo Stuffed Shells

Difficulty:

easy

Recipe type:

Entree, Main Course
Ingredients:
15 Jumbo shells – cooked al dente according to package directions. Be sure to salt the water. You'll need 15 shells, but cook a few extra in case some break while boiling.

¼ cup onion – minced

4 ounces pancetta – Italian bacon – diced small

1 (10 ounce) package frozen chopped spinach – thawed and thoroughly drained

1 (15 ounce) container ricotta cheese – I used part skim

¾ cup plus ¼ cup freshly grated Parmesan cheese – divided

¾ cup mozzarella cheese – shredded – I used part skim

Several grates fresh nutmeg

¼ tsp. fresh ground black pepper

Extra virgin olive oil

3 ½ cups prepared tomato sauce – I have a delicious, 30-minute marinara sauce, which is simple to make. You could also use store bought or your own homemade sauce.
Directions:
Preheat oven to 375 degrees F
Spray or grease a 9×9 casserole dish. Spray the underside of a piece of foil large enough to cover the dish. Fold the foil and set aside.
To a skillet on medium heat, add the pancetta. Cook until golden brown. Using a slotted spoon, remove the pancetta to a large bowl. Drain most of the fat from the pan to discard.
To the pan, add the onions. Cook for a few minutes or until softened and translucent.
Add the spinach. Toss to coat and combine with the onion. Remove from heat. Place into the same bowl with the pancetta.
To that bowl, add the ricotta cheese, ¾ cup parmesan cheese, nutmeg and pepper. Using a firm spoon or spatula, stir the mixture to combine thoroughly.
Ladle some of the prepared tomato sauce onto the bottom of the baking dish.
Using a spoon, fill the shells with the spinach mixture and place them into the baking dish side by side in three rows (5 in each row)
Pour more sauce over the top of the shells. Top with the ¼ cup Parmesan cheese and the mozzarella cheese.
Cover with the foil. Place baking dish on the center rack of oven and bake for 30 minutes, then remove the foil and bake for 10 additional minutes. Serve with additional sauce. Enjoy! Recipe by: Diane Kometa
Published on by Dishin' With Di
Tagged: bacon, best, casserole, cheese, Christmas, demonstration, Diane Kometa, Dishin With Di, Easter, easy, from scratch, homemade, How To Make, Italian, Lasagna, lasagne, meat, mozzarella cheese, New Year's, New Year's Eve, nutmeg, Old Fashioned, onion, pancetta, Parmesan cheese, pasta, quick, Recipe, ricotta cheese, sauce, spinach, Thanksgiving, tomato, tomatoes, tutorial, vegetable, vegetables, video, YouTube