The BEST Spinach Dip! I've made this Easy Appetizer for over 15 years and people just love it! Perfect for parties, especially Super Bowl Parties!  Soo Easy to Make and Delicious!
What's your favorite Appetizer Recipe?  Spinach Recipe?  Leave me a comment! Go to this Recipe on YouTube or visit my Facebook Page! Let me know if there's something you'd like to see.
What you're craving could be my next recipe!
Watch The Video! Learn How To Make Spinach Dip!
Subscribe to Dishin' With Di's YouTube Channel for the latest recipes! It's FREE!
Don't Miss An Episode!
Spinach Dip Recipe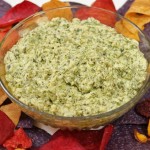 Prep time:
Cook time:
Total time:
Yield:

8

Difficulty:

easy
Ingredients:
1 – 12 ounce package frozen Spinach Soufflé-cooked according to package directions – I use Stouffer's

4 ounces cream cheese softened – regular or reduced fat (non-fat does not work as well in this recipe)

2 ½ tablespoons green onion (scallion) finely chopped – just the green part

2/3 cups freshly grated Parmesan cheese – plus 1 tablespoon (for topping)

1/3 cup mayonnaise – regular, reduced fat or fat free
Directions:
Preheat oven to 350 degrees F
Place spinach soufflé and cream cheese in a bowl and combine with a fork.
Add the green onion, 2/3 cup of Parmesan cheese and mayonnaise into a bowl and combine thoroughly.
Place mixture into an oven safe bowl and top with remaining 1 Tablespoon of Parmesan cheese.
Cook for about 25 minutes or until the top begins to get slightly browned. I've put it under the broiler to give it a little boost, because if it's not browned by 25 minutes or so, you don't want to keep cooking it, because the bottom will get overcooked and dried out. It's not important, but I just like the way it looks, so try it if you'd like.
Serve hot with tortilla chips, veggies, veggie chips, crackers or anything you'd like. I've put it on toasted French bread and once I even spread it on a sandwich! It's sooo good! Enjoy!
Published on by Dishin' With Di
Tagged: appetizer, appetizers, baked, best, cheese, Christmas, cream cheese, demonstration, Diane Kometa, dip, Dishin With Di, easy, from scratch, green, Halloween, homemade, hot, How To Make, mayonnaise, New Year's, New Year's Eve, onion, Parmesan, quick, Recipe, scallions, snack, spinach, Spinach Souffle, spread, Stouffer's, Super Bowl, Thanksgiving, tutorial, vegetable, video, YouTube