Learn How to Make a Hot Spinach Artichoke Dip Recipe!  My Hub thinks this is the best dip! He actually likes it more than my hot spinach dip, which is one of his favorite appetizer recipes.  This easy, cheesy dip recipe is the perfect Super Bowl appetizer, but is also great on any holiday party menu.  Served hot, with pita bread, tortilla chips, a French baguette, or in a bread bowl, this creamy dip recipe goes over big at parties.  Marinated artichokes are the key to flavor in this recipe, as fresh artichokes, canned or frozen tend to be a bit bland.  There's no need to use fresh spinach either, as frozen spinach really works well with this dip recipe. The dip can be kept hot in a crock pot or slow cooker, but it usually goes soo fast, I never do!  Make it ahead, as a time saver, and then bake in the oven, until it's hot and bubbly,  All I can say is Mmmmmm.  Get those chips out and  get in the kitchen and learn how to make this delicious and easy spinach and artichoke dip recipe!
This Spinach Artichoke Dip recipe is made without mayonnaise.  That's right, no mayo!
What's your favorite hot dip recipe? Recipe with spinach? Artichoke recipe? Leave me a comment! Go to this Recipe on YouTube or visit my Facebook Page! Let me know if there's something you'd like to see.
What you're craving could be my next recipe!
Watch The Video! Learn How To Make Spinach Artichoke Dip!
Subscribe to Dishin' With Di's YouTube Channel for the latest recipes! It's FREE!
Don't Miss An Episode!
Spinach Artichoke Dip Recipe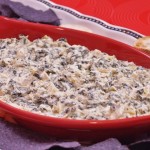 Prep time:
Cook time:
Total time:
Yield:

6-8

Difficulty:

easy

Recipe type:

Appetizer, Snack
Ingredients:
10 oz package thawed, chopped, frozen spinach – drained – about 1 cup after draining

1 ¼ cups marinated artichoke hearts or artichokes, drained and chopped – about a 12 ounce jar

6 ounces cream cheese – regular or reduced fat, but not fat-free – room temperature

1/3 cup sour cream

1/2 cup grated Parmesan

1/4 cup shredded mozzarella cheese

1 cup shredded Colby/Monterey jack cheese – I used a blended Colby-Monterey Jack and shredded it myself. If you can't find it, one or the other or a combination of the two is fine.

1 tsp. hot chili sauce – such as Sriracha

2 tsp. finely minced garlic

1/2 cup minced onion

1 Tbs. unsalted butter

1 Tbs. olive oil

1 cup half and half – room temperature

Squeeze of fresh lemon juice

Salt and freshly ground black pepper to taste
Directions:
Preheat oven to 375 degrees F and place oven rack in center position.
Grease a shallow 1 quart casserole dish or pie plate with non- stick spray or butter. Set aside.
Add oil and butter to a 10" skillet over medium heat. Once butter has melted, add the onions and a pinch of salt and pepper. Stir to combine. Cook and stir occasionally, until onions are soft and beginning to brown slightly, about 3-5 minutes.
Add the chopped spinach, season with salt and pepper and stir to combine. Reduce heat to medium-low and cook for another 3 minutes, stirring occasionally. Do not allow to brown.
Add the garlic. Cook and stir for 1 minute.
Gradually stir in the half and half and then add the softened cream cheese, sour cream, mozzarella, Colby-Jack cheese, ½ cup parmesan cheese and hot sauce. Stir until thoroughly combined and cheeses are melted.
Add the artichokes and a squeeze of fresh lemon juice. Mix well. Season to taste with salt and freshly ground pepper and then mix again to combine.
Transfer the mixture to the prepared baking dish and spread evenly, Top with 1-2 tablespoons of parmesan or mozzarella, if desired. Set dish on a baking sheet and cook for about 15 minutes or until hot and bubbly. If you like it more brown on top, pop it under the broiler for a minute or two.
Serve hot and spread over a toasted French baguette, pita chips or blue corn tortilla chips. Enjoy!
Published on by Dishin' With Di
Tagged: appetizer, appetizers, artichoke hearts, artichokes, baked, best, butter, cheese, cheesy, chili sauce, Christmas, Colby cheese, cream, cream cheese, creamy, dairy, demonstration, Diane Kometa, dip, dip recipe, Dishin With Di, easy, frozen spinach, Garlic, half nd half, Halloween, homemade, hot, hot sauce, How To Make, marinated artichokes, milk, Monterey Jack cheese, New Year's, no mayo, onion, onions, Parmesan cheese, Recipe, sauce, snack, sour cream, spinach, spinach and artichoke, spread, Sriracha, Super Bowl, Thanksgiving, tutorial, Valentine's Day, vegetable, vegetables, video, with cream cheese, without mayonnaise, YouTube