Spaghetti Carbonara: Pasta Carbonara or alla Carbonara is an easy Italian pasta recipe. Learn how to make this simple and easy classic pasta dish, Spaghetti alla Carbonara.  Quick, Easy and Delicious!
The original Italian recipe for Spaghetti alla Carbonara is made with eggs and/or egg yolks, not with cream or milk. A mixture of eggs, cheese and fresh black pepper cooks in the hot pasta to make a creamy carbonara sauce, although cream is often used to add to the creamy texture. My husband likes this pasta dish with cream, so I've included a little heavy cream in my recipe, but it's optional.  The pasta used is usually spaghetti, but I prefer to use angel hair, although some like their carbonara with fettuccine or rigatoni.
Traditional Spaghetti alla Carbonara is said to be best when made with guanciale, which is a salt-cured pork jowl or pork cheek.  This pasta dish is also made with pancetta, an Italian cured belly of pork.  Pancetta is widely used, but is not considered as flavorful  as the traditional guanciale.  Bacon or slab bacon is also used when pancetta  is not available, but is also preferred by many. For the cheese, pecorino cheese, Parmesan or a combination can be used .  Chef Lidia Bastianich, who specializes in Italian and Italian American cuisine, uses slab bacon as well as chicken stock and onions, so the original Italian recipe is often changed to suit individual tastes.  I use a little finely minced  garlic for added flavor and even make carbonara with prosciutto, chicken or with peas.  So, I'm not claiming this is a "real" authentic spaghetti carbonara , but it's simply my spin on a classic recipe.  Whether you're making spaghetti and meatballs, Bolognese sauce, a simple tomato sauce, or any classic recipe, Italian or otherwise, it's ok to put your own spin on it.  Professional chefs like Jamie Oliver, Mario Batali and Gordon Ramsay make their version of traditional recipes, so if you have ideas for making your own dishes go for it!  Don't have all the ingredients?  Use what's in your fridge!  Some of the best recipes are made from simple ingredients, just like this Italian pasta dish.  So, watch my video and learn how to make this quick and easy Spaghetti Carbonara Recipe.  It's a great Italian pasta recipe!
Want to see more Easy Pasta Recipes or more Quick and Easy Recipes?   Request a recipe or leave me a comment! Go to the comments section for this Recipe on YouTube or visit my Facebook Page!        What you're craving could be my next recipe!
If you like this Spaghetti Carbonara Recipe, you may also like my Vegetable Lasagna Recipe, or my Stuffed Shells with Spinach and Cheese!   I also have a Quick Pasta Sauce Recipe perfect for easy weeknight meals when you're in a pinch.  So browse around my site and then get in the kitchen and make something delicious!
**All recipes are tested  – sometimes over and over again LOL
Watch The Video Recipe Demonstration!
Learn How To Make Spaghetti Carbonara – Pasta Carbonara                     Recipe by: Diane Kometa
Subscribe for FREE to Dishin' With Di's YouTube Channel for the latest recipes!
Don't Miss An Episode!
Spaghetti all Carbonara – Pasta Carbonara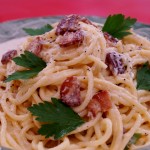 Prep time:
Cook time:
Total time:
Yield:

2 large or 3-4 average sized

Difficulty:

easy

Recipe type:

entree, main course
Ingredients:
12 ounces dry spaghetti or angel hair pasta – I prefer Angel Hair

4 ounces pancetta – Italian bacon – or slab bacon (thick sliced bacon) cut into about ½ squares

½ cup finely grated, fresh Parmigiano-Reggiano cheese, plus more for serving

2 ½ tsp. finely minced garlic

1 Tbs. extra-virgin olive oil – only if using pancetta

3 large eggs

¼ cup heavy cream – optional

1/3 cup or more cooked pasta water – reserve after cooking pasta

2 Tbs. chopped fresh parsley, for topping

Kosher salt and freshly ground black pepper

Notes: 1) I used a food processor to finely grate the fresh parmesan cheese. Finely grated Parmigiano-Reggiano cheese is also sold this way in the cheese department of most grocery stores. If you are grating the cheese by hand and it looks more like finely shredded, use approximately 1 to 1 ¼ cups of cheese or to taste. 2) If using regular bacon, some fat may need to be drained from the pan after cooking.
Directions:
Cook the pasta: Bring a large pot of water to boil and season with salt. Cook pasta al dente, according to package directions. Reserve 1/3 cup of the hot cooked pasta water to make the sauce.
While the pasta cooks, add the olive oil to a 10 inch non-stick skillet over medium heat. Add the pancetta and cook until crispy and fat has rendered. If using regular bacon, the olive oil is not necessary and you may need to drain some of the bacon fat. Add the minced garlic to the same pan. Stir and cook for about a 30 seconds, just until fragrant. Do not let the garlic brown. Note: If the pancetta is done cooking before the pasta, remove the pan from the heat and then, when the pasta is just about done cooking, return the pan to the heat, so it can get hot again and then add the garlic and proceed to the next steps.
While the pasta and pancetta are cooking, prepare the sauce: In a medium bowl, lightly whisk the eggs. Add several generous grates of fresh ground black pepper, the grated parmesan cheese and the heavy cream, if using. Whisk to thoroughly combine. Set aside.
Using a pair of thongs, quickly add the cooked pasta to the hot pan with the pancetta and garlic. Using the tongs, toss the pasta in the pan to thoroughly coat it with the fat and then transfer the pasta, pancetta and garlic mixture to a large bowl. Note: You can drain the pasta into a colander, before adding it to the pan, if you prefer, but don't forget to grab 1/3 cup of the hot pasta water before you dump it out.
While whisking, slowly pour about half of the reserved hot pasta water into the whisked eggs and cheese mixture, until combined. This will temper the eggs, so they are less likely to scramble when they hit the hot pasta. Quickly pour the egg mixture over the piping hot pasta, while tossing the pasta with a pair of tongs. Add more of the reserved hot pasta water, if needed, to moisten the pasta. Season to taste with additional fresh ground black pepper and salt, if desired. Salt may not be necessary, especially if using regular bacon.
Place the pasta on serving dishes, top with a few grates of fresh parmesan cheese, a few more grates of fresh pepper and some chopped parsley. Enjoy! Recipe by: Diane Kometa
Published on by Dishin' With Di
Tagged: alla carbonara, authentic, bacon, best, black pepper, carbonara, cheese, Classic, cream, creamy, cured, delicious, demonstration, Diane Kometa, dinner, dish, Dishin With Di, easy, eggs, Fall, flat leaf, from scratch, Garlic, Ham, heavy cream, homemade, How To Make, ingredients, Italian, macaroni, main dish, noodles, Old Fashioned, olive oil, original, pancetta, Parmesan cheese, Parmigiano Reggiano, parsley, pasta, pork, quick, Recipe, sauce, Simple, slab bacon, spaghetti, Traditional, tutorial, video, YouTube