Soft Pretzels Recipe!  Learn how to make the BEST Soft Pretzels recipe from scratch!  Making homemade Soft Pretzels at home is EASY with my simple step-by-step video recipe.    My homemade soft pretzels recipe is more like traditional, authentic German soft pretzels or Bavarian pretzels, also known as Laugenbrezel.  Classic soft pretzels are a very popular during Oktoberfest. Some soft pretzel recipes use lye or food grade lye to achieve the dark brown color and malt for flavor.  In my soft pretzel recipe, I replaced the lye with baking soda and used dark brown sugar for flavor. All of my taste testers agreed  the flavor and texture were wonderful.   The pretzel dough is made with yeast, so it's just like making bread dough or pizza dough at home. Simple! Once baked, hot pretzels are soft and chewy on the inside and a little crispy on the outside. Homemade Soft Pretzels make the best snacks and are great for any football or Super Bowl party and they're low in fat! Serve them warm with mustard or with cheese sauce. Every pretzel is good to the last bite! Mmmm  
So, I started thinking about making soft pretzels, because my brother-in-law has been buying a bag full of Philly soft pretzels, with cheese sauce for dipping, every weekend from the Philly Pretzel Factory.  Those are the same pretzels sold from carts on the streets of Philadelphia, New York and many other locations. My pretzel recipe, as I mentioned, is more like German-style soft pretzels, while a Philly soft pretzel is much more doughy and barely lightly browned.  A classic Philly soft pretzel is traditionally served topped coarse salt and mustard, but nowadays there are a variety of toppings. A favorite is Philly soft pretzels topped with melted butter and coated with cinnamon sugar, just like Auntie Anne's soft pretzels.  Auntie Anne's pretzels, aka Mall Pretzels, are lighter, more sweet and buttery pretzels that you can typically find for sale in your local large shopping mall, if you live in the US. They are quite popular and you can usually tell there's one in your mall, by the long line formed in front of the store. There's usually an employee standing out front with a tray of samples.  I walk by 2 or 3 times. Lol  😉  Anyway,  I guess the Philly pretzel factory had to keep up with the trend and fancy up their toppings to be more like Auntie Anne's.  I love them both, but honestly there's nothing like a homemade soft pretzel right out the oven and there's some really satisfying about knowing that you made it yourself. They're really good and so easy to make. I hope you enjoy them as much as I do!
Want to see more pretzel recipes like pretzel bites, cheese filled pretzels, pretzel rolls? Request a recipe or leave me a comment!  Go to this Recipe on YouTube or visit my Facebook Page!  What you're craving could be my next recipe!   
If you like these Homemade Soft Pretzels, you may also like my Corn Dogs Recipe or my other appetizer and snack recipes. Get in the kitchen and make something delicious!  **All recipes are tested
Watch The Video Recipe Demonstration!
Learn How To Make Soft Pretzels! Recipe by:  Diane Kometa
Subscribe for FREE to Dishin' With Di's YouTube Channel for the latest recipes!
Don't Miss An Episode!
Soft Pretzels Recipe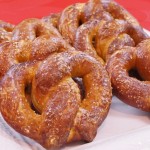 Prep time:
Cook time:
Total time:
Yield:

8

Difficulty:

easy

Recipe type:

snack, appetizer, side dish,
Ingredients:
1 cup water

½ cup regular milk (not fat-free milk)

4 ½ tsp. white sugar – regular table sugar

1 ½ tsp. salt

1 package active dry yeast – ¼ ounce or 2 ¼ teaspoons

5 ½ cups flour – poured & leveled – Important! DO NOT scoop flour!

3 ½ Tbs. unsalted butter, melted – cooled slightly

Canola oil or vegetable oil

8 cups water

1 Tbs. dark brown sugar, packed

1/2 cup baking soda

1 large egg yolk

1 tablespoon water

Coarse salt – Kosher or Pretzel salt

Supplies

Dry and liquid measuring cups and measuring spoons

1 or 2 baking sheets

Parchment paper

Rubber spatula

Plastic wrap

Kitchen towels

6-8 quart, wide pot

Paper towels

Large flat spatula or slotted spoon

Pastry brush

Note: I use a stand mixer and dough hook to make the pretzel dough. When making soft pretzels by hand, it will simply take a bit longer to knead the dough.
Directions:
Combine the water and milk in a large measuring cup or small pot and heat to 110 to 115 degrees F. Add the sugar and salt to the warmed water and milk and stir to combine. Sprinkle in the yeast and mix with a fork. Allow the mixture to sit for about 5 minutes or until it becomes foamy. After 10 minutes if the warmed liquid is not foamy it cannot be used for the recipe. The yeast may be bad or the water/milk mixture may not have been within the desired temperature range to activate the yeast.
Pour the foamy mixture into the bowl of a stand mixer fitted with a dough hook and add the melted unsalted butter and flour. Mix on low speed for until combined and no dry flour remains in the bowl. Scrape the bowl as needed. Continue to mix for about another 7 minutes or until the dough pulls away from the sides of the bowl and is smooth. Scrape the dough from the hook if it comes up to far. Note: The dough may begin to pull away from the bowl after only 2 minutes, but may look a bit pulled or shaggy and still be sticky. It is not done kneading until it is smooth to the touch and no longer sticky.
Remove the dough from the bowl and form into a ball. Wipe out the bowl, if necessary and grease it with 1-2 tablespoons of oil. Place the dough ball back into the bowl and turn to coat thoroughly with the oil. Cover the bowl with a dish towel or plastic wrap and place in a warm area, free from drafts or cool air, for about 1 hour, until the dough has risen and doubled in size.
When the dough is ready, preheat the oven to 450 degrees F and position one oven rack in the upper third of the oven and another in the lower third. Line 2 baking sheets with parchment paper and lightly grease the paper with vegetable oil. Set aside. Note: 2 baking sheets are used to avoid crowding the pretzels. If only one sheet is available, make one batch of pretzels and keep the remaining dough covered, so it does not become dry. Between batches, allow the baking sheet to cool, before filling with remaining pretzels.
In a large, wide pot (6-8 quarts) add 8 cups of water, baking soda and brown sugar. Stir to combine and bring to a full boil. Place a plate lined with paper towels nearby, as well as the large spatula or slotted spoon.
In the meantime, dampen a kitchen towel with water and set aside. Lightly grease a clean work surface with some vegetable oil. Remove the dough from the bowl, place it on the work surface and divide into 8 equal pieces. Cover the pieces that you're not rolling with plastic wrap or a damp kitchen towel, so they don't become dry. Using the palms of your hands, roll each piece of dough to a 24-30 inch long rope and then shape into a "U". Grab the ends of the rope and cross them over each other once or twice and then bring the ends down to the bottom of the 'U" and press them down to seal, forming the shape of a pretzel. Place the pretzels onto the greased parchment-lined baking sheet and cover with a damp kitchen towel to prevent the dough from drying out, while you continue to roll the remaining dough.
In a small bowl, whisk together the egg yolk with 1 tablespoon of water (egg wash). Set aside.
One at a time, lower each pretzel into the boiling water mixture for about 30 seconds. The pretzels will puff up while boiling. Using a large flat spatula, carefully remove the pretzel from the water, blot slightly on paper towels and then place back onto the parchment lined baking sheet a few inches apart, 4 pretzels on each sheet.
Using a pastry brush, brush the top and sides of each pretzel with the egg wash and then sprinkle with coarse salt.
Place one pretzel filled baking sheet on the upper oven rack and the other on the lower rack and bake for about 7 minutes. Open the oven and quickly switch the baking sheets to the opposite racks – upper sheet gets moved to the lower rack and lower sheet moved to the upper rack – AND turn the sheets around so that the pretzels that were facing the front are now facing the rear of the oven. It may seem like a lot to do, but it's quick and easy and will ensure even baking. Continue to bake for another 7 minutes or until pretzels are dark golden brown. Remove sheets from oven and place pretzels on a wire rack to cool slightly before serving. Best served warm. Enjoy! Recipe by: Diane Kometa
Published on by Dishin' With Di
Tagged: American, appetizer, appetizers, authentic, baking, baking soda, Bavarian, best, bites, bread, brown sugar, butter, chewy, Classic, cooking, delicious, demonstration, Diane Kometa, Dishin With Di, dough, doughy, dry active yeast, easy, egg yolk, eggs, flour, foolproof, from scratch, German, german style, good, Halloween, handmade, healthy, homemade, How To Make, instructions, Laugenbrezel, light, low fat, making, mall, milk, mixer, new york, NY, Oktoberfest, Old Fashioned, party, Philadelphia, Philly, pretzel, pretzels, proof yeast, quick, Recipe, rolling, rolls, salt, Simple, snack, snacks, soft, soft pretzel, soft pretzels, step by step, sugar, super, Super Bowl, Superbowl, tender, Traditional, tutorial, twists, video, water, without lye, yeast, YouTube