This is a delicious and easy Smothered Pork Chops Recipe! Believe it or not this is low in fat! Learn how to make Southern-Style Smothered Pork Chops and Gravy! Perfect with mashed potatoes!
What are your favorite pork chop recipes?  Request a Recipe or Leave me a comment >> Go to this Recipe on YouTube or my Facebook Page!  What you're craving could be my next recipe!  Di  😉
Watch The Video!  Learn How To Make Smothered Pork Chops and Gravy!  Recipe by: Diane Kometa
Get updated when I release New Recipes!  It's FREE! Do It! 
Don't Miss An Episode!
Smothered Pork Chops and Gravy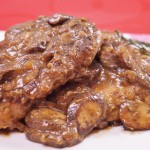 Prep time:
Cook time:
Total time:
Yield:

2-4

Difficulty:

easy

Recipe type:

entree, main course
Ingredients:
4 bone-in pork chops about 1/2-inch-thick – rinsed and patted dry

1 cup flour

1 ½ Tbs. garlic powder

1 ½ Tbs. onion powder

½ tsp. ground thyme

½ tsp. rubbed sage

4-5 Tbs. grapeseed oil or vegetable oil

8 ounces cremini mushrooms – sliced

½ cup sweet onions – chopped

1 tsp. finely minced garlic

1 ½ cups chicken broth or vegetable broth – try to use low sodium

½ cup buttermilk – room temperature

Salt and freshly ground pepper
Directions:
Combine the flour, thyme, sage, garlic powder and onion powder in a pie plate or shallow pan. Reserve 2 Tbs. of mixture.
Season the pork chops with salt and pepper on one side. Place the side you just seasoned down into the flour mixture and then season the other side of the chops. Coat both sides of chops lightly in the flour mixture.
Heat 2-3 tablespoon of oil in a large cast iron or heavy skillet over medium-high heat. Shake off any excess flour from the chops and place them into the pan. Cook until golden brown and just cooked through, about 3-4 minutes per side. Transfer the chops to a plate.
Add another 1-2 tablespoons of oil in the same skillet. Reduce the heat to medium. Add the mushrooms, onions and a pinch of salt and some fresh pepper. Stir to combine. Cook until the mushrooms and onions are tender and begin to brown. Stir occasionally.
Sprinkle the 2 tablespoon of reserved flour mixture over the mushrooms and onions. Toss to coat and continue to cook for another 2 minutes. Stir occasionally.
Add the garlic to the pan. Stir to combine. Cook for another minute, until the garlic becomes fragrant. Do not brown the garlic.
Add the chicken broth to the pan. Stir and scrap up the browned bits from the bottom of the pan. Cook for another 3-5 minutes until gravy reduces slightly and begins to thicken.
Gradually stir in the buttermilk, until combined. Bring to a simmer and cook for about another one or two minutes or until the gravy begins to thicken. Taste the gravy and add additional salt and pepper if desired.
Return pork chops to the pan, along with any juices that accumulated on the plate. Spoon gravy over chops. Cook for about two minutes, until pork chops are heated through. Enjoy! Recipe by: Diane Kometa
Published on by Dishin' With Di
Tagged: and gravy, best, broth, buttermilk, chicken, cremini, demonstration, Diane Kometa, Dishin With Di, easy, flour, fried, from scratch, Garlic, gravy, healthy, homemade, How To Make, loin, low fat, meat, milk, mushrooms, Old Fashioned, onion, onions, pan, pan fried, pork, pork chop, pork chops, quick, Recipe, rib, sage, sauce, smothered, stock, stove, thyme, tutorial, vegetable, video, YouTube