Learn how to make an easy Shrimp Fried Rice Recipe. Shrimp Fried Rice is one of the best Chinese style restaurant take out foods to make at home. This is a quick and easy recipe, with authentic flavors you'd expect from traditional Chinese restaurants.  It's simple and delicious and you can make it in a wok or in a pan!  I hope you enjoy this easy Shrimp Fried Rice Recipe.
Want more quick and easy recipes?  Leave me comment! 
Go to this recipe on YouTube   or visit my Facebook Page and let me know what video recipes you'd like see.  What you're craving could be my next recipe!
Browse my site for some other good Asian style recipes!  Some may not all be exactly like the original or traditional recipes, but are still really delicious!  Try my Orange Chicken Recipe  – a healthy, sweet and savory version or my  Sweet and Sour Chicken , which is not deep fried, so that's another healthy choice and my Asian style Chicken Lettuce Wraps , which are always a delicious light choice with Asian flair! I'm adding more recipes all the time, so keep watching!
Note: 
In the video I made a half recipe, so when you make the full recipe there will a lot more in your pan or wok.
 Watch The Video Recipe!
Learn How To Make Shrimp Fried Rice! Recipe by: Diane Kometa

Subscribe for FREE to Dishin' With Di's YouTube Channel for the latest recipes!
Don't Miss An Episode!
Shrimp Fried Rice Recipe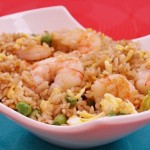 Prep time:
Cook time:
Total time:
Yield:

4

Difficulty:

easy

Recipe type:

entree, side dish, main course
Ingredients:
4 cups cooked rice – white (jasmine), brown long grain rice or instant rice – made a day ahead – leftover rice is perfect

½ lb. shrimp large shrimp– peeled, deveined and tails removed – cut in half, if desired

1 ½ Tbs. oyster sauce

¼ cup low-sodium soy sauce

4 Tbs. peanut or vegetable oil – more if needed

4 eggs, lightly whisked

1/4 cup thinly sliced green onions –green part only– about 2 stalks

½ cup chopped onion

2 tsp. sesame oil

1 cup frozen peas and carrots – thawed

1 ½ tsp. minced fresh ginger

2 tsp. minced garlic

Salt and freshly ground pepper

Note: In the video I made a half recipe, so when you make the full recipe there will a lot more in your pan or wok
Directions:
Place rice on a plate, spread out and break up any clumps with your fingers. Set aside.
Season the shrimp with the salt and pepper. Set aside.
In a small bowl, stir together the oyster sauce, soy sauce and sesame oil and set aside.
Heat a wok or large sauté pan on medium high. Add a little vegetable oil and heat, swirling to coat the pan. Pour in the eggs, stirring constantly with a rubber spatula to scramble the eggs. Cook just until set, but slightly runny is ok. They will finish cooking later. Remove the eggs from the pan to a plate and set aside. Wipe the pan if necessary, to remove any cooked eggs, so they don't burn.
Add about 1 tablespoon of vegetable oil to the hot pan and swirl to coat. When the oil is hot, add the shrimp and cook for about 30 seconds to a minute on each side, until almost cooked through. Remove from the pan to plate and set aside.
Add about another tablespoon of vegetable oil to the pan and then add the chopped onions. Cook and stir occasionally, until softened and slightly brown around the edges, about 3 minutes.
Add the minced ginger and garlic to the pan. Stir constantly and cook for about 30 seconds, until fragrant.
Add about another tablespoon of vegetable oil to the pan, swirl to coat and then add the rice. Stir to thoroughly combine with onion mixture.. Spread the rice out over the bottom of the pan and allow it to cook for about 1-2 minutes to heat through and give it chance to fry and then toss the rice and cook for another 1-2 minutes. Reduce heat if necessary to prevent the rice from sticking to the pan or burning.
Add the soy sauce, oyster sauce and sesame oil mixture. Mix thoroughly to combine and coat the rice and then add the peas and carrots and mix through.
Break the scrambled eggs into pieces with a spoon or spatula and then add them to the pan, along with the shrimp and mix through. Allow the rice to cook for about another 2 minutes, stirring occasionally, until everything is well heated and shrimp are cooked through.
Stir in the sliced green onions and serve immediately. Enjoy! Recipe by: Diane Kometa
Published on by Dishin' With Di
Tagged: Asian, authentic, best, brown, canola oil, carrots, Chinese, cooked, demonstration, Diane Kometa, dinner, Dishin With Di, easy, eggs, entree, fast food, fresh, fried, fried rice, from scratch, Garlic, ginger, green onions, healthy, homemade, how to cook, How To Make, instant, jasmine, long grain, low fat, lunch, main course, Old Fashioned, onions, Oriental, oyster sauce, pan, peanut oil, Peas, pepper, prawns, quick, Recipe, restaurant, restaurant style, Rice, salt, scallions, sesame oil, shell fish, Shrimp, shrimp fried rice, side dish, Sides, Simple, skillet, soy sauce, spring onions, stove, Sweet, take out, Traditional, tutorial, vegetable, vegetables, video, white, wok, yellow, YouTube