Visit me on my YouTube Channel and Subscribeto get my latest recipes!
SUBSCRIBE!  I'd love to have you!  Help put me on the YouTube map and give me a try!  Your Subscription does make a difference!  I'd really appreciate it. Thanks Soo Much For Watching!
Leave me a comment!  Go to my YouTube Channel or my Facebook Page and let me know if there's something you'd like to see.
What you're craving, could be my next video!
Thanks so much for visiting!
About Saffron:  It's really wonderful, but can be expensive ($10-$15 US average), but you should try it, if you haven't had it before.   Use it toward the end of cooking time to add an incredible flavor to sauces, soups or when making creamy rice or risotto.  Saffron is described as having a strong perfume and a bitter, honey-like taste and is pleasantly spicy.  It's a flavor that's hard to describe, but you just know that you love it.  You only need a pinch, so a little goes a long way.
Shrimp Bisque Recipe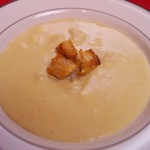 Prep time:
Cook time:
Total time:
Yield:

6-8

Difficulty:

easy

Recipe type:

Side Dish, Main Course, Entree
Ingredients:
2 clove garlic – minced

¼ cup onion – finely chopped

1 ½ c celery – 1 ½ stalks – finely chopped

1 Lb. raw shrimp – peeled & deveined – I buy them that way to save time

12 oz. evaporated milk

1 ½ c milk

¼ c. Flour

3 ½ -4 tsp. anchovy paste or 2-4 anchovies finely chopped

1 Tbs. unsalted butter

½ c white wine

2 ½ c chicken or vegetable broth

4-6 springs fresh thyme

Pinch of Saffron – about ½ tsp. – optional

Salt & pepper to taste

1 – 6 oz can lump crab meat – optional
Directions:
Melt butter in a pot over medium heat. Add the garlic, onion and celery and some salt. Cook until the onion and celery soften.
Add the broth and bring to a boil.
Add the shrimp and cook just until the shrimp are pink. About 5 minutes.
Remove shrimp from pot with a slotted spoon or strainer and set aside.
Add the wine and the thyme to the broth and bring to boil. Cook for 3-5 minutes.
While broth is cooking, cut the tails off of the shrimp and cut each shrimp in half.
Remove the thyme.
Now you can either add all or half of your shrimp to the pot if using an immersion blender or add the shrimp and the broth to a regular blender. I like to reserve half of the shrimp and add them at the end, because I like having a piece of shrimp with every bite, but if you want a smooth soup, add all of the shrimp. Blender Note: Do not fill your blender more than half way, as it will surge up to the top when you turn it on and the hot liquid will come pouring or squirting out. Start with the blender on low and then increase speed. Hold a dish towel around the top of the blender, just to play it safe. Immersion Note: Remove the pot from the heat and start with the blender on low. Be careful, as the mixture may splash. If you have trouble pureeing the shrimp, you may need to use a regular blender.
Blend the broth and shrimp until the smooth. Return the mixture to the pot if you used a regular blender.
Whisk together the milks, anchovy paste and the flour, until thoroughly combined. Gradually add to the broth. Heat on medium until mixture comes to a boil and cook for about 10 minutes or until thickened. If the broth seems too thin for you after 10 minutes, then take 1 tablespoon of flour and mix it with 2 tablespoons of cold water and add that to the broth. Cook for 5-10 minutes until thickened and raw flour has cooked.
Add the remaining shrimp, if you chose to reserve any, and just heat through. Do not boil. I also like to add a small can of lump crab meat at this point. That's optional, but if you'd like to, just strain the water from the can, stir in the crab meat and heat through.
Serve with My Homemade Croutons! They really add a special touch and great crunch too!
Note: This soup freezes well, so make it a week or more ahead and freeze it in an airtight container. Thaw it out in the fridge and then cook on medium-low until heated through, stirring occasionally.
Published on by Dishin' With Di
Tagged: anchovies, anchovy, anchovy paste, appetizer, appetizers, Bisque, broth, butter, celery, Christmas, Crab, crab meat, demonstration, Diane Kometa, Dishin With Di, Easter, easy, evaporated milk, flour, fresh thyme, from scratch, Garlic, homemade, How To Make, jumbo lump crab, lump crab, milk, New Year's, New Year's Eve, onion, prawns, quick, raw, Recipe, Saffron, saffron threads, Seafood, shell fish, Shrimp, shrimp bisque, Sides, soup, Soups, Thanksgiving, thyme, tutorial, video, white wine, wine, YouTube