Mom's Quick Shortbread Cookie Crust Recipe for Fruit Tarts, Pies and desserts. Press-in crust and NO EGGS! I love this shortbread crust with my fresh fruit tart recipe! It's incredibly EASY!  Apple pie with shortbread crust is a good combination too, but this crust goes well with lemon bars/lemon squares, pecan pie, pumpkin pie, chocolate tart and can be adapted for mini tart shells for desserts of all kinds.  Since this is a press-in tart dough recipe, so there's no kneading or rolling, as with some pie crust recipes. A sweet shortcrust pastry recipe, Pate brisee, has a more delicate crust with more butter, than this shortbread cookie crust recipe, although shortcrust pastry fillings are pretty much the same.  This crust requires little handling and you can make the recipe by hand or in a food processor. Making shortcrust pastry by hand is similar, but shortcrust dough is usually rolled and then placed into the pan. A shortcrust pastry tart or shortcrust pastry pie, as they are called, is basically the same idea, except not as firm as a shortbread tart.  Once the shortbread crust ingredients are combined (flour, powdered sugar, salt, butter, and for this tart shell crust recipe, orange zest for a flavor boost) and pressed into the tart pan, they are chilled slightly before baking. Baking a chilled crust helps lesson shrinking of the dough.  The result is a cookie-like crust that will remind you of a Lorna Doone or Walkers shortbread cookie, but better!  Get in the kitchen and give it a try!
Be sure to try my Fruit Tart Recipe! Simple to make and presents as a beautiful centerpiece dessert for any holiday and can be served all year round.  Don't save it with summer dessert recipes, make it now! Enjoy!
What's your favorite tart recipe?  Leave me a comment! Go to this Recipe on YouTube or visit my Facebook Page! Let me know if there's something you'd like to see.
What you're craving could be my next recipe!
Watch The Video!  Learn How To Make Shortbread Crust!
Subscribe to Dishin' With Di's YouTube Channel for the latest recipes! It's FREE!
Don't Miss An Episode!

Shortbread Crust Recipe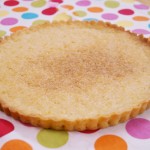 Prep time:
Cook time:
Total time:
Yield:

1 – 9″ Crust

Difficulty:

easy

Recipe type:

Dessert – Pastry
Ingredients:
½ Cup Confectioners' sugar – also known as icing sugar or powdered sugar

1 cup Flour – measure by pouring into measuring cup, not scooping

1/8 tsp. Salt

½ cup cold unsalted butter – cut into small cubes

Zest of an orange or lemon – optional

9" tart pan with removable bottom – sprayed with non-stick spray or buttered

Plastic wrap
Directions:
In a large bowl, whisk together, flour, confectioner's sugar, salt and orange zest.
Add the cold cut up butter. Using a pastry cutter or food processor, cut the butter into the flour mixture, until it looks like crumbs and lumps about the size of peas.
Dump the dough into the prepared pan and spread out in an even layer and up the sides, just enough to set it lightly in place. Take some plastic wrap and place it over top of the dough. Using the bottom of your measuring cup or a glass, press the dough into the pan and smooth it out as evenly as possible.
Using the tines of a fork, poke holes on the bottom of the crust. This helps to prevent it from puffing up during baking.
Cover the dough with the plastic wrap and place it in the freezer for about 15-20 minutes to chill and firm it. While the crust is chilling, preheat the oven to 350 degrees F.
Once chilled, remove the plastic and place the pan onto a baking sheet lined with foil or parchment paper. Bake the tart crust on the center rack of the oven for 15-25 minutes or until the crust is lightly golden.
Remove to cooling rack and cool completely. Place into the fridge for about 15-30 minutes to chill and then remove the pan. This is optional, but I do this because it helps prevent cracking. If any area is a bit too thin and the crust is still a little warm, when removed from the pan, it could crack. Believe me on this one! I've made quite a few. Chill it for a little while to make sure everything is set and then remove the pan. It might be fine without chilling, but if it's for something important, then I like to be careful.
The crust can now be filled or you can keep it refrigerated covered for a few days. This is perfect with my Fruit Tart Recipe!
Published on by Dishin' With Di
Tagged: bars, best, bread, butter, Christmas, confectioners, Cookie, Crust, demonstration, Dessert, Desserts, Diane Kometa, Dishin With Di, dough, Easter, easy, flour, from scratch, fruit, Fruit Tart, fruit tat, homemade, How To Make, Lemon, lemon bars, Mother's Day, Old Fashioned, orange, pastry, Pie, Pies, powdered sugar, press-in, quick, Recipe, Shell, short, Shortbread, shortcrust, sugar, Summer, Sweet, Tart, Tart Shell, Tarts, Thanksgiving, tutorial, video, YouTube, zest