Shortbread Cookies From Scratch! Learn How To Make Shortbread Cookies – Scottish Shortbread (biscuits).  Easy to follow, step by step recipe with video demonstration for rich, tender, buttery shortbread cookies with melted chocolate (Royal Shortbread) and icing.  Beautiful Decorated Shortbread Cookies! Perfect Cookies for Christmas or for any Holiday!
Shortbread cookies are simple, sweet and tender, buttery cookies. I add vanilla extract to the batter, which gives the cookies a lovely vanilla flavor. With varying shapes, "cut out" Shortbread Cookies are delicious plain or decorated with a sprinkle of colored sugar, but I think they are best when coated or dipped in melted chocolate, which is known as Royal Shortbread.  They are also quite good covered with icing, glaze or frosted with Royal Icing. Royal Icing is quick and easy to make at home and is ideal for decorating sugar cookies and shortbread cookies.
Make Christmas cookies and cut out stars or snowflakes, make shortbread hearts for Valentine's Day, eggs for Easter, scary cookies for Halloween or just make simple round shortbreads and enjoy these rich, delicious cookies.  You will learn step by step, how to make these simple cookies: how to make the cookie batter, roll the shortbread cookie dough, cut the dough into shapes, bake the cookies and then decorate them.  I make a simple icing (glaze) and also coat the cookies in melted chocolate.  Keep it simple or get creative and make beautiful decorated cookies.  Simple, old fashioned shortbreads are baked in a pan and cut into wedges, (petticoats, petticoat tails ) or cut into small rectangles called "fingers" and of course, they can also be dipped in chocolate.  Mmmm.  We'll make those another day.
With simple ingredients, create beautiful cookies for Christmas, New Year's Eve, Easter, a baby shower or any holiday. Bake along with me and learn how to make Shortbread Cookies! Classic, traditional holiday cookies at their best. A nice edible holiday gift idea.  Simple, delicious, beautiful cookies!  One of my favorite cookies recipes, especially with a cup of tea!  Enjoy!  Di  😉
Do you want to see more Cookie Recipes or Dessert Recipes!  Go to the comments section for this Recipe on YouTube  and Request a recipe or leave me a comment!  What you're craving could be my next recipe! You may also like my Chocolate Chip Cookies Recipe , Classic Peanut Butter Cookies or my Cut Out Sugar Cookies Recipe.  I also have a Shortbread Crust Recipe for tarts and pies you may enjoy!
Watch The Video!
Learn How To Make Shortbread Cookies! Recipe by: Diane Kometa
Get updated when I release New Recipes!  It's Free! Do It! 
Don't Miss An Episode!
Shortbread Cookies Recipe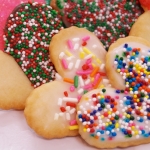 Prep time:
Cook time:
Total time:
Yield:

About 24

Difficulty:

easy

Recipe type:

dessert, snack
Ingredients:
2/3 cup confectioners' sugar – approx. 65 grams (known as powdered sugar or icing sugar)

2 cups flour – spooned and leveled (approx. 232 grams) Plus more for rolling and stamping cookies

¼ tsp. fine salt

1 tsp. pure vanilla extract

1 cup unsalted butter, room temperature

Decorative sugar, colored sprinkles or decorative candy, for decorating cookies, if desired

Chocolate Coating

3 ounces of semi sweet or bitter sweet chocolate broken or cut into pieces or chocolate chips

Glaze (Icing)

1 cup confectioners' sugar

1-2 Tbs. water

Basic Tools

Hand mixer or stand mixer fitted with paddle attachment

Dry measuring cups and measuring spoons, Rubber spatula

Parchment paper, Plastic wrap

1-2 baking sheets, wire cooling rack

Rolling pin, Cookie cutters – I used 2 ½ inch cutters and larger

Thin spatula (pancake spatula, offset metal spatula or cookie spatula) for lifting stamped cookie dough from work surface

Small bowls – for extra flour and cookie decorations (decorative sprinkles, colored sugar, etc.)

Spoons – for coating cookies with melted chocolate and glaze
Directions:
Make Cookie Dough: To a mixing bowl, using a hand mix or stand mixer with the paddle attachment, add the butter, sugar and salt and beat on medium low speed for about 2 minutes, until smooth and creamy. Scrape the sides and bottom of bowl. Add the vanilla and mix until combined. Add the flour and mix just until combined. Scrape the bottom of the bowl to be sure everything is mixed through. The dough will be soft.
Refrigerate Cookie Dough: Use a rubber spatula and scrape the dough onto a large piece of plastic wrap. Gently gather the dough and flatten into a disc. Seal the plastic wrap and refrigerate for about 1 hour until firm. Note: The dough will produce about 2 sheets of cookies. I fill both sheets with cut out cookie dough and bake one at a time, placing the second sheet into the refrigerator, while the other sheet bakes. This keeps the dough cold, which helps prevent the cookies from spreading and will produce a cookie with a nice light texture. If you only have one baking sheet or you can't put the second sheet in the fridge, divide the dough in half, shape into discs, wrap and chill and then roll one sheet of cookies at a time.
Prepare to Bake and Roll Cookies: Place the oven rack in the center position and preheat oven to 350 degrees F for at least 15 minutes before baking cookies. Line two baking sheets with parchment paper and set aside. Place about ½ cup of flour into a small bowl. Have Ready: a wire cooling rack, rolling pin, cookie cutters, and a thin cookie spatula (or pancake spatula or offset metal spatula) to lift cut out cookies from surface.
Rolling Dough: Using a rolling pin, roll the dough to about ¼ inch thick. Turn the dough as you roll and lightly re-flour the work surface and the rolling pin, as needed, to prevent sticking. If the dough seems very firm, difficult to roll and starts to crack apart when you first begin to roll, it may be too cold. Allow it to rest for about 5 minutes and try again.
Cutting Cookies: Dip cookie cutter into the small bowl of flour and tap off excess flour. Press cookie cutter straight down into dough and lift. Cut shapes close together and remove excess dough and set aside. Using a lightly floured, thin spatula, move stamped cookies to prepared baking sheets and space them about 1-2 inches apart. At this point decorative sugar or sprinkles may be applied, as decorations will not stick to baked cookies, unless applied over the wet glaze (icing) or melted chocolate. Gently gather dough scraps into a ball and roll or press down and cut into shapes with cutters or a small knife. Ball of scrapes should be wrapped and chilled first, if too soft.
Bake Cookies: Bake cookies for about 11-13 minutes or until edges are very lightly browned. Thicker cookies will require longer baking time. Allow cookies to cool on the baking sheet for 3-5 minutes to set and then remove to a wire rack to cool completely. Note: If using one baking sheet, allow it to cool completely before refilling or cookies dough will spread while baking. Oven temperatures and baking pans vary, so adjust baking time accordingly.
Prepare to Decorate Cookies: Place a piece of the used parchment paper from the baking sheets or a piece of wax paper on work surface. Place cookie decorations (colored sprinkles, decorative colored sugar or decorative candy) into small bowls. Have spoons ready for applying glaze and melted chocolate.
Melt Chocolate: Place about 2 inches of water into a 2 quart pot and bring to a low simmer over medium heat. Set a heat proof bowl over the pot of simmering water and place the chopped chocolate or chocolate chips into the bowl. The bowl should not touch the water. Heat the chocolate, stirring occasionally, until melted and smooth. Remove from heat and transfer to a small bowl.
Make the Glaze: Place 1 cup confectioners' sugar into a small bowl. Add about 1 tablespoon of water and stir until smooth. Add more water if needed, 1 teaspoon at a time.
Coat Cookies: Hold a cookie over the bowl of melted chocolate or glaze and spoon over top of cookie, as desired. Place coated cookies onto parchment or wax paper to dry. If chocolate begins to thicken, reheat in the microwave for several seconds and stir. Overheating will scorch chocolate. Sprinkle the cookies with decorations or for more coverage, allow the glaze or melted chocolate to set slightly on cookies and then hold the coated cookies over the bowls of decorations and apply, so the excess falls back into the bowl. Wet glazed and chocolate coated cookies can also be dipped into sprinkles, etc., but the coating may drip into the decorations. Place the decorated cookies onto the wax or parchment paper to dry for at least 1 hour.
Storing Cookies and Cookie Dough: Store baked cookies in airtight container for about a week with pieces of parchment or wax paper between layers. Cookies coated with chocolate that do not have decorations, maintain their appearance best when nothing is stacked on top of them. Uncooked cookie dough, wrapped tightly in plastic wrap and placed into an airtight container or plastic storage bag, can be refrigerated for several days or frozen for about 2 months and defrosted in the refrigerator. Enjoy! Recipe by: Diane Kometa
Published on by Dishin' With Di
Tagged: biscuits, butter, butter cookies, chocolate, Christmas, Cookie, cookies, Crust, decorated, decorating, Desserts, Easter, easy, flour, Frosting, glaze, heart shaped, hearts, holiday, Icing, New Year's, New Year's Eve, Old Fashioned, royal icing, Royal Shortbread, Scottish, shaped, shapes, short bread, Shortbread, Simple, snack, snacks, stars, sugar, sugar cookies, Sweet, Thanksgiving, treats, tutorial, Valentine's Day, vanilla, video, YouTube