Learn how to make this grilled Salmon with Mango Salsa!  This is an easy salmon recipe with a flavorful spice rub and fresh fruit salsa.  The fruit salsa is made with fresh mango and pineapple for sweetness, red bell pepper, jalapeno and red onions for a little heated flavor punch and texture variation, and fresh cilantro and lime juice to add a bright freshness.  I prefer grilled or pan seared salmon with skin.  I like the crispy skin and the added texture and flavor it adds to the dish and I also think the skin acts like a little barrier and helps keep the fish moist while cooking, just like when you cook chicken with the skin on. I also allow the skin of the fish to dry out a bit before applying the rub, so it gets extra crispy when it cooks.  I have another little trick I learned to keep the skin from shrinking up when it hits the hot grill, but you have to watch the video for that one. I can't give away all my secrets yet!  It's like a little mystery now, isn't it?  Anywho, I season the fish generously with salt and a homemade spice rub that includes the usual suspects and that really adds a nice smoky spicy kick to the fish, without being too overpowering, but if you like overpowering, don't let me stop you!  Go ahead and pack it on!  You can cook the salmon on a charcoal or gas grill or use a grill pan or even just a heavy skillet or frying pan.  The key is "heavy".  You want something that is going to stay hot when the fish hits the pan.  You can pick up a medium-sized cast iron skillet for about 20-25 bucks, which is pretty cheap considering they basically last a lifetime.  With one of those on hand, you can cook your way to straight to Flavortown!  Anyway, watch the video and treat yourself or someone else special and make this recipe!  It's a delicious as it looks!  Enjoy!  Di  😉
Want more quick and easy recipes for dinner?  Leave me comment! 
Go to this recipe on YouTube   or visit my Facebook Page and let me know what video recipes you'd like see.  What you're craving could be my next recipe!
Watch The Video Recipe!
Learn How To Make Salmon with Mango Salsa!  Recipe by: Diane Kometa
Subscribe for FREE to Dishin' With Di's YouTube Channel for the latest recipes!
Don't Miss An Episode!
Grilled Salmon with Mango Salsa Recipe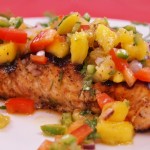 Prep time:
Cook time:
Total time:
Yield:

2

Difficulty:

easy

Recipe type:

entree, main course
Ingredients:
(2) 8 ounce Salmon filets with skin

1 ½ teaspoon chili powder

1 tsp. paprika

½ teaspoon cumin

½ teaspoon garlic powder

½ teaspoon onion powder

1/8 tsp. cayenne pepper

1/8 tsp. ground white pepper

Several grates of fresh ground black pepper

½ tsp sea salt or Kosher, plus more to season the salmon

Grapeseed, canola or vegetable oil – for coating fish and greasing grill or grill pan (olive oil is not recommended)

Mango Salsa

1 mango – diced ½ inch pieces– about 1½ cups

½ cup diced fresh pineapple – ½ inch pieces

1 jalapeño pepper – finely chopped

1 Tbs. cilantro – chopped

½ cup red bell pepper – finely chopped

1/3 cup red onion – finely chopped

2 Tbs. fresh lime juice – about 1 lime

1-2 Tbs. extra virgin olive oil

¼ tsp. sugar

Salt and freshly ground pepper to taste
Directions:
Rinse salmon fillets and pat dry. Place some paper towels on a plate and put salmon on top skin side up. To get crispy skin, place the salmon in the fridge uncovered for about 30 minutes, so the skin can dry out a bit. Remove from the fridge, just before you make the salsa or about 20-30 minutes before cooking to allow the fish to come to room temperature.
Make the Salsa: Combine all ingredients in a bowl, cover and place in the fridge to chill.
Combine spices in a small bowl. Set aside.
Heat grill or grill pan over medium high heat. I use a cast iron grill pan, when I cook indoors.
Place filets on cutting board. Fold the salmon in half with the skin side up. Using a sharp knife, carefully cut ½ inch deep slits almost the full length of the salmon spacing them about ½ inch apart. I cut two long slits. See video. Note: This scoring helps prevent the skin from shrinking up when it hits the hot grill, which can cause the salmon to fold slightly.
Sprinkle salt into the slits and over top of the skin. Sprinkle the skin generously with spice mixture and then drizzle with a little grapeseed or vegetable oil and then rub everything into the skin. Repeat seasoning on the other side.
Grease grill or pan with some grapeseed or vegetable oil. Once the oil begins to smoke slightly, place the salmon on the grill, skin side down. Cook the salmon for about 3-5 minutes. Do not move the salmon, until it has cooked about 2/3 of the way up the sides. You will see it changing color. Adjust the temperature if needed or briefly remove the pan from the heat, so the salmon does not burn.
Carefully use a fish spatula or 2 regular spatulas to flip the salmon and cook for about another 3-5 minutes or until cooked through to about 135 degrees F (140 degrees is ideal and fish will continue to cook after removed from the pan). Reduce temperature as needed.
With a fish spatula, remove salmon to a plate to rest, skin side down, for 5 minutes before cutting. Serve topped with Mango Salsa. Mmmm Enjoy! Recipe by: Diane Kometa
Published on by Dishin' With Di
Tagged: bell peppers, cast iron skillet, cayenne pepper, chili powder, Christmas, Christmas Eve, cilantro, colorful, cumin, demonstration, Diane Kometa, dinner, Dishin With Di, Easter, easy, filet, fillet, fillets, fish, fresh, fried, from scratch, fruit, Garlic, grapeseed, grill, grill pan, Grilled, grilled salmon with mango salsa, grilling, healthy, homemade, hot, How To Make, in pan, jalapeno pepper, juice, Lent, lime, mango, mangos, oil, olive oil, onion, onions, pan, pan seared, paprika, pepper, peppers, pineapple, pineapple salsa, powder, quick, Recipe, red, red pepper, salad, salmon, salt, Seafood, Simple, skin, smoked, spice, spicy, sugar, Summer, Sweet, Tart, tutorial, video, white, with skin, YouTube