Royal Icing! Perfect to use to decorate Sugar Cookies!  Royal Icing is widely used for frosting cakes and cookies, making icing designs and detailed artwork.  Making Royal Icing is quick and easy to do at home.  Many prefer it for its beautiful finish and the fact that it can be used for detailed piping of decorations like borders,  flowers (roses) and writing.  With simple ingredients and some added  food coloring,  create beautiful cookies for Christmas or any holiday.
What's you favorite way to use Royal Icing?  Please share! Leave me a comment! Go to this Recipe on YouTube or visit my Facebook Page and leave me a photo!
Let me know if there's something you'd like to see.  What you're craving could be my next recipe!
Watch The Video! Learn How To Make Royal Icing!
Subscribe to Dishin' With Di's YouTube Channel for the latest recipes! It's FREE!
Don't Miss An Episode!
Royal Icing Recipe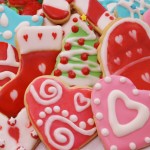 Prep time:
Cook time:
Total time:
Yield:

3 Cups

Difficulty:

easy

Recipe type:

Dessert
Ingredients:
2 large egg whites

3 cups confectioners' sugar – sifted – Also known as powdered sugar or icing sugar

¼ tsp. pure vanilla extract
Directions:
Using a mixer with the whisk attachment, beat egg whites until foamy.
Add the vanilla extract and beat until combined.
With the mixer on low, gradually add the sifted powdered sugar and beat on medium high until thoroughly combined, shiny and smooth. Scarp the sides and bottom of bowl a few times as you mix. It the powdered sugar begins to stick to the sides of the bowl, place a rubber spatula under some warm water and then scrape the bowl. If the icing is too thin, add more sugar or beat a bit longer and it should tighten up. If the icing seems to be too thick, then add a little warm water, about 1 teaspoon at a time until desired consistency is reached.
Add food coloring, if desired. Spoon, spread or pipe onto cookies, cakes, cupcakes or desserts.
Use immediately or place in an airtight container, with plastic wrap placed directly on top of icing, as the icing hardens and forms a crust when exposed to air.
Note: If spooning or spreading the icing, be sure to cover the bowl with plastic wrap as you work, as the icing can begin to form a crust within minutes when exposed to air. Keep some damp paper towels available or even a small pitcher of warm water to rinse utensils (spoons, spatulas, knives), as they will get crusty as you use them. It can be messy, but if you're ready for it, everything will be fine.
Published on by Dishin' With Di
Tagged: best, buttercream, cakes, Christmas, confectioner's sugar, cookies, cupcakes, decorating, decorations, demonstration, Desserts, Diane Kometa, Dishin With Di, Easter, easy, egg whites, eggs, flooding, from scratch, Frosting, Halloween, homemade, How To Make, Icing, icing sugar, meringue, New Year's, Old Fashioned, piping, powdered sugar, quick, Recipe, roayl icing, royal, sugar, sugar cookies, Thanksgiving, tutorial, Valentine's Day, vanilla, video, YouTube