An easy Roasted Asparagus recipe perfect with any meal!  I'll show you how to make roasted asparagus in the oven with only a few ingredients.  Asparagus is one of my favorite vegetables and sometimes the simplest cooking methods are the best.  If yu love asparagus, you love it roasted!  When buying asparagus, be sure the tips are firm.  If they're old or they haven't been tended to by the seller properly, they get dried out and shriveled and may fall apart when you touch them.  That sounds sad doesn't it??  Thicker spears are better for roasting than very thin ones.  To cut asparagus, bend back the woody end and see where it snaps off.  Oh boy! Watch the Video!  Do this with a few pieces from the bunch to see if they're about the same.  You can then cut the rest at about that same point or you can just snap them all off!  Have fun!
Leave me a comment!  Go to my YouTube Channel or my Facebook Page and let me know if there's something you'd like to see.
Watch the Video!  Learn How to Make Roasted Asparagus!                     Recipe by: Diane Kometa
Get updated when I release New Recipes!  It's Free! Do It! 
Don't Miss An Episode!
Roasted Asparagus Recipe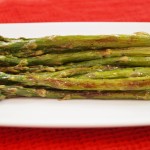 Prep time:
Cook time:
Total time:
Yield:

4

Difficulty:

easy

Recipe type:

side dish, side
Ingredients:
1 bunch of asparagus – washed and patted dry

Salt

Freshly ground black pepper

Extra virgin olive oil
Directions:
Preheat oven to 400 degrees F.
Line a baking sheet with parchment paper or foil.
Place asparagus on baking sheet and drizzle with olive oil.
Toss asparagus in the oil and coat well.
Season to taste with salt and pepper.
Bake on center rack for about 20 minutes or until asparagus are tender, but still crisp. This depends on how thick they are. If they're very thin, they may be done in 10 to 15 minutes. ENJOY!! Recipe by: Diane Kometa
Published on by Dishin' With Di
Tagged: asparagus, baked, Christmas, demonstration, Diane Kometa, Dishin With Di, Easter, easy, from scratch, healthy, homemade, How To Make, New Year's, New Year's Eve, oven roasted, quick, Recipe, roasted, side dish, Sides, Simple, Thanksgiving, tutorial, Valentine's Day, vegetable, vegetables, video, YouTube