Red Velvet Cupcakes! Learn How to make Red Velvet Cupcakes From Scratch! This Easy Red Velvet Cupcake Recipe produces moist, light, fluffy cake that goes perfectly with Cream Cheese Frosting.  Perfect for Valentine's Day, Easter, Christmas, 4th of July, Halloween or anytime you want a little red deliciousness in your life!
Watch the Video Demonstration!  Learn How to Make Red Velvet Cupcakes!  Recipe by: Diane Kometa
Get updated when I release New Recipes!  It's Free! Do It! 
Don't Miss An Episode!
Want to see more Cupcake Recipes?  Dessert Recipes?  Red Velvet Recipes? Leave me a comment or Request a Recipe! Go to this Recipe on YouTube or visit my Facebook Page!  What you're craving could be my next recipe!
Red Velvet Cupcakes Recipe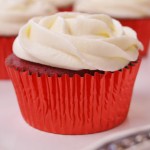 Prep time:
Cook time:
Total time:
Yield:

12 Cupcakes

Difficulty:

easy

Recipe type:

Dessert
Ingredients:
1 cup plus 2 tablespoons all purpose flour – Stir the flour in the container, before measuring to loosen it up. Spoon the flour into the measuring cup and measuring spoon and then level it off with the back of a knife. If you have too much flour, you're going to end up with a cupcake that's dry and more like bread.

1 1/2 tablespoons unsweetened cocoa powder

½ tsp. baking soda

½ tsp. salt

¼ cup unsalted butter – softened

1 Tbs. vegetable oil

1 egg – lightly whisked at room temperature

¾ cup buttermilk – room temperature

¾ cup sugar

½ tsp. vanilla extract

½ tsp. vinegar

1 -3 Tbs. red food coloring – I used 1 tablespoon, but for a deeper red just add another 1 or 2 Tbs.

Note: Be careful with the food coloring, especially if it liquid! I recommend using gel. I wear plastic gloves and keep my utensils sitting on multiple layers of paper towels and have extra in case I need them. Wearing an apron is a good idea. Protect porous surfaces like wood, granite, marble, stone or tiled floors. After you measure the food coloring, immediately put the lid back on, wipe the bottle and put it away! You don't want any accidents with this stuff. It can be a real mess. Try to get anything that has red on into the sink as soon as you're done using it. Spatulas or paper towels covered with red batter can fall and splatter. When you turn the water on to rinse your red utensils, be careful. The water may splash up and hit you, your back splash or anything nearby. Normally you may not notice water splashing, but when it's red you will! I hope these tips help.
Directions:
Preheat oven to 350 degrees F
Line a muffin tin with 12 cupcake liners.
Into a medium size bowl, sift the flour, unsweetened cocoa powder and salt. Whisk thoroughly. Use a spatula to be sure you've gotten everything up from the bottom. To be sure that you get a light, fluffy cupcake, use a sifter with small openings as it helps separate the particles and imparts air into the mixture. Once thoroughly combined, set aside.
Combine the vegetable oil and the vanilla extract in a small bowl using a fork. Set aside.
Using a hand mixer or stand mixer, lightly beat the butter until smooth and creamy for about one minute. Scrape the sides as necessary. If using a stand mixer, be sure to scrape the bottom well whenever you scrape down the sides during this recipe, as the whisk can miss ingredients at the very bottom of the bowl.
Gradually add the sugar. Start with the mixer on low and then increase the speed to medium-high. Beat for about three minutes on high. Scrape as necessary.
Gradually add the lightly whisked egg by pouring it down the side of the bowl with the mixer on low. Add about half of it, increase the speed to incorporate and then add the rest. Beat on medium-high until light, fluffy and well combined. Scrape as necessary.
Add to the batter with the mixer on low, the oil and vanilla extract. Increase the speed and mix until combined. Scrape as needed.
With the mixer on low, gradually add about 1/3 of the flour mixture. Increase the speed to medium and mix until combined.
Gradually pour half of the buttermilk down the side of the bowl, with the mixer on low. Mix until almost combined. Scrape down the bowl and very lightly stir in any unmixed milk with the spatula.
With the mixer on low, add half of the remaining flour and mix until just moistened.
Put our gloves on. To the remaining buttermilk, add the red food coloring and stir thoroughly to combine. Add the baking soda and vinegar and let it fizz for a couple of seconds. Stir to combine thoroughly with the buttermilk. The buttermilk should foam a bit.
With the mixer on low, immediately add the buttermilk mixture to the batter pouring it down the side of the bowl. If there is any remaining red buttermilk mixture in the container, scrape that into the bowl
Quickly add the remaining flour. I like to finish with a spatula so I don't over mix. Fold gently with a spatula to combine. Everything should be red.
Evenly distribute the batter among 12 cupcake liners.
Bake at 350 degrees F for approximately 18 minutes. In a toothpick into the center of a cupcake and it's done if it comes out clean. You can also check by touching the top of a cupcake and if it springs back it's done.
Cool in the pan for about 10 minutes. Remove the cupcakes from the pan to the rack to cool completely. Your cupcakes should be very light and airy with a delicate crumb. Frost the cupcakes with my Cream Cheese or Buttercream Frosting. You could also try a 50/50 mix. Just remember: Be careful measuring the flour and don't over mix. If you follow that, then you should end up with perfect Red Velvet Cupcakes! Recipe by: Diane Kometa
Published on by Dishin' With Di
Tagged: 4th of July, bake, baked, baking, baking soda, best, butter, buttercream, buttermilk, Cake, cakes, cheese, chocolate, Christmas, cocoa, cocoa powder, cook, cooked, cooking, cream, cream cheese, cup, cupcake, cupcakes, decorated, decorating, demonstration, Desserts, Diane Kometa, Dishin With Di, Easter, easy, eggs, flour, flowers, food coloring, from scratch, Frosting, Halloween, homemade, How To Make, Icing, light, milk, mini, moist, New Year's, New Year's Eve, oil, Old Fashioned, oven, piping, quick, Recipe, red, red velvet, roses, salt, sugar, tender, Thanksgiving, tips, tutorial, Valentine's Day, vanilla, vanilla extract, vegetable oil, video, vinegar, Wilton, YouTube