Visit me on my YouTube Channel and Subscribe to get my latest recipes!
SUBSCRIBE!  I'd love to have you!  Help put me on the YouTube map and give me a try!  Your Subscription does make a difference!  I'd really appreciate it. Thanks Soo Much For Watching!
Leave me a comment!  Go to my YouTube Channel or my Facebook Page and let me know if there's something you'd like to see.
What you're craving, could be my next video!
Thanks so much for visiting!
Pumpkin Spice Syrup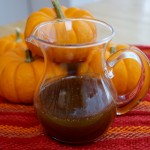 Prep time:
Cook time:
Total time:
Yield:

About 6

Difficulty:

easy
Ingredients:
2 tablespoons butter

½ cup light brown sugar

½ cup honey

2/3 cup water

2 tablespoons flour

½ teaspoon Pumpkin Spice / Pumpkin Pie Spice – Use my taste-tested homemade recipe!
Directions:
In a deep microwave-safe bowl, combine the flour and the pumpkin spice.
Add the water and whisk until well combined.
Add the brown sugar and the honey and whisk to incorporate.
Microwave on high for about 1-2 minutes and then stir. Continue to heat and stir at about 30 second to 1 minute intervals, until the mixture has thickened. The mixture will begin to boil and bubble up, so be sure that your bowl is deep enough to avoid overflow. The bowl will be very hot, so have some pot holders or a towel handy when you remove it from the microwave.
Add the butter to the hot mixture and stir to combine.
Serve warm over pancakes, waffles or what whatever you'd like a little Pumpkin Spice flavor on. Enjoy! It tastes absolutely wonderful over my Pumpkin Pancakes!
Published on by Dishin' With Di
Tagged: allspice, breakfast, butter, Christmas, cinnamon, demonstration, Desserts, Diane Kometa, Dishin With Di, easy, flour, french toast, from scratch, ginger, Halloween, homemade, honey, ice cream, maple, nutmeg, pumpkin, pumpkin pancakes, pumpkin pie, Pumpkin Pie Spice, Pumpkin Spice, quick, Recipe, syrup, Thanksgiving, tutorial, video, waffles, YouTube