How to make the best Starbucks Pumpkin Spice Latte at Home! Learn How To Make Homemade Latte in minutes! Try this easy DIY recipe! This is sooo addictive! I've had the real thing and I like my version better! I use my homemade pumpkin spice blend and sometimes I make some of my homemade whipped cream, when I'm feeling exceptionally energetic in the morning, but that's rare! I really like to sip and add whipped cream as I go, but who doesn't?! I do the same thing with hot chocolate! After I created this recipe, I could not stop making it! Every morning I'd wake up and tell myself I was just going to have regular coffee and the next thing you know I have the can of whipped cream in my hand and this crazy look on my face! PSL crazy! It is soo good! Btw, I made the foamy steamed milk in the microwave and then frothed it with a blender, but you can heat the milk in a pot on the stove and froth it, by using an immersion blending stick or hand whisk. You can also buy a hand pump milk frother, so you can make a real frothy latte without a machine anytime.
What's your favorite Starbucks Drink? Fall Drinks?  Post your comments! Go to this Recipe on YouTube or my Facebook Page and let me know what beverage/drink recipes you'd like to see! What you're craving could be my next recipe!  I already made a copycat Starbucks Double Chocolate Chip Frappuccino recipe video, so try that too! We'll crack that Starbucks secret menu!   😉
Watch The Video!  Learn How To Make Pumpkin Spice Latte At Home!  Recipe by: Diane Kometa
Subscribe to get updated on my latest recipes! It's FREE! Do it!
Don't Miss an Episode!
Pumpkin Spice Latte Recipe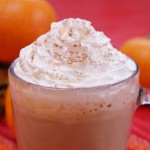 Prep time:
Cook time:
Total time:
Yield:

1 or 2

Difficulty:

easy

Recipe type:

Beverage
Ingredients:
¾ cup milk

½ cup hot strong brewed coffee

1 Tablespoons canned pumpkin puree

1 ½ Tablespoons light brown sugar

½ teaspoon pure vanilla extract – I like Madagascar Bourbon vanilla

¼ teaspoon pumpkin pie spice, plus more for topping

Pinch of salt

Whipped cream
Directions:
Pour the hot coffee into a mug. Pour the milk into a glass measuring cup with a spout. Add the pumpkin puree, pumpkin spice and brown sugar and a pinch of salt. Stir. Place in the microwave until hot and steamy. Pour the mixture into a blender. Add the vanilla. Place the lid on and put a dish towel over the lid. Blend mixture for about 30 seconds until very foamy. (Note: If you don't have a blender, you can simply whisk the hot milk with a fork or whisk briskly until it foams. It won't be as foamy, but it works) Pour foamy milk into the cup over the hot coffee. Top with whipped cream and sprinkle pumpkin pie spice on top. Enjoy! Recipe by: Diane Kometa
Published on by Dishin' With Di
Tagged: best, beverage, breakfast, brown sugar, Christmas, coffee, demonstration, Desserts, Diane Kometa, Dishin With Di, drink, easy, fall drink, from scratch, Halloween, homemade, hot, How To Make, latte, milk, New Year's, New Year's Eve, pumpkin pie, Pumpkin Pie Spice, pumpkin puree, Pumpkin Spice, pumpkin spice latte, quick, Recipe, Starbucks, sugar, Thanksgiving, tutorial, vanilla, vegetable, video, whipped cream, YouTube