Visit me on my YouTube Channel and Subscribe to get my latest recipes!
SUBSCRIBE!  I'd love to have you!  Help put me on the YouTube map and give me a try!  Your Subscription does make a difference!  I'd really appreciate it. Thanks Soo Much For Watching!
Leave me a comment!  Go to my YouTube Channel or my Facebook Page and let me know if there's something you'd like to see.
What you're craving, could be my next video!
Thanks so much for visiting!
Pumpkin Soup Recipe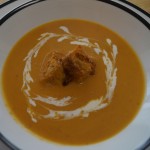 Prep time:
Cook time:
Total time:
Yield:

4-6

Difficulty:

easy

Recipe type:

Side Dish, Main Course, Entree, soup
Ingredients:
2 – 14.5 oz. cans chicken broth

1 – 15 oz can pumpkin puree

1 clove garlic – about ½ tsp.

½ cup onion

¼ cup maple syrup

½ cup heavy cream

½ tsp. hot sauce- I like Sriracha

Dash of white pepper

Fresh nutmeg

Salt to taste

2 Tbs. cornstarch

1-2 Tbs. Extra virgin olive oil

Change it up with a little Pumpkin Pie Spice! My recipe for that is below!
Directions:
Chop the onion and garlic very fine. I prefer to use a mini food processor for this.
Heat a pot over medium heat. Add olive oil, onions and garlic and cook for about 5 minutes, until onion is soft.
Add the chicken broth and corn starch. Whisk to combine. Stir in heavy cream. Add the pumpkin and stir to combine well. Add the maple syrup, hot sauce, dash of white pepper, several grates of fresh nutmeg and salt to taste. Stir to combine.
Cook and stir occasionally until mixture comes to a boil.
Reduce heat to medium-low and cook for about 10 minutes. Taste and adjust seasonings, as necessary. If the sauce cooks too long it will thin out. If this happens and you prefer a thicker consistency, combine one tablespoon of cornstarch in one tablespoon of cold water. This is a known as a slurry. Slowly add the slurry to the simmering soup and stir. Cook for a few minutes to see the result. Add more if desired.
If you would like a smooth soup, you can add the hot soup to a blender at this point or use an immersion blender to puree the bits of onions and garlic. If you have neither, you can strain the soup.
Serve with homemade croutons placed in the center and top with a few grates of fresh nutmeg or Parmesan cheese. To make your soup look extra special, dip the pointed edge of a knife into some heavy cream and drizzle drops of cream into the soup and then drag the knife through the drops to create a design. Enjoy!!
Switch it up with my Pumpkin Pie Spice!
Published on by Dishin' With Di
Tagged: appetizer, appetizers, Autumn, Bisque, chicken, chicken broth, chili sauce, Christmas, cream, demonstration, Diane Kometa, Dishin With Di, easy, Fall, from scratch, Garlic, Halloween, heavy cream, homemade, How To Make, New Year's, New Year's Eve, onion, pumpkin, pumpkin puree, pumpkin soup, quick, Recipe, Sides, soup, squash, Sriracha, Thanksgiving, tutorial, vegetable, vegetables, video, YouTube