There's nothing like pumpkin pie made with homemade pie crust from scratch! I make pumpkin pie filling with a few simple ingredients, including my homemade pumpkin pie spice. Homemade pumpkin spice really gives pumpkin pie a special touch and making recipes with pumpkin spice is just the way to get yourself into the holiday mood. Thanksgiving dinner is just not complete without pumpkin pie! With homemade crust, pumpkin pie spices, and homemade whipped cream (almost forgot to mention that) you'll have the best pumpkin pie ever!  The bonus is that it's so simple to make!  Easy Thanksgiving dessert recipes, that keep the pumpkin theme going, are my pumpkin cheesecake or pumpkin cupcakes with cream cheese frosting, which are always a hit.  For more casual gatherings, like Halloween parties, pumpkin cheesecake dip is quick and easy. Recipes for breakfast on Halloween and Christmas morning are not complete, unless I have some pumpkin muffins available and make pumpkin pancakes for breakfast with my homemade pumpkin spice syrup.  I just go pumpkin crazy!
Get in the kitchen!  Make Pumpkin Pie From Scratch!  It's Easy!!
What's your favorite pie recipe? Thanksgiving dessert recipe?  Pumpkin recipe?  Leave me a comment! Go to this Recipe on YouTube or visit my Facebook Page! Let me know if there's something you'd like to see.
What you're craving could be my next recipe!
Watch The Video!  Learn How To Make Homemade Pumpkin Pie!          Recipe by: Diane Kometa
Subscribe to Dishin' With Di's YouTube Channel for the latest recipes! It's FREE!
Don't miss an episode!
Pumpkin Pie Recipe With Homemade Pie Crust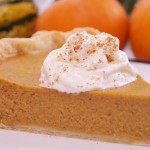 Prep time:
Cook time:
Total time:
Yield:

One 9 inch pie – about 8 slices

Difficulty:

easy

Recipe type:

Dessert
Ingredients:
Crust:

1 cup all-purpose flour – measured by pouring not scooping – plus more for rolling

1 ½ tsp. Tablespoon sugar

2 Tbs. unsalted butter – cut into small pieces – cold

¼ cup shortening – cut into small pieces – cold

½ teaspoon salt

2-3 Tablespoons ice water

Note: If using your own pie crust or store bought crust, line a 9 inch pie plate (preferably glass) with the dough, crimp edges as desired, place in the fridge to chill and proceed to step #9 of the recipe. If you'd like, go to my Pie Crust Recipe and watch the video demonstration.

Pumpkin Filling:

1-15 ounce can pumpkin puree – about 1 ¾ cups

2 eggs – room temperature

1 tsp. vanilla bean paste or pure vanilla extract

1-12 ounce can evaporated milk

2 tsp. pumpkin pie spice – I use my own blend

¾ cup sugar

½ tsp. salt

Homemade Whipped Cream for topping – Get my recipe
Directions:
Make the crust: In a large bowl, whisk together the flour, sugar and salt, until thoroughly combined. The dough can also be made in a food processor, but be careful not to over mix.
Add the cold shortening and butter. Cut in with a pastry blender or two knives, until the mixture combines into small pieces no larger than the size of peas and resembles coarse meal. See video.
Gradually add the cold water one tablespoon at a time and toss with a fork, until the mixture begins to stick together and starts to clean the sides of the bowl. Test the dough by grabbing some and pressing it between your fingers to see if it sticks together. If it still seems a bit dry and crumbly, add a little more water, toss to combine and check it again. See Crust Video.
With your hands, gather the dough and press it into a ball. Places the dough ball onto a piece of plastic wrap and flatten into a disk about one half inch thick. Wrap the dough in the plastic wrap and place in the refrigerator for at least one hour or overnight, before rolling. It is crucial that the dough chill or it will be too hard to handle, so a minimum of 1 hour is required.
Remove the dough from the fridge about 10 minutes before rolling.
Lightly flour your work surface, rolling pin and the dough.
Roll the dough from the center outward into about a 12 inch circle. To prevent the dough from sticking, place a little more flour on your surface every few turns and lightly flour you rolling pin when needed. If the edges begin to come apart, press them back together, as you roll. Measure the dough: Take your pie plate and turn it over and place it on your rolled dough. There dough should be about 1-2 inches larger than your pie plate.
To move the dough to the plate: Lightly flour your rolling pin. Starting at the top of the dough, gently roll the dough around the rolling pin, towards you. Lift the rolling pin, so that you're holding the dough above your plate. Unroll the dough into a 9 inch pie plate (glass if possible) leaving about one inch overhang. Gently position the dough evenly and gently press the dough into the plate. Tuck the edges under and crimp or press down with the tines of a fork.
Cover the dough lightly with plastic wrap and refrigerate for about 20-30 minutes, before filling and baking. I have put it in the freezer for 10-15 instead, when I've been in a hurry. Chilling prevents the fats from melting too quickly and produces a better end result.
Position your oven rack in the center position. Preheat oven to 425 degrees F. This should be done at least 15-20 minutes before baking the pie.
While the oven heats and the pie shell chills, make the filling. Into a large bowl, add the pumpkin spice, sugar and salt. Using a wire whisk, mix thoroughly, until combined.
Add the pumpkin puree, evaporated milk, eggs and vanilla. Whisk all ingredients until thoroughly combined, but do not over mix. Scrape the sides and bottom of the bowl with a rubber spatula to be sure everything is mixed thoroughly.
Remove the pie shell from the fridge and place it onto a baking sheet. Pour the filling into the unbaked crust. Bake at 425 degrees F for 15 minutes. Reduce oven temperature to 350 degrees F and continue to bake for about another 45-50 minutes or until a tester or toothpick inserted in the pie, about 1 inch from the edge, comes out clean. Do not insert the tester in the center, as it will come out moist. The pie continues to cook while cooling.
Remove from oven and place on a wire rack to cool completely. Refrigerate for at least 2 hours, but preferably overnight, before serving. Best served the next day, so the flavors get a chance to mingle. Top with my Homemade Whipped Cream. Enjoy!
Note: If you decide to use canned whipped cream as a topping, put it on the pie as you serve it, because it quickly loses its shape and becomes very watery, even when refrigerated. Trust me. Homemade whipped cream works best. Recipe by: Diane Kometa
Published on by Dishin' With Di
Tagged: best, Christmas, custard, demonstration, Dessert, Desserts, Diane Kometa, Dishin With Di, dough, easy, eggs, evaporated milk, Fall baking, from scratch, fruit, Halloween, homemade, How To Make, Old Fashioned, Pie, pie crust, pie crust recipe, pie dough, pie dough recipe, pie filling, pumpkin, pumpkin pie recipe, pumpkin puree, Pumpkin Spice, quick, Recipe, squash, sugar, Tarts, Thanksgiving, tutorial, vanilla, vegetable, video, YouTube