Note: I have an allspice substitute recipe, if you need it!
Check some of my other recipes containing Pumpkin Spice: Pumpkin Spice Syrup, Pumpkin Pancakes, Pumpkin Cheesecake Dip w/ Brownie Bites and Pumpkin Cupcakes, which are great with my Cream Cheese Frosting!
Subscribe to Dishin' With Di's YouTube Channel for the latest recipes! It's FREE! Leave me a comment! Go to this recipe on YouTube or visit my Facebook Page! Let me know if there's something you'd like to see. What you're craving could be my next recipe!
Pumpkin Pie Spice Recipe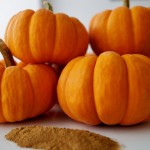 Prep time:
Cook time:
Total time:
Yield:

1 Teaspoon and Batch Recipe

Difficulty:

easy

Recipe type:

Spice Substitute
Ingredients:
½ tsp. ground cinnamon

¼ tsp. ground ginger

1/8 tsp. ground allspice

1/8 tsp. ground nutmeg

Batch: Makes 4 Tablespoons = 1/4 cup

2 Tbs. ground cinnamon

1 Tbs. ground ginger

1 1/2 tsp. ground allspice

1 1/2 tsp. ground nutmeg
Directions:
Sift ingredients together into a small bowl, to be sure there are not lumps or large pieces of spice.  Less expensive spice brands tend to have some large gritty pieces, so you'd want to discard those.  No one wants to bite into a large piece of nutmeg.  Give it stir to combine.  Increase the recipe as necessary and store in an air tight container.  I like to put some in a small salt shaker and sprinkle it on my tea, coffee or anything I want a little pumpkin pie flavor on. Enjoy!
Published on by Dishin' With Di
Tagged: allspice, Christmas, cinnamon, demonstration, Diane Kometa, Dishin With Di, easy, from scratch, ginger, Halloween, homemade, How To Make, ingredient, nutmeg, pumpkin, pumpkin pie, Pumpkin Pie Spice, Pumpkin Spice, quick, Recipe, seasoning, spice, Thanksgiving, tutorial, video, YouTube