Learn How To Make a Pumpkin Pie Martini! Perfect Halloween, Thanksgiving, Christmas drinks /cocktails. Pumpkin Spice makes this holiday beverage over the top and it's easy to make!
Using chocolate syrup in these martinis instead if Creme de Cacoa makes this a sweet, creamy martini. You probably already have chocolate syrup, so that's one less thing to buy!  I've taste tested several Pumpkin Pie Martini recipes and came up with this recipe, which I think has a great Pumpkin Pie flavor and topped with whipped cream, it's just delicious.  You could even serve it as a dessert drink!   Make a big batch and serve it at your holiday party!  I also have a Pumpkin Spice / Pumpkin Pie Spice Recipe too and you may have  those ingredients on hand too, so that's another thing off the shopping list!  Enjoy this Easy Pumpkin Pie Martini Recipe Responsibly!  Di  😉  You may also like my Pumpkin Spice Latte (watch out Starbucks!), so be sure to check that out, along with my other Pumpkin Recipes!
Leave me a comment!  Go to my YouTube Channel or my Facebook Page and let me know if there's something you'd like to see.  What you're craving, could be my next recipe!
Thanks so much for visiting!  Di  😉
Watch the video!
Learn How to Make Pumpkin Pie Martinis!
Visit me on my YouTube Channel and Subscribe to get my latest recipes!
 I'd love to have you!
Pumpkin Pie Martini Recipe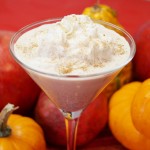 Prep time:
Cook time:
Total time:
Yield:

1

Difficulty:

easy

Recipe type:

Beverage
Ingredients:
¾ ounce Vanilla Vodka

¼ ounce Kahlua (coffee liqueur)

¼ ounce chocolate syrup

½ TBS. pumpkin puree

3 Tbs. heavy cream

½ tsp. pumpkin spice – plus a little more for topping (I have a recipe, it you don't have it)

Granulated sugar

Canned Whipped cream

Shaker with ice
Directions:
Combine approximately 1/8 teaspoon of pumpkin spice with ¼ teaspoon of granulated sugar.
Add vodka, Kahlua, chocolate syrup, pumpkin puree, heavy cream and pumpkin pie spice to shaker and shake vigorously to combine.
Pour into martini glass and top with whip cream and sprinkle with pumpkin pie spice sugar mixture. Adjust the measurements and make a pitcher! Perfect for holiday parties! Enjoy responsibly! These are soooooo good!
Published on by Dishin' With Di
Tagged: alcohol, beverage, chocolate, Christmas, cocktail, coffee, coffee liqueur, cream, demonstration, Desserts, Diane Kometa, Dishin With Di, drink, easy, from scratch, Halloween, homemade, Kahlua, liquor, Martini, party, Pie, pumpkin, pumpkin pie martini, Pumpkin Pie Spice, pumpkin puree, Pumpkin Spice, quick, Recipe, shot, sugar, Thanksgiving, tutorial, vanilla, video, Vodka, YouTube