Visit me on my YouTube Channel and Subscribe to get my latest recipes!
SUBSCRIBE!  I'd love to have you!  Help put me on the YouTube map and give me a try!  Your Subscription does make a difference!  I'd really appreciate it. Thanks Soo Much For Watching!
Leave me a comment!  Go to my YouTube Channel or my Facebook Page and let me know if there's something you'd like to see.
What you're craving, could be my next video!
Thanks so much for visiting!
Pumpkin Pancakes Recipe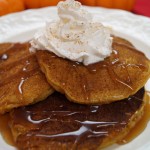 Prep time:
Cook time:
Total time:
Yield:

4

Difficulty:

easy

Recipe type:

Breakfast
Ingredients:
1 cup flour

1 tsp. baking powder

½ tsp. baking soda

½ tsp. salt

1 tsp. Pumpkin Spice / Pumpkin Pie Spice – Use my Recipe – the link is below

1 Tablespoon granulated sugar

1 egg – room temp

2 tablespoons vegetable oil

1/3 cup pumpkin puree/pack pumpkin – room temp – NOT pumpkin pie mix

1 cup buttermilk (room temp) – or buttermilk substitute – check my link below for that recipe

Non-stick cooking spray
Directions:
Preheat a non-stick pan over medium heat and preheat your oven to 200 degrees F.
Combine dry ingredients in a medium size bowl and whisk together until thoroughly combined.
Whisk egg in a large bowl, then add the vegetable oil, pumpkin puree and the buttermilk and whisk to thoroughly combine.
Add dry ingredients all at once to wet and mix until just combined.
Spray pan with non-stick spray (if using). Using a ¼ cup measure or ice cream scoop, place the batter into the pan. When the edges begin to lightly brown and bubble begin to surface on the top, gently flip the pancake and cook for about another minute.
Place cooked pancakes on a baking sheet lined with foil and place an additional piece of foil over top of the pancakes and place in the oven to keep warm, as you continue to cook.
Serve with my Pumpkin Spice Syrup and top with some of my homemade Whipped Cream and a sprinkle of my homemade Pumpkin Spice for an incredibly delicious and memorable breakfast! Create some memories and serve these pancakes on Halloween, Thanksgiving or Christmas morning each year! Enjoy!
Published on by Dishin' With Di
Tagged: Autumn, batter, breakfast, butter, buttermilk, Christmas, demonstration, Diane Kometa, Dishin With Di, easy, eggs, fall recipe, flour, from scratch, Halloween, How To Make, maple, milk, pancake, pumpkin, pumpkin pancakes, pumpkin pie, pumpkin puree, Pumpkin Spice, quick, quick bread, Recipe, squash, sugar, syrup, Thanksgiving, tutorial, vegetable, video, YouTube