Pumpkin Cupcakes Recipe! Learn how to make Pumpkin Cupcakes w/ Cream Cheese Frosting! It's Easy! This recipe is simple and makes moist & fluffy Homemade cupcakes from scratch! Using canned pumpkin,  means easy pumpkin cupcakes for Thanksgiving Baking, Desserts, Halloween Parties or delicious treats anytime! The cupcakes are topped with delicious Cream Cheese Frosting and will stand up against any bakery pumpkin cupcake or cake.
What's your favorite Pumpkin Recipe? Cupcake Recipe? Leave me a comment! Go to this Recipe on YouTube or visit my Facebook Page! Let me know if there's something you'd like to see.
What you're craving could be my next recipe!
Watch The Video! Learn How to Make Pumpkin Cupcakes !
Subscribe to Dishin' With Di's YouTube Channel for the latest recipes! It's FREE!
Don't Miss An Episode!
Pumpkin Cupcakes Recipe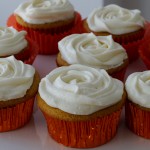 Prep time:
Cook time:
Total time:
Yield:

12

Difficulty:

easy

Recipe type:

Dessert
Ingredients:
6 Tbs. unsalted butter-room temperature

1 cup granulated sugar

¾ cup canned 100% Pumpkin (not pie mix) – room temperature

1 ¼ cups all-purpose flour

½ tsp. baking powder

½ tsp. salt

¼ tsp. baking soda

½ cup buttermilk – room temperature

1 tsp. ground cinnamon

½ tsp. ground ginger

¼ tsp. ground clove

½ tsp. vanilla extract

2 eggs – room temperature – in separate bowls -lightly whisked
Directions:
Preheat oven to 350 degrees F
Add butter to bowl. Using a hand or stand mixer, beat slightly.
Add sugar and beat until creamy and well combined.
With the mixer on low, gradually add the eggs one at a time pouring them down the side of the bowl. Make sure the first egg is well combined, before adding the other egg. Beat well on medium after each addition.
Add the vanilla and beat.
Whisk together the dry ingredients. On low speed,

alternately

add the flour and buttermilk gradually starting and ending with the flour. Make the first addition of flour the largest and combine well. The rest of the flour, when added, should be mixed just until combined. Do not over mix. The milk should be added gradually by pouring down the side of the bowl.
Stir in the pumpkin just until combined. You can do this by hand to be sure not to over mix.
Fill cupcake liners ¾ full and bake on center rack of oven at 350 degrees F for 22-25 minutes or until toothpick inserted comes out clean.
Cool completely and top with my Cream Cheese Frosting! Enjoy! Add some of my Pumpkin Pie Spice to the Frosting!
Published on by Dishin' With Di
Tagged: best, butter, buttermilk, Cake, cheese, Christmas, cinnamon, clove, cream, cream cheese frosting, cupcakes, demonstration, Desserts, Diane Kometa, Dishin With Di, easy, eggs, flour, from scratch, ginger, Halloween, homemade, How To Make, milk, New Year's, New Year's Eve, pumpkin, Pumpkin Spice, quick, Recipe, Simple, snack, squash, sugar, Thanksgiving, tutorial, vanilla, vegetable, vegetables, video, YouTube