Visit me on my YouTube Channel and Subscribe to get my latest recipes!
SUBSCRIBE!  I'd love to have you!  Help put me on the YouTube map and give me a try!  Your Subscription does make a difference!  I'd really appreciate it. Thanks Soo Much For Watching!
Leave me a comment!  Go to my YouTube Channel or my Facebook Page and let me know if there's something you'd like to see.
What you're craving, could be my next video!
Thanks so much for visiting!
Pumpkin Cheesecake Dip Recipe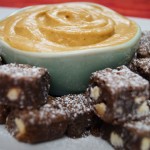 Prep time:
Cook time:
Total time:
Yield:

8-10

Difficulty:

easy

Recipe type:

appetizer, snack, dessert
Ingredients:
8 ounces of cream cheese (softened to room temperature)

1/3 cup dark brown sugar – packed (I sift mine, but you can just run though it with a fork to be sure there are no hard bits)

2 ½ Tbs. honey

2 tsp. Pumpkin Pie Spice/Pumpkin Spice (Get my easy recipe link below)

1/8 tsp. salt

1 cup pumpkin puree/packed pumpkin (at room temperature) NOT pumpkin pie mix
Directions:
Place cream cheese in a bowl and using a hand mixer or a whisk beat until smooth and creamy. If you just add everything together and try to mix, you may end up with little lumps of cream cheese in the dip, so beat it now until it's smooth.
Add the sugar and beat until fluffy and well combined.
Add the honey and just combine.
Add in the Pumpkin Spice, salt and the pumpkin and combine until smooth.
Refrigerate until cold.
Serve with cut up brownies. Go to my easy Fudge Brownie Recipe (it's a baking contest winner for sure) and make those and then cut then into small bite size pieces. If you chill the brownies for a bit, it's easier to cut them. They also freeze well, so you can make them ahead and they slice even better when they're partially frozen. Sprinkle with powdered sugar, insert toothpicks and serve. Enjoy!
Published on by Dishin' With Di
Tagged: appetizer, appetizers, best, brown sugar, cheese, Cheesecake, Christmas, cream cheese, demonstration, Desserts, Diane Kometa, dip, dips, Dishin With Di, easy, from scratch, Halloween, homemade, honey, How To Make, New Year's, New Year's Eve, pumpkin, pumpkin puree, quick, Recipe, snack, spice, sugar, Thanksgiving, tutorial, video, YouTube