No Dough Making! Really Easy!  Tastes like a Philly Cheese Steak!  Trust me! This is an Easy party appetizer, but also the BEST for fast food night. This Cheesesteak Stromboli is quick and easy to make for entertaining and is just perfect for a Super Bowl Party! Learn how to make a classic Italian fast food combined with the best American sandwich around the Quick and Easy Way! Without Making Pizza Dough!
Watch The Video!
Learn How to Make This Easy Philly Cheese Steak Stromboli!
Visit me on my YouTube Channel and Subscribe  to get my latest recipes!
Leave me a comment!  Go to my YouTube Channel or my Facebook Page and let me know if there's something you'd like to see.
What you're craving, could be my next video!
Philly Cheese Steak Stromboli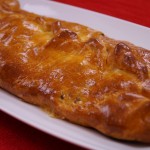 Prep time:
Cook time:
Total time:
Yield:

6

Difficulty:

easy

Recipe type:

appetizer, snack, entree,
Ingredients:
1 – 8 ounce package of Pillsbury Seamless Dough Sheet or Crescent Rolls – keep refrigerated until ready to use

3 – 4 Minute steaks ¼ lb. each – Usually in the freezer section of the Grocery store

¼ lb. or more American Cheese

½ – ¾ cup onion diced

1 Tbs. butter

1 egg lightly whished

Olive oil

Salt & Pepper

Ketchup
Directions:
Preheat oven to 375 degrees F
Line a baking sheet with parchment paper or foil.
Heat a non-stick pan over medium heat. Add the butter, about one tablespoon of olive oil and the onions. Season with salt and pepper. Cook until onion softens and becomes translucent, stirring occasionally. Do not brown. Remove from pan and set aside. Return pan to heat.
Add one tablespoon of olive oil to the same pan. Add the steaks. With two spatulas or one spatula and a fork or whatever you have, shred the meat. Do this quickly, so that the meat does not overcook.
Once the meat is shredded and cooked, add the onions to the pan and mix through. Remove from heat.
Remove the dough from package. Roll out onto parchment lined baking sheet. If it tears, simply pinch it together.
Spoon meat and onion mixture down the center of the dough about three inches wide.
Place cheese slices evenly on top of meat.
Bring long sides of dough together over the meat/cheese filling and overlap and pinch closed. Fold over edges and pinch to seal.
Brush top and sides of dough with egg.
Bake for 18-22 minutes or until golden brown.
Serve with ketchup. Enjoy!
Note: This can be made ahead up to 2 hours. Lightly wrap in foil after done baking and when ready to serve, return to the oven at 350 degrees F until hot. Alternately you can slice into 2" slices and place on a baking sheet and place in 350 degree F oven until hot. I actually like making them ahead and then reheating, because they get a little crispier. Leftovers can be wrapped and stored in the refrigerator and reheated the same way.
Published on by Dishin' With Di
Tagged: American, American Cheese, appetizer, appetizers, Beef, best, bread, cheese, Cheese Steak, Cheesesteak, crescent rolls, demonstration, Diane Kometa, Dishin With Di, dough, easy, eggs, from scratch, homemade, How To Make, meat, New Year's, New Year's Eve, onion, Philly cheese steak, pizza turnover, quick, Recipe, sandwich, snack, steak, Super Bowl, turnover, tutorial, video, YouTube