Here's a Philly Cheese Steak Recipe, just like the steak sandwiches I grew up on in Philadelphia and South Jersey. The original South Philly cheesesteaks were made with thin sliced rib eye steak, topped with cheez whiz or provolone cheese and served on a crusty hoagie roll. There has been a long-going rivalry between Pat's King of Steaks and Geno's Steaks, but Tony Luke's is another competitor for the best Philly cheese steak recipe. The truth is delicious cheesesteaks can be found all over Philadelphia and South Jersey.  Cooking methods, quality and quantities vary.
You need good quality meat or it will be stringy and you have to have at least 1/3 pound, in my opinion.  It's a big roll (12″) and my experience is that 1/4 pound just gets lost in it. I purchase my meats from a Philadelphia meat distributor, who serves the best restaurants and best cheese steak shops, so I'm very happy with the quality, which does vary in local eateries.  As far as cooking the meat, some keep the steak whole, cooking it quickly on each side, while others either chop the meat slightly or shred it into small bits, with the later being the most popular method and the one I demonstrate in this recipe video.  I've eaten my share of cheesesteaks and made more than most, as I worked in small Italian restaurants, that served this popular sandwich, so I've seen and tasted many made with different methods.  Cheese steaks with fried onions, mushrooms, extra cheese and ketchup are popular requests.  Using American cheese is quite popular as well, but many enjoy the processed cheese (Cheez Whiz), my husband being one of them. Besides the meat, the roll is extremely important and can make or break this sandwich. Rolls should be a little crusty on the outside, but tender not chewy on the inside and are not usually toasted, but normally delivered fresh daily.
The most popular way to eat one of these babies is with ketchup and fried onions, which are not fried in the traditional sense, but are usually cooked on a large griddle, with some oil and the steak rather quickly or cooked ahead in large batches, using a slower cooking method, which I prefer.  In busier places you'll see a huge pile of cooked onions sitting on a cool part of the griddle or in a giant bowl waiting to be slapped onto that cooked steak.  Restaurants either slice the onions or chop them, but the later is most common and my preference.
Different varieties of cheesesteaks have sprung up since the original. There's the cheese steak hoagie, with lettuce, tomato and either raw or fried onions and the pizza steak, which is served topped with pizza sauce and melted provolone cheese, which are the two most popular. There's also the chicken cheese steak, which is made with chicken meat instead of steak, but I think it's a bit bland.  I like the classic cheesesteak with fried onions, melted American cheese and ketchup, but a cheesesteak hoagie with fried onions is my next favorite.  I like the different textures you get, as well as the fact that the onions, meat and cheese are hot, while the tomatoes and lettuce are cold. That one gets a little mayo and ketchup on it!  It's a great combo!
So now you don't have to take a trip to Philly to get a real cheesesteak! Have a homemade fast food night! Get yourself some rib eye steak sliced nice and paper thin, a nice sweet onion,  a crusty roll and make some of the best cheesesteaks at home, in your own kitchen!  Don't forget the ketchup!!  Check out my Cheesesteak Stromboli Recipe! It's another winner!
National Cheesesteak Day is March, 24
Leave me a comment! Go to This Recipe on YouTube or my Facebook Page and let me know if there's something you'd like to see.  What you're craving could be my next video!
Watch The Video!
Learn How To Make Philly Cheesesteaks At Home! Recipe by: Diane Kometa
Get updated when I release New Recipes!  It's Free! Do It! 
Don't Miss An Episode!
Philly Cheesesteak Sandwich Recipe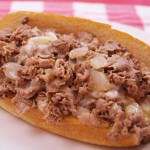 Prep time:
Cook time:
Total time:
Yield:

1

Difficulty:

easy

Recipe type:

Main Course
Ingredients:
1/3-1/2 lb. rib eye steak sliced nice and paper thin – room temperature

1/3 cup sweet onion – chopped – or much as you want

A 10-12 inch crusty roll – tender on the inside

American cheese – at least 4 slices – as much as you want

1 Tbs. olive oil – more if you need it

1 Tbs. unsalted butter – more if you need it

Ketchup – optional

Salt and pepper to taste
Directions:
Preheat a 10 inch heavy skillet over medium heat. Add the olive oil and butter. Add the chopped onions and season with salt. Stir to coat the onions. Cook for about 3-5 minutes or until onions become soft. Remove to a bowl and set aside.
Into the same pan, add the steak and immediately begin to finely shred with either two spatulas or a fork and a spatula. See video. Do this quickly, so that the meat does cook too much and become tough.
When the meat is shredded and no longer pink, return the cooked onions to the pan and combine with the meat. For the meat and onions into a long pile about the size of your roll. Add the sliced cheese on top. Don't be shy! At least 3-4 slices. Cover the pan with a lid and let the cheese melt. Sometime I remove it from the heat, so that the meat doesn't keep cooking. Add more cheese to the inside of the roll if you want. Sometimes I add more cheese as I'm putting the steak on the roll. I slide half of the steak on the roll and then put a 2-3 slices of cheese on the meat and then fold the rest of the meat over top of it, so it melts. It's gets all cheesy in the center that way. Oh boy! If you ever buy one in Philly, ask for extra cheese!
Season with salt and pepper to taste and serve that baby with some ketchup. It's an option, but you should try it at least once. You might like it!
Now you gotta do the Philly Hunch and chow down! Sit at the table, grab your sandwich, hunch over with your elbows out to the sides and above your hands, so nothing goes up your sleeves or falls on your shirt or lap! Now take a big old bite and ENJOY! Recipe by: Diane Kometa
Published on by Dishin' With Di
Tagged: American Cheese, authentic, Basic, Beef, best, bread, cheese, Cheese Steak, Cheesesteak, cheez whiz, demonstration, Diane Kometa, Dishin With Di, easy, fast food, Food, fried, fried onions, frizzled beef, from scratch, Grilled, Hoagie, homemade, How To Make, Italian, long roll, meat, melted cheese, Old Fashioned, onion, original, Philadelphia, Philly, provolone, quick, Recipe, Rib eye steak, sandwich, seared, snack, steak, take out food, Traditional, tutorial, video, YouTube