Peanut Butter Cookies Recipe!  Learn how to make a Peanut Butter Cookies Recipe From Scratch!
Peanut Butter Cookies are an American, classic cookies recipe. I first made the Betty Crocker peanut butter cookies recipe many years ago, which is made with shortening (Crisco, lard) and butter.  I prefer making my peanut butter cookies without shortening and simply use butter,  as butter adds more flavor  to the cookies and everyone knows everything is better with butter anyway, right?   I  use creamy peanut butter  ( JIF has the best peanut butter flavor – and they didn't even pay me to say that!), but you can use crunchy peanut butter.  The cookie dough needs to be refrigerated before baking, but the good news is that it can be made a few days ahead or the cookie dough can be frozen for about 2 months and then defrosted in the refrigerator.  For soft and chewy peanut butter cookies, simply bake the cookies a little less and for more crisp peanut butter cookies (my preference) bake them a little longer.  Either way, peanut butter cookies are the best, especially with a cold glass of milk!
So, cook along with me and learn how to make an old fashioned, classic peanut butter cookies recipe from scratch with my easy to follow recipe and video demonstration.
Want to see more Cookie Recipes or Dessert Recipes!  Go to the comments section for this Recipe on YouTube  and Request a recipe or leave me a comment!  What you're craving could be my next recipe! You may also like my Chocolate Chip Cookies Recipe or my Cut Out Sugar Cookies Recipe.
Watch The Video!
Learn How To Make Peanut Butter Cookies! Recipe by: Diane Kometa
Get updated when I release New Recipes!  It's Free! Do It! 
Don't Miss An Episode!
Peanut Butter Cookies Recipe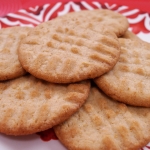 Prep time:
Cook time:
Total time:
Yield:

About 30

Difficulty:

easy

Recipe type:

dessert, snack
Ingredients:
½ cup white granulated sugar – spooned and leveled

½ cup packed brown sugar – pack down lightly and level

½ cup peanut butter – use dry measuring cup and level

½ cup unsalted butter, room temperature (1 stick)

1 large egg – lightly whisked

½ tsp. pure vanilla extract

1 1/3 cups all-purpose flour – spooned and leveled

½ teaspoon baking soda

½ teaspoon baking powder

¼ teaspoon salt

Plus an additional white sugar for tops of cookies to make criss cross patter with fork (hash marks) before baking
Directions:
In a bowl, add the flour, salt, baking powder and baking soda. Whisk to thoroughly combine. Set aside.
In a separate mixing bowl or in the bowl of a stand mixer fitted with the paddle attachment, add the soft butter and white sugar and brown sugar. Beat until smooth and creamy, about 2 minutes on medium speed. Use a rubber spatula to scrape the sides and bottom of the bowl.
With the mixer off, add the peanut butter and mix on low to thoroughly combine. Scrape sides and bottom of bowl.
Mix the egg with the vanilla in a small bowl using a fork and then, with the mixer on, add the mixture to the batter. Best on medium speed for about 1 minute to thoroughly combine. Scrape the sides and bottom of bowl.
With the mixer on low, pour in the dry ingredients and mix just to combine. Cover the bowl with plastic wrap or transfer the cookie dough to a separate bowl and cover and then place the bowl in the refrigerator for about 2 hours or until dough is firm. The dough can also be refrigerated for about 3 days.
Preheat oven to 350º F and place the oven rack in the center position. Line 2 baking sheets with parchment paper.
Scoop about 1 tablespoon of firm, cold cookie dough, using a spoon or small ice cream scoop. Roll cold dough into about 1 ¼ inch balls and place about 2 – 3 inches apart on prepared baking sheet. Place some white sugar on a plate and dip the tines of a fork into the sugar. Press the fork into each cookie to form a crisscross pattern and flatten the cookie slightly. Repeat.
Bake in preheated oven for 10 to 12 minutes or until slightly golden brown. For soft and chewy peanut butter cookies bake about 9-10 minutes and for crisp cookies bake about 12 minutes. Allow cookies to cool on baking sheet for 5 minutes and then remove them to a wire rack to cool completely. Note: If you only have one baking sheet, wait until it cool completely before putting more dough on it, as a hot sheet will cause the cookies to flatten. To cool it quickly, remove the parchments paper and the sheet under cool water and dry thoroughly and return parchment to sheet and then fill it with your dough balls. Enjoy!
Store Baked Cookies – Baked cookies can be stored at room temperature, in an airtight container, with a piece of parchment or wax paper between layers or in a plastic food storage bag, for about 1 week. Uncooked cookie dough can be wrapped securely in plastic wrap and placed in a freezer bag and frozen for about 2 months. Defrost in the fridge before baking. When freezing various batches of cookie dough, label and date bags to avoid confusion. Recipe by: Diane Kometa
Published on by Dishin' With Di
Tagged: biscuits, brown sugar, butter, Christmas, Classic, Cookie, cookies, demonstration, Desserts, Diane Kometa, dough, drop, easy, eggs, flour, from scratch, Old Fashioned, peanut, peanut butter, refrigerator, salt, snack, sugar, Thanksgiving, tutorial, vanilla extract, video, white sugar, YouTube