Easy Peach Cobbler Recipe: From Scratch! Learn How To Make a Peach Cobbler Recipe! The best peach cobbler is made with fresh peaches, but canned peaches or frozen can be used.  Peach cobbler is one of those easy summer desserts, like a crisp, crumble or a brown betty.  This old fashioned, easy peach cobbler recipe is simple to make and I'll even show you how to peel peaches!  I make a simple batter for the crust, while some southern peach cobbler recipes are made with biscuit dough topping.  Peach cobbler recipes can be made with oats or oatmeal or even pie crust.  My easy peach cobbler is baked in the oven, but some cobbler recipes are cooked in a Dutch oven, on the stove, in a cast iron skillet or even in a crock pot.  No matter how you make peach cobbler or cook it, I think the best peach cobbler is topped with ice cream or whipped cream!  Mmmmm  Cobbler recipes are made with juicy sweet fruit covered with a crust.  My favorite cobbler recipes are:  strawberry, berry or mixed berry,  blueberry, apple and my top choice fresh peach cobbler.  The perfect summer peach dessert recipe!  Get cookin' with my Easy Peach Cobbler Video Recipe!
*This peach cobbler recipe is made Without Eggs
What's your favorite Peach Recipe?  Cobbler recipe? Leave me a comment or Request a Recipe! Go to this Recipe on YouTube or visit my Facebook Page! Let me know what recipes you'd like to see.  What you're craving could be my next recipe!
Watch The Video!
Learn How To Make Peach Cobbler From Scratch!
Recipe by: Diane Kometa

Subscribe to my Dishin With Di YouTube Channel for the latest recipes!  It's FREE!
Don't Miss An Episode!
Peach Cobbler Recipe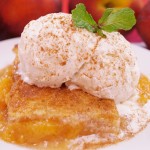 Prep time:
Cook time:
Total time:
Yield:

6-8

Difficulty:

easy

Recipe type:

dessert
Ingredients:
Batter

½ cup unsalted butter

1 cup all-purpose flour

1 cup sugar

1 tablespoon baking powder

1 cup milk – room temperature

½ tsp. salt – fine sea salt or kosher salt

¼ tsp. ground cinnamon

Filling

3 1/2-4 lbs. fresh peaches (about 10 depending on the size) peeled, pitted and sliced into wedges

½ cup white granulated sugar – use a little less if the peaches are very sweet

1 Tbs. fresh lemon juice

½ tsp. pure vanilla extract or pure vanilla bean paste

½ tsp. ground cinnamon

Several grates fresh nutmeg or 1/8 tsp. ground nutmeg (*fresh tastes much better)

½ tsp. salt – fine sea salt or kosher salt

Note: If using regular table salt, you may want to add a bit less than what I have listed above. The granules in table salt are much smaller than in kosher salt or sea salt and could make the recipe too salty. Use that rule for any recipe requesting a more coarse salt. Di 😉
Directions:
Peel and Slice Peaches: Heat a large pot of water to boil. Fill a large bowl with water and ice. Use a paring knife and cut an X on the bottom of each peach and then carefully place them into the water using a hand strainer. Cook the peaches for 30-60 seconds and then use the strainer to transfer them into the ice bath. Remove peaches from the ice water, pat dry and peel. Remove stone and cut peaches into about 1/2-3/4 inch slices.
Preheat oven to 375 degrees F
To a pot, add 1/2 cup white sugar, cinnamon, fresh nutmeg and salt. Stir to combine. Add the peach slices and toss gently to coat. Add the lemon juice and toss again. Bring mixture to a boil over medium high heat stirring occasionally. Remove from heat and stir in the vanilla. Set the pot aside and make the batter.
Add the butter to a 13x 9 baking dish. Place in the oven on center rack for about 5-7 minutes or until butter melts. While that's in the oven, make the filling and the batter.
Into a bowl, add the flour, 1 cup sugar, baking powder and salt. Whisk together to thoroughly combine. Add milk. Stir until just combined. Mixture should be lumpy.
At this point the butter should be melted. Remove from oven and move the baking dish around to make sure butter is evenly coating the bottom. Set the baking dish down on a heat proof surface and immediately pour in the batter and spread the batter lightly to evenly cover the dish if necessary. Immediately pour hot peach mixture evenly over batter. Do not stir. Immediately place the baking dish on the center rack of the preheated oven and bake for about 25-35 minutes or until the top is golden brown.
Remove from oven to wire rack to cool slightly before serving. Serve warm or cold with ice cream or whipped cream if desired. Enjoy!
Note: Store unused portion in covered dish or container in the refrigerator for up to 3 days. Can be warmed in microwave or served cold. Recipe by: Diane Kometa
Published on by Dishin' With Di
Tagged: 4th of July, bake, baked, baking powder, batter, biscuit, butter, Cake, cake-like, cakey, casserole, Christmas, cinnamon, cling, clingstone, cobbler, cook, crisp, crispy, crumble, Crust, demonstration, Dessert, Desserts, Diane Kometa, Dishin With Di, dough, Easter, easy, Father's Day, freestone, fresh, from scratch, fruit, Georgia, granulated sugar, homemade, How To Make, ice cream, Jersey, juicy, Labor Day, Lemon, lemon juice, Memorial Day, milk, Mother's Day, New Jersey, nutmeg, Old Fashioned, oven, peach, peach desserts, peach recipes, peaches, peel, Pie, quick, Recipe, semi-freestone, southern, sugar, Summer, Sweet, Thanksgiving, topping, tutorial, vanilla, vanilla extract, video, whipped cream, white, without eggs, yellow, YouTube